Ontario has its fair share of Canada's beautiful municipal, provincial and national parks – the Hamilton Conservation Authority (Hamilton, Ontario) is one of 36 conservation authorities in Ontario and manages many beautiful parks along the western shores of Lake Ontario.

 

This destination feature takes a closer look at one of the parks:

 

Valens Conservation Area in Hamilton, Ontario Canada.
Written by: MG Angiolillo
Photos by: Denis Rule Photography
If you are on a mission to find a woodland water-haven destination for camping, hiking, fishing, rowing, swimming – or, if you want to breathe fresh organic scents of a forest, feel cool water on your feet on a hot steamy summer day or reminisce by a campfire for just one day – look no further – we found a place – a little gem in the Golden Horseshoe called Valens Lake Conservation Area.    
Valens Lake Conservation Area is about 35 km north from downtown Hamilton and about 90 km west of Toronto in the picturesque province of Ontario.  The Hamilton Conservation Authority manages Valens Lake Conservation Area in addition to other pockets of land that surround the greater city of Hamilton.  Valens Lake Conservation Area is separated into three areas for public-use, the campground, the lake and the conservation lands. 
Campground
Valens Lake Conservation Authority offers year-long camping.  Prime camping season is between May long-weekend and Thanksgiving and the winter camping program is in effect for the rest of the year.  Most winter campers stay at Valens Lake Conservation Area for the ice-fishing and the winter camping fee discount offered by HCA – pre-pay for 20-nights stay and the trailer/tent gets to stay on-site for the entire winter – no additional fees.  This is an inexpensive way to store and readily access your trailer during the off-season.  Winter campers are provided with a key card to allow 24/7 access to the campground, electrical hookup but no water at the site – the water supply is turned off during the winter.
There are 223 campsites – of which 110 have 15/30 amp electrical and water services.  Sewer is not offered at this time (2019) but is on HCA's radar for future expansion.  The other 100 campsites are targeted for tenters and consist of car camping or walk-in areas with ample parking.
The campsites are spacious and mostly private.  Some sites are open to the extent that neighbours can be seen – but thanks to the lush growth surrounding each site, your neighbours will quickly disappear into the green woodland.  Several sites are available for campers who are travelling in small groups, those who still want their own space and privacy but want to set up camp next to each other – these sites have well-worn footpaths situated at the rear that allows foot-traffic between sites to keep you and your travelling friends connected.  This was not a planned feature of the park but crafted by the persistence of campers in need of a shortcut between sites. 
Although the campsites are spacious and offer plenty of space to spread-out, getting into a site could be challenging for large rigs or for folks who are just learning how to back-in a trailer.  When the park first opened in 1967, it catered to the small camper trailers and tenters of that era – as did all the provincial and federal campgrounds.  As the years progressed and the population of the surrounding areas grew, more people started to visit the park for their weekend camping adventures.  This new group of campers brought with them bigger tents and the once cozy campsite that accommodated a two or four-person tent and a vehicle required some tweaking to accommodate larger tents, trailers, bigger vehicles and all the camping gear that all the happy campers were eagerly purchasing.  The HCA opened the back ends of the sites to provide more living space and, following the success of this expansion, became faced with another challenge – the size of the RVs that people were now buying.
Although the back-ends of the site were enlarged, the entrances remained narrow.  Maneuvering a 45-foot A-Class, a 36-foot fifth wheel or a 32-foot pull trailer is not an easy feat on its own, but for a good challenge, try it when you are backing up into a narrow opening on a curved road where trees and boulders are on either side of the entrance limiting your approach.  Relationships are tested with this challenge and unspoken words are spoken – however, on the plus side, it is a popular form of entertainment for campers who have already settled into their sites.   
Not all the sites have an obstacle-course entry point – some of the sites are well suited for large trailers with plenty of space to line up, back up and maneuver.  Call ahead about your reservation to make sure that your size trailer will have enough room to back in – but caution – summer students are manning the gates and reservation lines during the peak camping season.  I have yet to meet a student who has practical experience towing a trailer or backing up an A-Class – so to them, all the sites have "plenty of room".  What they lack in RV experience they make up with enthusiasm and kindness – and they will help you find a site that you will be more comfortable with if the campground is not sold out.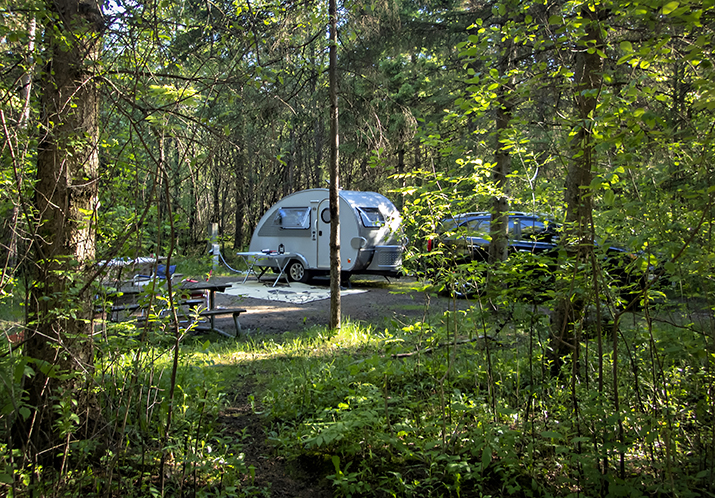 In speaking with the Valens Lake Conservation Area Supervisor, Paul Karbusicky, we learned that the HCA recently purchased surrounding land and will be developing 40 new large-rig sites with a minimum of 30-amp service and rough-in for sewers to be implemented later.  These larger sites will provide improved lines of approach for getting large rigs in and out easily – perhaps with a few pull-throughs.  Paul Karbusicky indicated that they will be looking into expanding the entry points on existing sites by removing some of the trees and relocating boulders to less used areas.  Target date for this expansion is 2020 but do check with the reservation office for updates and details on availability.
Each campsite comes equipped with one or two picnic tables and a fire-pit ring.  Wood is available from the Camp Store and proceeds on the sales go directly back into the conservation effort.  Within easy walking distance of every camp site are the bathrooms and private shower rooms (yes, each shower is a separate room) that are kept clean and tidy by the park staff.   Dumping stations, recycling (including propane cannisters) and trailer storage services are located towards the front-gate entrance. 
The front gate staff is courteous and helpful and provide you with the key card that allows electronic access into the gated community 24 hours a day, 7 days a week for the duration of your stay.  Upon arrival, we found the campsites clean from previous tenant use and the surrounding public-use grass area mowed and well kept.  Undergrowth and flora surrounding walking paths and forest areas grow freely without human intervention, except for invasive species such as buckthorn – the park staff tries to keep this species under control.  As nature is permitted to be itself in this park, do keep an eye out for poison ivy around your campsite and when traipsing through the forests or footpaths. 
The Lake
Valens Lake Conservation is frequented by regulars from the greater Hamilton area, southern Ontario residents and our American neighbours to the south.  This is because first, the area is spacious and beautiful and second, Valens Lake has some of the best fishing in the area.
This is surprising since Valens Lake is a man-made lake and created when the park opened in 1967 by building a dam on the south-east side of the property and flooding approximately 200 acres of the land.  The city of Hamilton then stocked the lake with large mouth bass and pike and other species eventually found their way into the lake making Valens Lake a prime fishing destination.  The park stewards believe the waters to be enchanted – all the fish seem to thrive and grow bigger than their counterparts from other nearby bodies of water.  Several fish hatcheries and government research facilities have come to gather their fish from this very lake – they too are convinced the waters are enchanted and produce bigger fish than surrounding waters.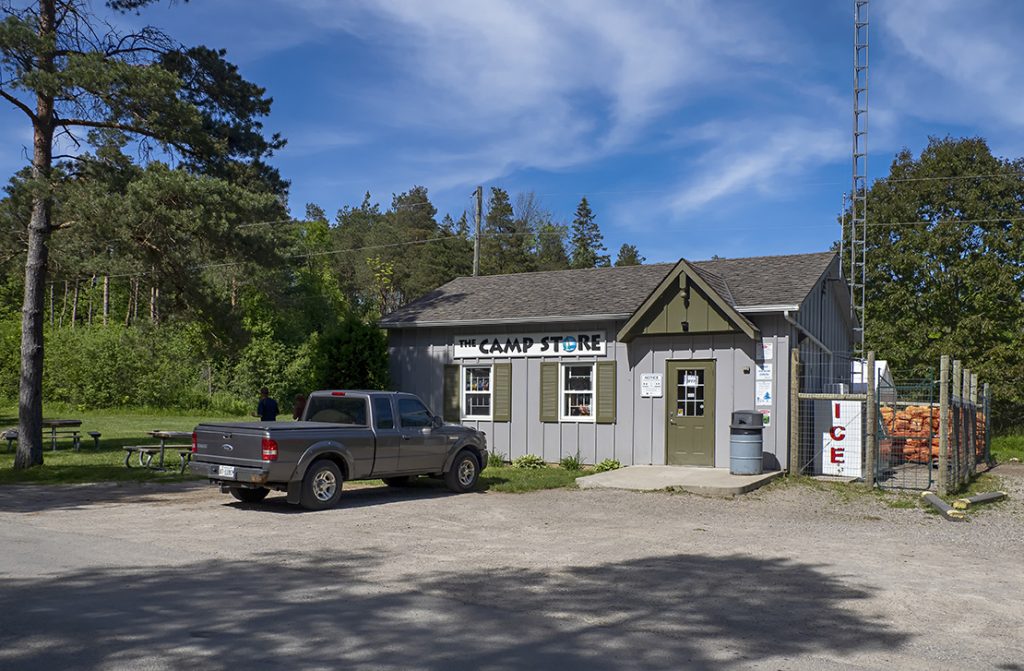 Valens Lake has two stores on site – the Camp Store and the Beach Store.  The Camp Store is in the heart of the campground and is within easy walking distance, or a quick drive, to stock up on ice, firewood, frozen treats, snacks or forgotten camping items. 
The beach area is situated away from the campground in a different part of the park.  This requires campers to either go for a good walk or take their car.  There are several parking lots situated around the beach area and across the street towards the open grass space and pavilion.  If you are planning on spending your day at the beach on a Saturday or Sunday, arrive early to grab a prime shaded spot for your lawn chairs and cooler, beach blanket and preferably close to the bathrooms – we campers know what is important for a full day in the sun.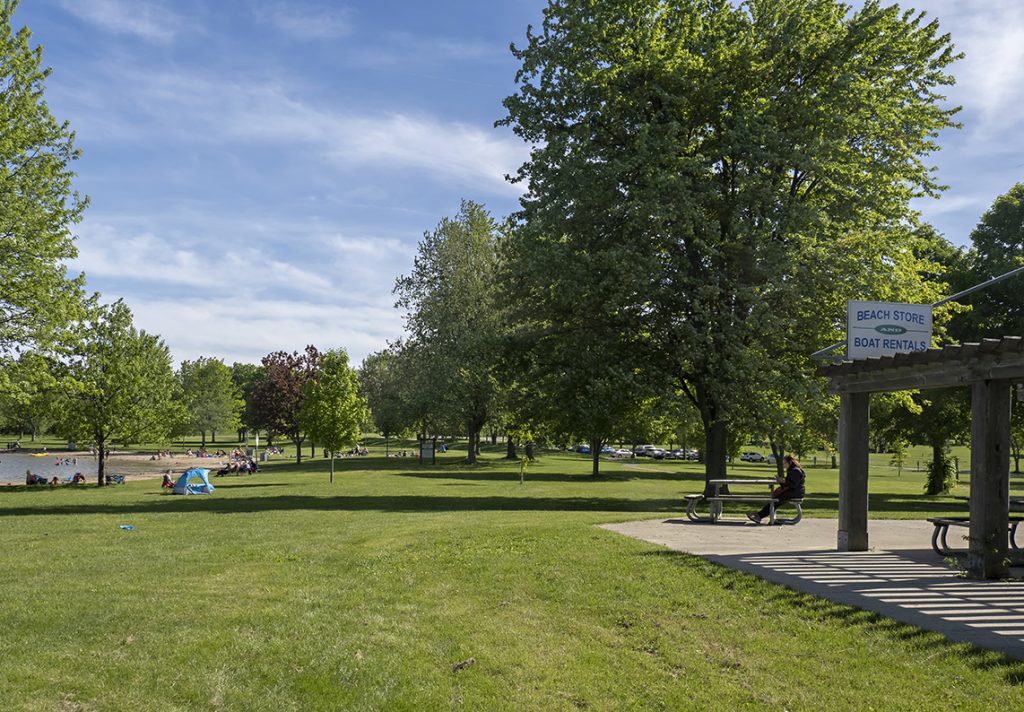 Valens Lake offers two locations for your daily swims, the sandy beach area and the natural swimming area.  The Beach Store is located next to the sandy swim area and provides canoe, kayak, stand-up paddle board and rowboat rentals for full or half days.  The rentals come equipped with paddles or oars and life jackets. In addition, the Beach Store features pre-packaged snacks and cool treats to add to your picnic experience.
Motorized boats are not permitted on the lake.  As such, the beach area remains quiet and serene enough to enjoy a good book by the water, if you don't mind hearing children squealing with delight and parents sighing loudly when they finally get to sit.   
Over 1,000 picnic tables are positioned throughout the park and provide plenty of options for picnicking families and day-trippers.   
The 200-acre lake provides plenty of space for swimmers and boaters to share the lake – and provides paddlers the ability to explore areas not accessible by foot or swimming.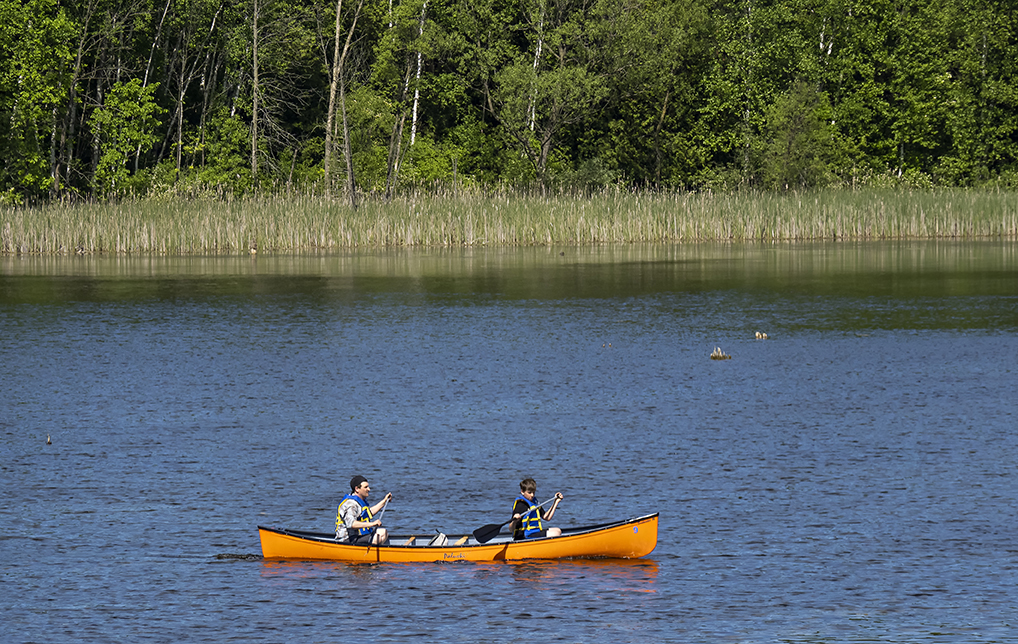 Conservation Area
Valens Lake Conservation Area boasts over 750 acres of conservation land with 10 kilometres of walking/bicycle trails, 300-metre wetland boardwalk, and an observation tower that offers an impressive view of the surrounding forests and lake.  In addition to the sun-soaking fans of summer, fall is a popular season for day-visitors to the park because of the migrating waterfowl and the vibrant display of colours to keep all "leafers" happy.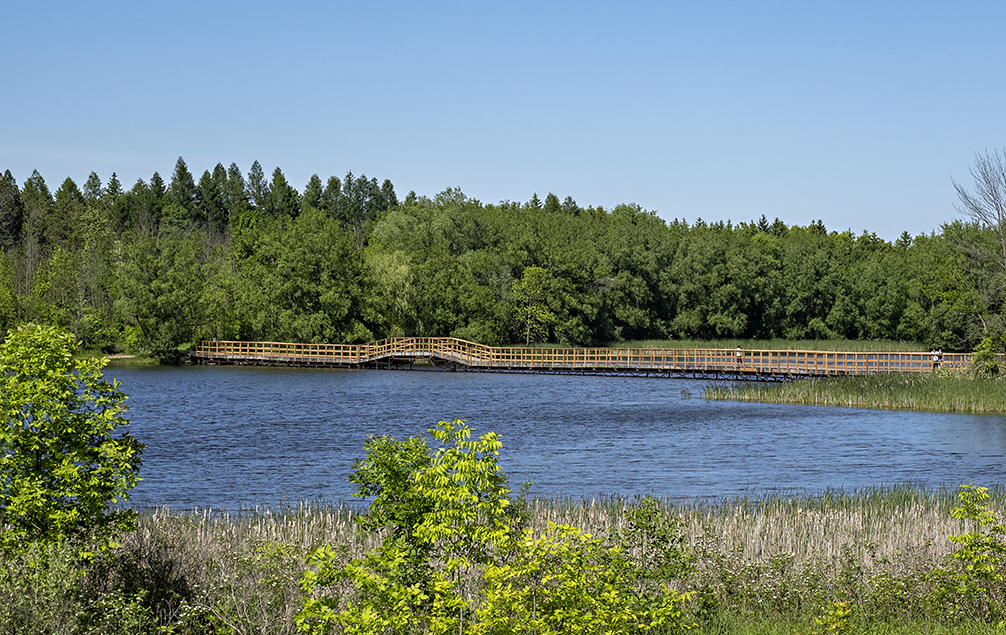 Any season at Valens Lake is a good season – the natural trails are ready for your morning walk, geocaching activities (don't forget your GPS), taking a hike, riding your bicycle or strolling to view the natural fauna and wildlife that nature has to offer.  In the winter, the paths are ready for cross-country skiing, snowshoeing, tracking animal tracks in the snow or simply enjoying the crisp cold air and pristine white freshly-fallen snow.
Hamilton Conservation Authority (HCA)
The Hamilton Conservation Authority (HCA) maintains the greenspace, trails, parks and some attractions in the Hamilton, Ontario, Canada region. The Hamilton Conservation Authority has managed the natural environment in partnership with the City of Hamilton and the Province of Ontario to help ensure a safe and sustainable community. As one of 36 conservation authorities in the province, HCA protects water sources, guards against flooding and erosion, manages conservation and recreational lands, and promotes environmental stewardship and education.
Habitat in the greater Hamilton area is heavily dependent upon these lands managed by the HCA for survival as populations of prospering neighboring cities continue to grow at alarming rates.  The HCA protects these lands from development by protecting the state of natural areas and flood plains, implementing land use policies, habitat restoration, and rehabilitation, monitoring the health of local streams, rivers, and lakes and educating private landowners to be responsible for restoring and maintaining the natural features of their properties.  (Hamilton Conservation Authority, 2019)
Although the HCA's primary purpose is protecting the greater Hamilton area's greenbelt, heritage sites, and sensitive ecological and hydrological features, HCA has designated some of that luscious space for public recreational use.  
---
More Information on Valens Lake Conservation Area
1691 Regional Road 97, Flamborough, ON, N1R 5S7
(905) 525-2183
valens@conservationhamilton.ca

Reservations:
https://hamilton.goingtocamp.com/
Open 7 days a week, from sunrise to sunset, unless otherwise posted