Great adventures come in small packages!
Text and Photos by Norm Rosen
While many of our RV Lifestyle readers are focused on the larger, more luxurious towable and motorized RV models, there is a growing number of camping enthusiasts for whom the RV of their dreams is the smallest and lightest alternative to camping in a tent on the cold, damp ground.
For these hardy souls, the ideal RV solution lies in the fold-down camping trailer segment. These clever RVs tow with ease behind almost any passenger vehicle (some of the smaller units can also be towed by motorcycles), and once you arrive at a campsite, you simply raise the roof, extend the bunks, and flip the galley up from the stored position, to create a camping shelter that is surprisingly spacious.
While the original camping trailer designs date back more than 100 years (see the article on antique trailers in RV Lifestyle Magazine, Volume 45 Number 3), the modern fold-down camping trailers provide 21st century materials and manufacturing advances that focus on lightweight durability.
We dropped in to Ingersoll RV in Ingersoll Ontario to check out the Quicksilver 8.0 tent trailer from Livin' Lite Manufacturing, of Shipshewana, Indiana. Livin' Lite has an excellent track record of creating innovative RV designs, built with high quality materials and workmanship.
We paired the Quicksilver 8.0 with a Jeep Cherokee, representing a wide range of mid-size SUV models that can easily tow this very light trailer. Needless to say, with the Quicksilver compressed and ready for the road, you barely notice the 185-pound hitch weight, and the empty trailer weight of just 1080 pounds does not really affect the tow vehicle's performance. With a low profile, you can see over the trailer while you are on the road, and if you choose to strap a canoe or a bike rack to the top of the trailer, you can easily see around the rig with a pair of towing mirrors. The Quicksilver 8.0 is outfitted with aluminum mag wheels and radial tires that have been selected so that the sidewall and tread function independently, allowing additional tire flexibility. This provides better ground contact for enhanced stability and control.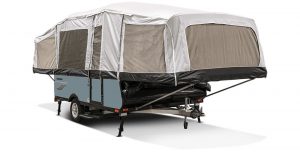 The Livin' Lite Quicksilver looks simple, but there is quite a bit of technology incorporated into the trailer. The unit is built on an all-aluminum superstructure, which contributes to the very light weight of the trailer. On close examination, you can see the quality of workmanship – the welded aluminum tubular frame construction is precise and clean – an excellent indicator of quality engineering and production.
This trailer is built to last for generations – the .40 aluminum clad exterior is finished with high grade automotive paint, and offered in a range of nine eye-catching or environmentally blended colours. The front panel has a black diamond plate rock guard, and the interior wainscoting utilizes synthetic Azdel® panels, which are mold and mildew resistant. There is an all-weather tonneau cover to protect the unit from weather during towing and storage.
One of the most attractive design elements of the fold-down camping trailer sector is the opportunity to utilize large zippered windows and screens in the pull-out bunk sections, and in the midsection of the trailer. These window components allow you to control the light, airflow, and to a certain degree the temperature of the trailer… on a cool summer night you can hear the wind rustling in the leaves, and the sounds of the forest creatures – no other RV type can provide this immersive outdoor environment.
RV enthusiasts often consider the move from a camping tent into a fold down camping trailer to be an evolutionary leap – the comfort of a full-size foam mattress on each of the bunk platforms, and the convenience of a real dinette table and chairs makes this a much more inviting way to camp – especially in rough weather.
The Quicksilver 8.0 accommodates four adults with ease, and if you convert the dinette seating to a sleeping area you can add two more adults… that adds up to a sleeping capacity of six people.
Interior Construction
The Quicksilver 8.0 may seem to be a very basic little trailer, but there is a great deal of thought and experience integrated into this RV. For example, instead of using particle board and wood framing, as often seen in fold-down camping trailers, Livin' Lite builds the galley and cabinetry with aluminum construction and lightweight composite countertops. The flooring is Trek® Residential freeze/crack proof linoleum, and the cushions are made with marine-grade vinyl, and the removable thermoformed storage compartments under the seats are easy to keep clean.
The RV systems in a unit of this size are selected to maximize function while minimizing space and weight, so the galley sink is outfitted with a hand pump that draws from the fresh water tank. A city water fill is provided for your convenience.
The Quicksilver 8.0 comes with a 12V fan and light package, and there are 12V and 110V outlets.
In the Campground
Hitching and unhitching the Quicksilver is a breeze, with a manual crank swivel jack on the tongue that requires very little effort, and once you have removed the trailer from the hitch ball, it is a simple task to lower the front and rear stabilizer jacks. We always travel with a set of Lynx Levellers from Tri-Lynx, and a set of wheel chocks. These come in very handy with a lightweight trailer like this one, enhancing stability especially when you park on soft ground.
The Quicksilver is pre-wired for a Zamp® Solar panel, a device that we have examined on several occasions – this would be an ideal addition for campers looking for an "off-the-grid" adventure. Livin' Lite provides a 30 Amp power converter with 25 Amp output for conventional campsite hookups.
While a trailer of this size does not include a bathroom, you can bring along a portable toilet and stow it under the lounge seating – please consult your RV dealer to select a suitable model.
Optional Equipment
You may not think that there is much space for optional equipment in a trailer of this compact size, but there are some added features that you may want to discuss with your RV dealer.
If you tow with a smaller passenger car or compact SUV, you might want to add the optional electric brakes to reduce wear on your tow vehicle and enhance handling. This option includes a 7-pin electrical hookup in place of the standard 4-pin connector.
If you carry more gear than you can pack into the trailer, the optional aluminum rear storage rack is an excellent addition.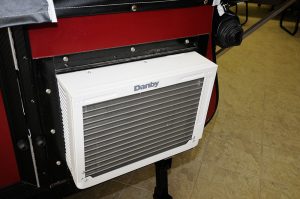 For warm weather camping, an 8,000 BTU air conditioner can be mounted in the sidewall of the trailer, as shown on our test unit.
Many campers enjoy the optional awning and awning room – this is an ideal way to substantially increase your campsite comfort.
You can order the Quicksilver 8.0 with a special XLP option package, that includes a hot water heater and LP gas tank, water pump, 20-gallon fresh water tank, hot/cold faucet at the galley sink, and an outside shower.
There is also an optional LP Package that includes an LP stovetop and furnace, and a residential style galley countertop with sink.
For the truly adventurous campers, there is an optional Off-Road Package that replaces the standard 12" tires with 15" all-terrain tires, for extra clearance on rough roads.