When Chrysler introduced the 300 Sedan in January 2004 at the Detroit Auto Show I was pretty excited. With a 120-inch wheel base, a fairly short rear overhang, fourwheel independent suspension and a Hemi engine, I just knew it could be a great tow vehicle.
The Dodge Magnum was also being introduced based on the same chassis with its 3,800-pound tow rating. What I needed to know was the axle and transmission gear ratios of the 300. I kept asking company representatives until I wound up speaking with the head engineer of the project.
Once I learned the gear ratios, I asked the engineer if they thought about giving the car a higher rating. After all, with its stance and suspension with the engine, it would be very capable of handling many 6,000-pound trailers. It would also mean that Chrysler would have a niche vehicle (as there are people that would like to tow with a car but just don't know that they are able to).
The engineer replied, "Well if they put more than 700 pounds on a ball, they will overload the back tires." I responded, "But you would not do that if you're using a weight distribution system, which would only put 300 pounds on the back tires. He said "I don't know that they are going to do that." Still pushing, I said, "you rate the Jeep and Durango to tow 7000 to 8000 pounds and you would overload those tires without weight distribution." He replied, "There is not enough profit in a car like this to take a gamble on a tow rating". I asked "Have you towed anything with it?" He said "No."
While I didn't win that discussion, knowing what I know about the towing dynamics of some trailers (especially non-RV trailers) and how poor some hitch set ups are, I guess I can't blame Chrysler for being careful. It was a good insight into what determines a tow rating.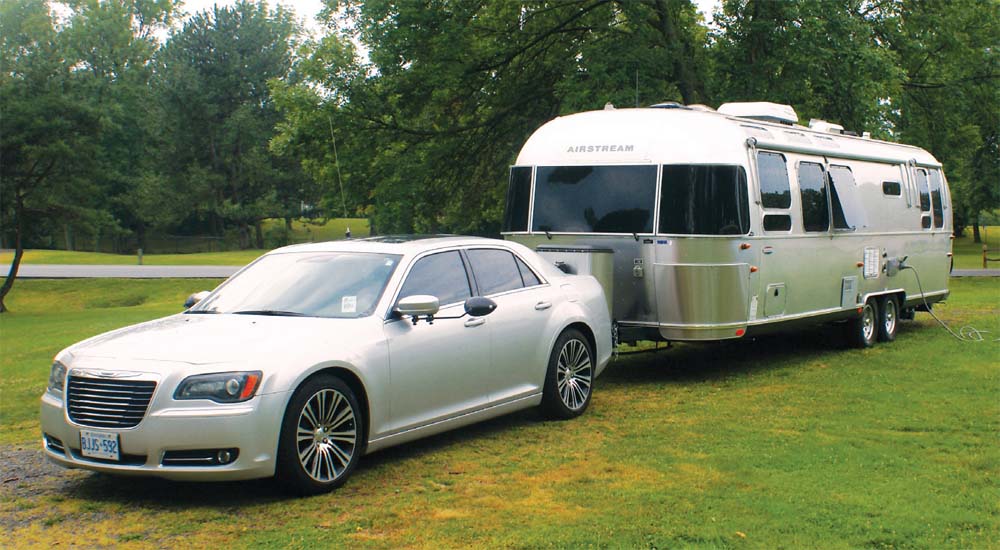 We had one of the first 300's with the 390 hp Hemi in Ontario and ran the car for four years. In 2008 we bought a used 2007 Dodge Charger with the 3.5L V6 and a five-speed transmission. We still have it today and has 150,000 kilometers with a large amount of that spent towing. We have also set up about a 100 of these cars for customers to tow a variety of trailers so we are very familiar with the platform.
Last year, Chrysler replaced the 3.5L with their fabulous new 3.6L motor mated to an 8-Speed ZF transmission, which is used in a large variety of vehicles ranging from the Ram 1500 pickups and VW Touareg to even the Rolls Royce Phantom.
The 3.6L produces 300 hp and 264 pounds-of-torque. Since it has variable valve timing, it produces a lot of power over a wide RPM range. Combined with the eight-speed transmission, there will always be the perfect gear for the job at hand.
This summer we connected the 300 to a 30' Airstream and took a trip to Washington, DC and the Outer Banks of North Carolina. The picturesque drive south from Buffalo through Altoona, Pennsylvania to Washington has quite a few medium length steep hills and a combination of two- and four-lane highways. For the trip home we crossed the spectacular Chesapeake Bay Bridge, then drove north through Philadelphia along Interstates 476 and 81, which has a surprising number of long steep grades climbing through the Allegany Mountains.
On the steepest Interstate grades, the 300 would climb at 100 kph in fourth gear at 3200 rpm and on one of the steep grades on the two lane section the vehicle climbed to third gear and 4000 rpm while still at 95 kph. This is a hill that 30 years ago you would have been climbing in first gear at 50 kph.
Though not the same abundance of power as the Hemi, I never felt wanting for more. The engine and eight-speed gave it great performance with finesse instead of cubic inches. Acceleration from 0-60 kph (with the 30' Airstream loaded for travel) is a very respectable 20.2 Seconds.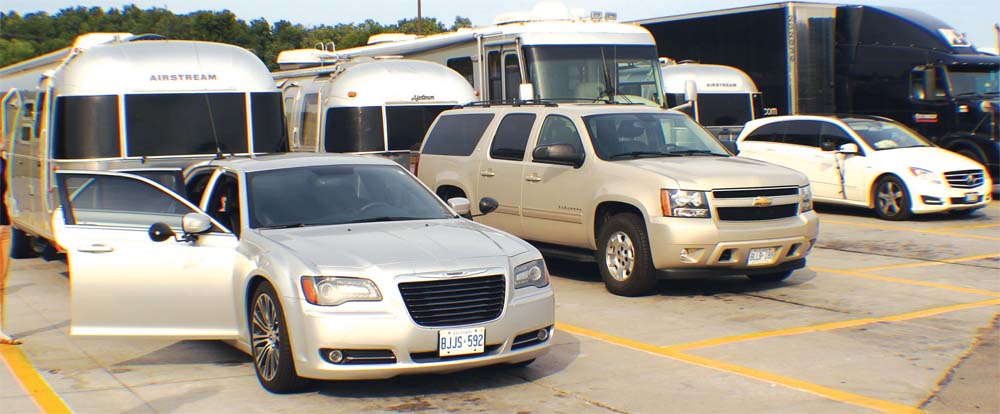 Where this car really shines, however, is the consistent fuel economy when not towing a trailer. During the three days we drove around Washington, DC, which was combination of city and highway speeds, we averaged 25.9 U.S. Gallons or 9.0 L/100. Running 100 kph solo along the highway in Cape Hatteras, which is perfectly level on a windless day, it was sitting on 6.8 L/100 over 40 mpg (imperial gallons). While towing, we averaged 13.3 miles to the US gallon or 16 miles to the imperial gallon 17.7 L/100 km, which is outstanding considering all the hills and two lane roads we covered.
Friends we were traveling with have an R Class Mercedes diesel and we were within a gallon on each fill up. The Mercedes has All Wheel Drive and they have a 34' Airstream, so it's not a direct comparison but it was still surprisingly close.
So what is it like to tow with an eightspeed? Like a lot of newer vehicles, I found this one worked better if I shifted manually. This is no great chore thanks to the paddle shifters. When shifting manually, this transmission acts as a manual − the torque convertor stays locked and you can put it to the floor and won't shift down. You can leave it in automatic mode but every time you slow a little for traffic or go down a bit of an incline it shifts all the way up to 8th gear and then all the back down to 5th where it tows most of the time.
Once on the highway, I would just click into manual and let it run in 5th gear except when climbing. With a tail wind it tows in 6th gear though it did not appear to be any more economical than the 5th. One of the best things about this car is the excellent vehicle information system. There are digital readouts for the engine coolant, oil temperature/oil pressure, transmission temperature and even engine hours. The transmission temperature read out is amazingly consistent and was always running between 190 and 206 degrees Fahrenheit. The hottest I saw the read out information was after backing up on a steep hill in a campsite with a lot of stops and starts and the read out climbed to 212 degrees.
One nice feature on the 300 is the availability of All Wheel Drive for about $2,200 (additional cost). This adds a couple of inches of ride height and ground clearance. It also changes the rear axle or final drive ratio from 2.65:1 to 3.07:1, which would improve performance especially if towing a trailer that's not as aerodynamic as an Airstream. Transport Canada has changed the highway fuel economy on the AWD to 7.3 L/100 as opposed to 6.3L for the rear-wheel drive.
There are several models of the 300 that are available. Some models come with the Touring suspension system, which is an option RVers want to have. Even though it is called the touring package, it is still fairly soft and the ride is very comfortable. Although the handling is not quite as dialed in as the Taurus SHO (that we tested in RVL Vol. 42 No. 4), but it still handled the 30' Airstream easily, even in heavy cross winds.
The steering felt considerably more direct than the original 300 or the 2007 Charger and the bucket seats are among the most comfortable I have taken a long drive on. This has not changed from the model year 2005 300.
The only thing about the car I don't care for is the gear shift lever; it does not have a position for each gear – it just slightly springs back and forth. A few times I thought I was in park, but was I in reverse while other times I thought I was in drive and it turned out I had found Neutral.
So, as a result, the 300 is a good looking, safe, comfortable and quiet tow vehicle with excellent fuel economy for a fairly reasonable price. It's amazing what modern technology can provide. We will have this 300 around for a while and if you are in our area, make a point to stop in and take it for a spin.