Images courtesy of Parks Canada
For more information on these and other Canadian National Parks, please visit www.pc.gc.ca
Banff National Park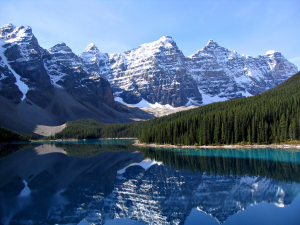 The oldest and perhaps most famous of Canada's National Parks is Banff, a 6,641 square kilometer area comprising dense coniferous forests, mountainous terrain, glaciers and ice fields. Established in 1885 in the heart of Alberta's Rocky Mountains, the park is just a few hours drive from Calgary, and the mountains dominate the western horizon as you drive or fly through the Calgary area.
RV travelers enjoy a spectacular scenic route along the Icefields Parkway that connects Lake Louise to Jasper National Park.
Banff was one of the keys to the creation of the National Parks system, with early visitors travelling on the Canadian Pacific Railway to stay at the famous Banff Springs Hotel and Lake Louise Chalet. The roadways were developed in the 1920s, and developed continually during the 20th Century. Today, the Trans Canada Highway provides access to some of the nation's most spectacular scenic destinations – many millions of travelers explore the area each year.
Tourism brings an ecological challenge to this region, and Parks Canada has special policies to preserve the ecosystem.
Banff has two campgrounds that are open year-round (Tunnel Mountain Village II and Lake Louise Trailer) the reservation service starts taking reservation during the first week of January for the upcoming summer.
Spirit Island Jasper National Park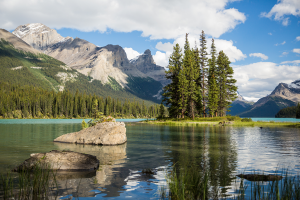 Jasper is the largest national park in the Canadian Rockies, with an area of 10,878 square kilometers. Located in Alberta, it lies north of Banff and west of Edmonton.
The park was established in 1907 as Jasper Forest Reserve, and was designated as a National Park in 1930. Today, Jasper welcomes more than 2 million visitors each year.
The camping areas – Whistlers, Wabasso, Wapiti and Pocahontas are usually quite popular and tend to book fast – as soon as they start accepting reservations, in January, so don't put off making your plans for the Summer of 2018!
Jasper's Red Chairs:
Visitors to Jasper can participate in an exciting program titled "Jasper National Park Red Chairs."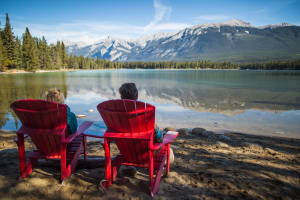 Parks Canada has placed seven sets of red Adirondack chairs in quiet and scenic locations throughout Jasper National Park for visitors to enjoy the spectacular mountain and lakeside vistas. Each location shares a great story about the landscape and history.
There are two ways to find the Red Chairs:
1. Print a map – from the website at https://www.pc.gc.ca/en/pn-np/ab/jasper/activ/activ-experience/chaises-chairs/CRcarte-RCmap and try to find the chairs in these seven locations:
Lake Edith Day Use Area
Pyramid Overlook Trail (2b)
Lower Maligne Day Use Area
Old Fort Point Trail on the "second summit"
Whistlers Summit Trail
Wilcox Pass Trail
Valley of the Five Lakes between Third and Fourth Lakes.
Follow some of the direction pointers when you are out on the trail to help you find the chairs.
2. If you have a GPS you can follow the route to the following UTM Coordinates:
Lake Edith Day Use Area UTM: 11U E 429628.4; N 5862555.1
Pyramid Overlook Trail (Trail 2b) UTM: 11U E 426442.2; N 5864364.2
Lower Maligne River Day Use area UTM: 11U E 440631.4; N 5860893.1
Old Fort Point Trail UTM: 11U E 429638.9; N 5858135.6
Whistlers Summit Trail UTM: 11U E 424036.047; N 5853584.000
Wilcox Pass Trail UTM: 11U E 486433; N 5785835.2
Valley of the Five UTM: 11U E 432213.1; N 5852319.7
UNESCO World Heritage Site
In 1984, Jasper National Park was declared a UNESCO World Heritage Site, along with the other National and Provincial Parks in the Canadian Rocky Mountain Parks System.
Glacier National Park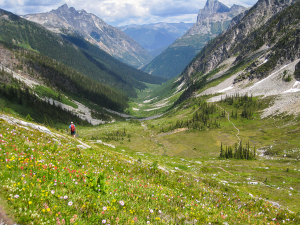 Canada's Glacier National Park is located near Revelstoke B.C., and covers 1,349 square kilometres of the Selkirk Mountains and a part of the Columbia Mountains. Notable for the Rogers Pass route that was discovered by Major Albert Bowman Rogers in 1881 – a key factor for B.C. to join Confederation. The construction of the Canadian Pacific Railway through the pass was essential to the development of the area, and the Trans Canada Highway further expanded the access to the area. Glacier National Park features alpine peaks, glaciers, and an extensive cave system.
Glacier National Park has a very well maintained hiking trail system and three small, non-reservable campgrounds, and it is the preferred destination for millions of visitors each year. Travel through the park is a bit of an adventure, especially in winter, when heavy snows trigger avalanches in the steep valleys.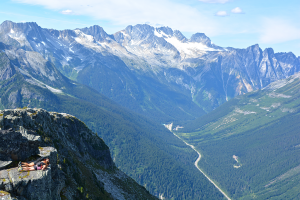 Glacier National Park supports an extensive array of wildlife, including more than fifty species of mammals, including bears, wolverine, cougar, and other predators, as well as caribou, elk, white-tailed deer, and mountain goats. The park is a destination for more than 200 species of migratory birds, and home to more than 30 species, including owls, woodpeckers, golden eagles, and more.
For more information on these and other Canadian National Parks please visit www.pc.gc.ca