Cycle Touring in Hamilton County
With so many RV enthusiasts drawn to Elkhart, Indiana – the RV capitol of the World – we asked our friends at Hamilton County Tourism to share some suggestions for cycling tours in the State of Indiana.
It turns out that the region between Elkhart and Indianapolis is a mecca for bicycle aficionados – with some of the finest trails and facilities in North America!
Here's a short list of places to explore on two wheels…
IMAGES – Courtesy Hamilton County Tourism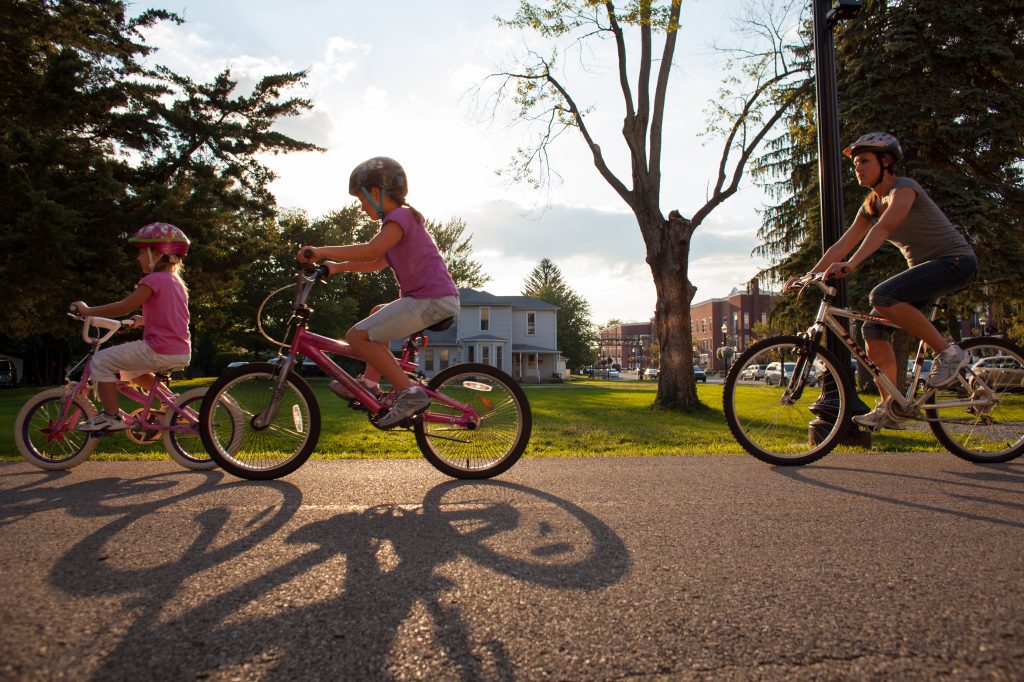 North of Indianapolis is Hamilton County—comprised of four distinctive communities Carmel, Fishers, Noblesville and Westfield—where over 500 miles of recreational trails can be enjoyed along with a plethora of unique family-friendly attractions, positioning the county as the perfect spot for a family bike outing or solo cycle in honour of National Bike Month this May, and year-round.
Hamilton County's Communities:
Carmel, Indiana: Home to Carmel Arts & Design District, The Center for the Performing Arts and Midtown Plaza, Carmel, Indiana has a world-renowned art scene, teeming with small businesses and local restaurants and hundreds of miles of recreational trails.

For Biking:

Monon Trail (Carmel & Westfield) – A former railroad route turned greenway, the Monon Trail is a 25-mile paved pedestrian pathway. The trail is typically used for leisure riding and winds past many local shops and cafes, crosses several wooden bridges and offers a wide range of views from the Kawachinagano Japanese Garden to notable sites like The Palladium concert hall. Don't want to travel with your bike? Carmel Bike Share program makes it easy to pick-up and drop-off your bike at several locations throughout the city and pay as you go.

Carmel Arts and Design District

Other Activities: 

Bub's Burgers and Ice Cream: After working up an appetite, stop by Bub's Burgers and Ice Cream, a local favorite that's owned by Indiana natives.
Carmel's Arts and Design District: Shop around in Old Town Carmel, Indiana—the area is teeming with art galleries, antique shops, retail stores, interior designers and showrooms. Plus, in the month of May the district will host their "Meet Me On Main" event every other Saturday, which features new artists, entertainment, merchant activities and more.
Carmel Farmers' Market: Grab a refreshing snack after your trail rides at the Carmel Farmers' Market. Choose from over 60 purveyors' goods, like fresh flowers, fruits, baked goods, local honey and other Indiana-grown items. The market opens in May through September and takes place every other Saturday from 8:00-11:30 am.
Fishers, Indiana: Located off 1-69 on the northeast side of Indianapolis, Fishers, Indiana has so much in store for locals and visitors from sipping on locally brewed ales at Sun King Brewing, to hot air balloon rides at Conner Prairie, one of the most visited outdoor living history museums in the U.S.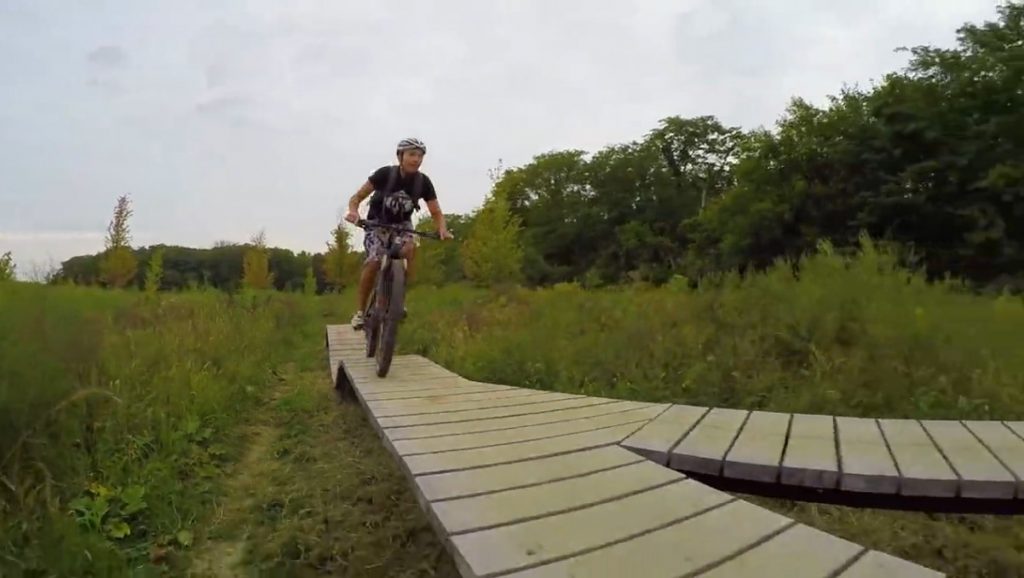 Flat_Fork_Mountain_Biking_Preview
For Biking:
Flat Fork Creek Park – Flat Fork Creek Park offers a progressive mountain bike course ideal for beginners. Traverse through the trees along ramps with technical features ranging from small whoops to wall rides. The trail is a favourite spot for newbies and also offers intermediate cyclists the opportunity to put their skills to the test.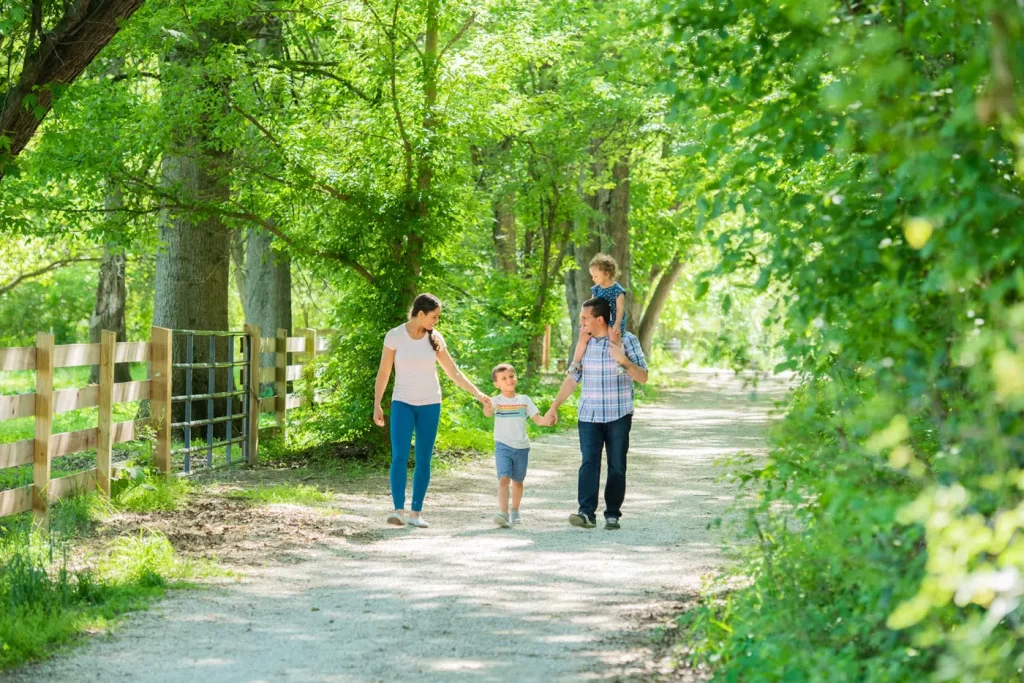 Other Activities: 

Conner Prairie: In late March, the beloved and famous living history museum that brings visitors from around the world, Conner Prairie, is open to its full summer hours including full access to the outdoor grounds. In addition, starting the same date, guests can start riding in The 1859 Balloon Voyage, a hot air balloon experience that soars above the Indiana skyline.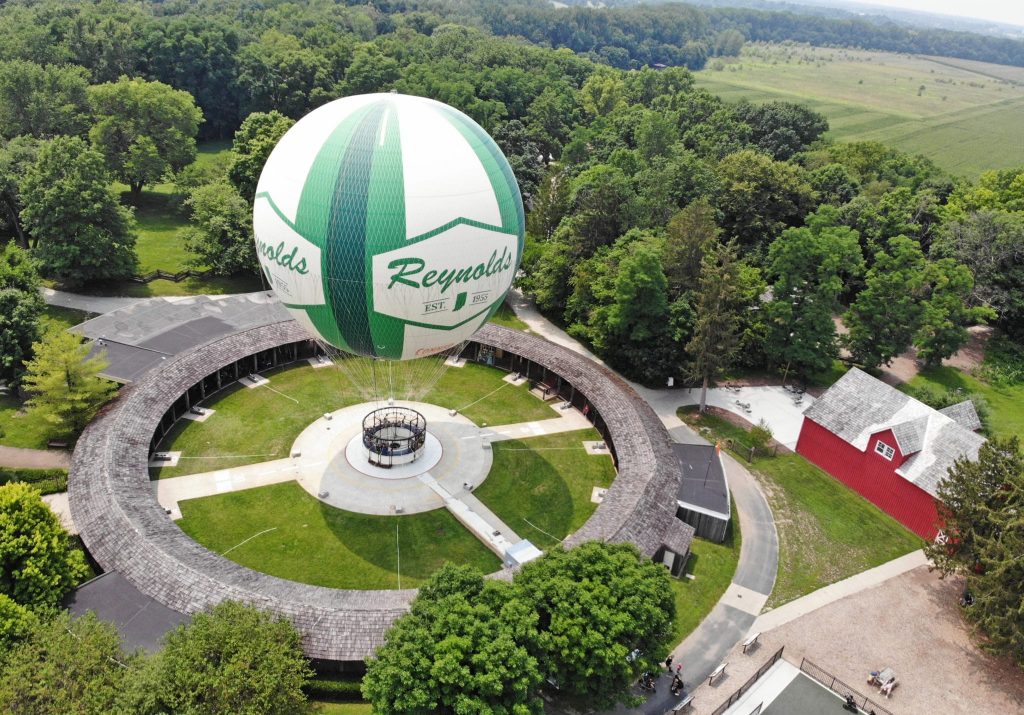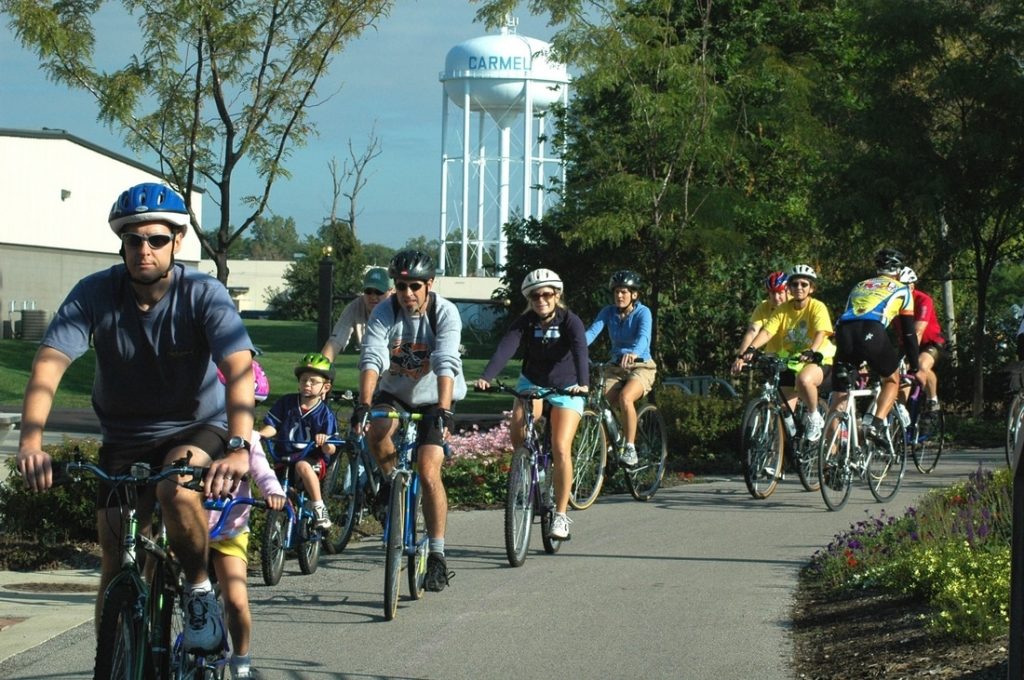 For Biking: USBR35 – Grab an e-bike from Pedego Electric Bikes in Carmel and set out on the USBR35, an interconnected bike route that passes through 15 counties across Indiana, including Hamilton County. The route runs 360 miles from north to south along nationally-approved pathways, allowing riders to experience rural scenery and diverse landscapes ranging from expansive meadows and vast wetlands.
Other Activities: 

Nickel Plate Express – Board the Nickel Plate Express for a one-of-a-kind experience. Their seasonal rides attract visitors around the Midwest. This summer enjoy a variety of dinner, drinks and brunch train rides. From the Uncorked Express, Dinner Express, Sunrise Express, to seasonal rides like the Easter Express, there's a perfect ride for everyone.

Other Activities:
Urban Vines: Stop by Urban Vines, a winery and brewery dedicated to small batch winemaking and brewing in Westfield, Indiana. Their seasonal slushies are drool-worthy and if you're not looking for something sweet, try one of their locally brewed ales. Urban Vines takes pride in its spirits, and with only 4 ingredients in its craft beers and locally produced wine blends, the brand offers small-batch deliciousness consumers can trust.
Where to set up camp:
White River Campground (Cicero, Indiana): Located on the west bank of a picturesque stretch of the White River, the White River Campground offers the perfect spot to spend a getaway weekend in Hamilton County, Indiana. Explore 26 acres of beautiful terrain by foot, river or bike, enjoy the wildlife and have fun exploring all the adventures of Strawtown Koteewi Park.