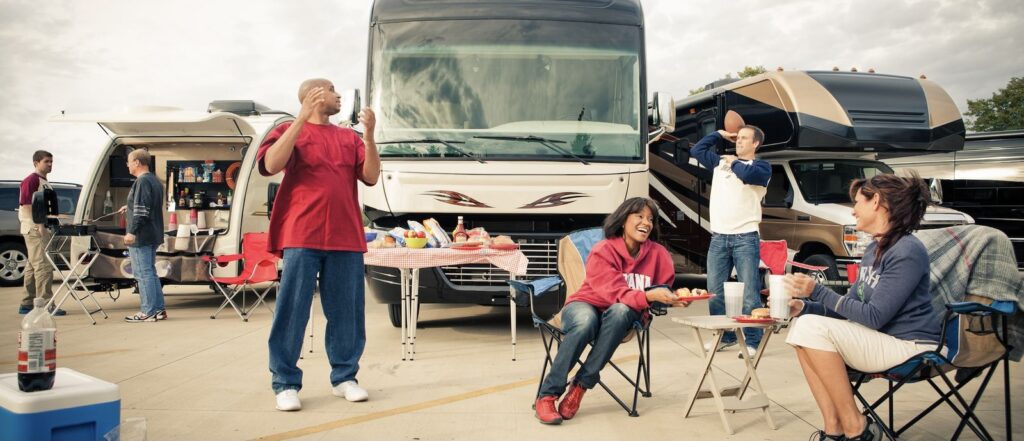 Lead photo: Tailgating is one of North America's favourite activities – our friends at Go RVing have some great suggestions for you – check out the feature story at https://www.gorving.com/this-is-rving/activities/tailgating
---
6 New Products for RV Tailgating
Here's a collection of RV tailgating products curated by our friends at NTP-Stag, now available at RV dealers throughout North America.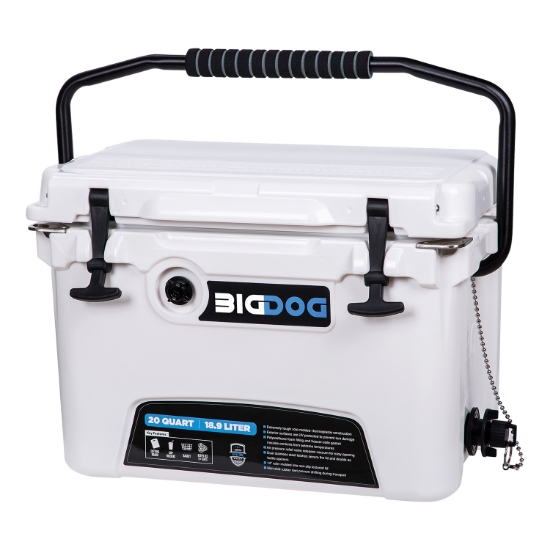 BigDog 20 Quart Cooler (BDC20)
MSRP $190.00 US
Whether you choose the 20, 45, 60, 75, or 110-quart size, BigDog coolers are engineered with insulating properties that keep contents frozen in excess of 5 days. All coolers are packed with value-added features including cup holders, a dry good basket, poly cutting board, molded-in ruler, and a limited lifetime warranty. Wheeled options are available in both 45 and 60-quart sizes.
BigDog coolers include a variety of accessories that are sure to come in handy whether you're tailgating, camping, fishing, or just hanging out with friends and family. All BigDog products are backed by a Limited Lifetime Warranty.
Watch the video:
https://youtu.be/GrAq4JQjwQI
For more information, please visit:
https://www.huskytow.com/bigdog-coolers
---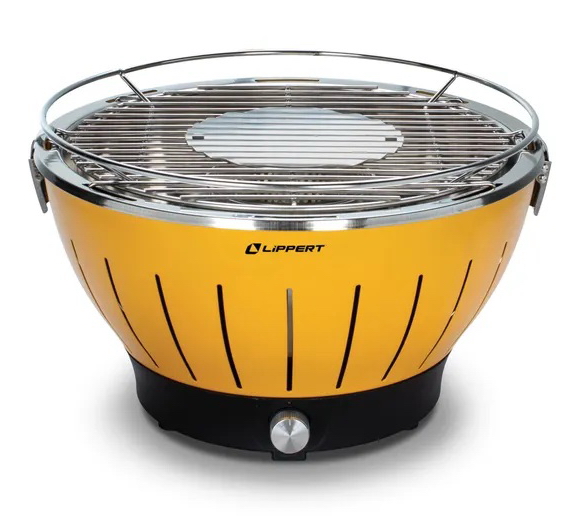 Odyssey™ Portable Grill
SMOKELESS-GRILL
MSRP Starting at $129.99 US
The Odyssey™ portable grill by Lippert™ is an ideal way to prepare meals at your campsite, or at a tailgating party!
The innovative design provides superior ventilation for even cooking and deflects grease drippings away from the burning charcoal. This unique camping appliance has a catering capacity for up to 10 people.
The grilling unit incorporates a durable outer bowl made of powder coated steel, stainless steel basin, grill plate, barbecue grate, ignition plate, charcoal container with a cover and gripping tongs. The Odyssey™ portable grill holds five to six charcoal briquettes for the smoky taste, and has a 4-AA battery or USB powered fan to control cooking temperature.
Integrated safety latches on the outer bowl keep the inner basin, barbecue grate and charcoal container together in a self-contained unit.
The grill includes a convenient carry bag with a bonus, free insulated cooler attachment.
The grill features a dishwasher safe barbecue grate and inner basin.
Available in red, green and amber, at RV dealers throughout North America.
For more information, please visit:
https://store.lci1.com/odyssey-portable-grill-smokeless-grill
Watch the video tutorial here:
---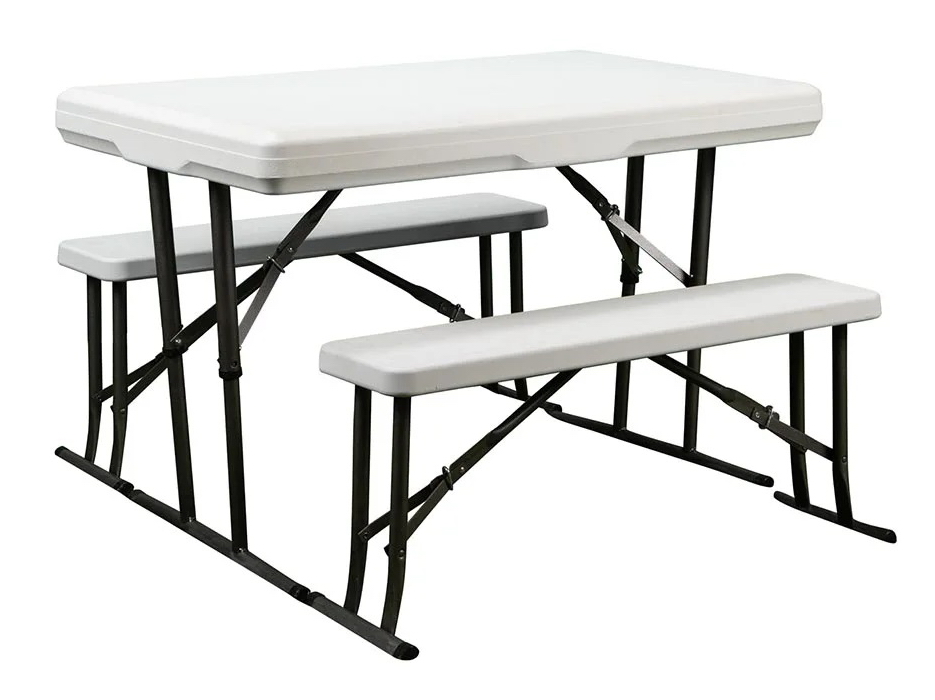 Faulkner Folding Table with Benches
28 3/4 inch x 44 1/2 inch (White)
MSRP $371.98
The Faulkner folding table with benches is a comfortable and compact outdoor set that is weather, stain and rust resistant. It is perfect for campsite dining, the design features nesting benches that instantly fold down for compact storage.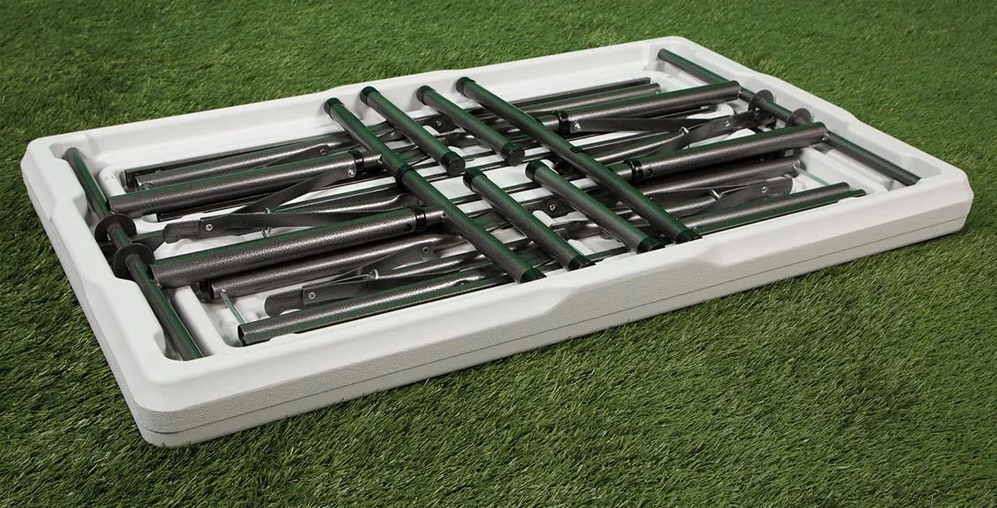 Table dimensions: 28 ¾-inch height x 44 ½-inch width.
Bench dimensions: 16 ½-inch height x 37 ¾-inch width.
Made of weather resistant, UV-protected polyethylene, the table supports up to 220 lbs and the benches support up to 440 lbs.
---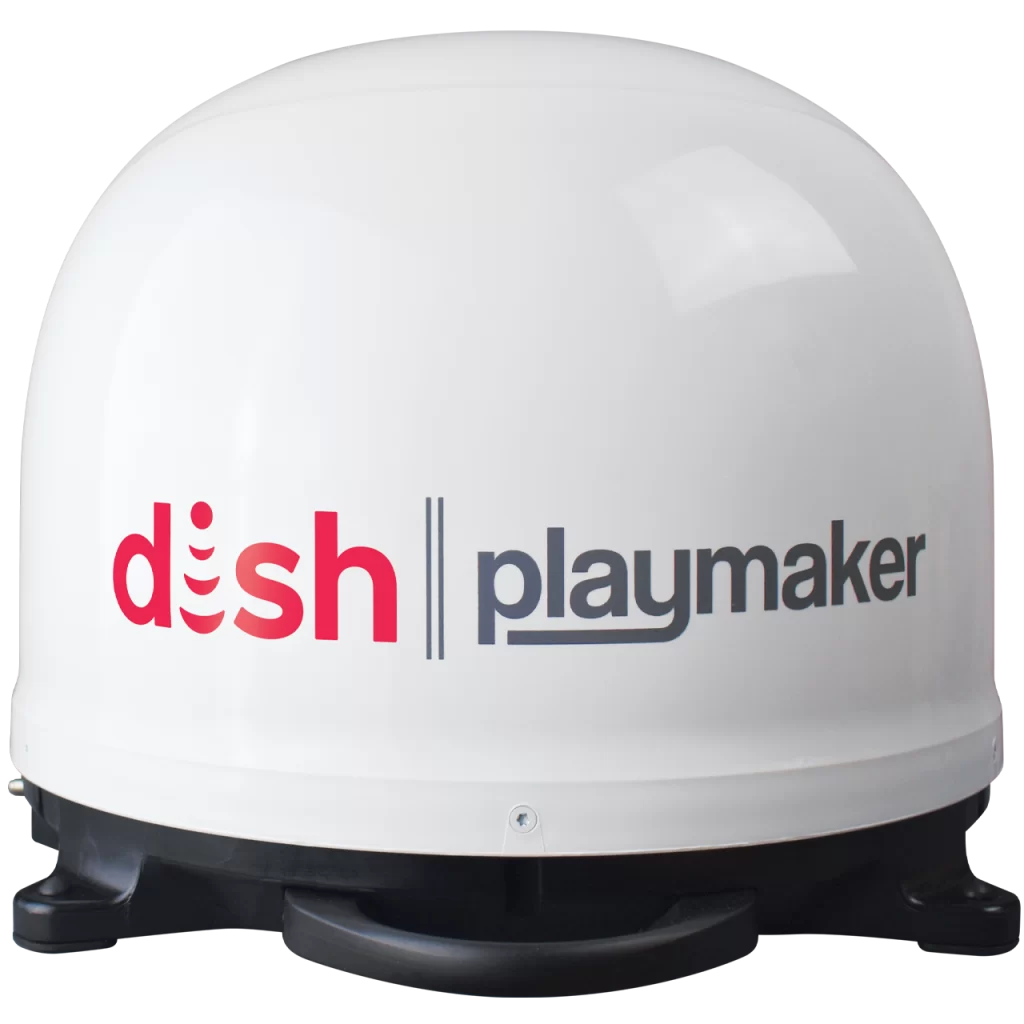 Winegard DISH Playmaker
When you can't get to the big game, you can share the action with friends and family by watching on your TV in the comfort of your campsite.
This Winegard satellite antenna provides fully automatic reception to find DISH satellite locations. Portable when used with the optional TR-1518 adjustable tripod mount, or the optional RK-4000 RV roof kit.
The Playmaker has an Easy Grip Handle with comfortable grip for effortless carrying.
Built with high-strength, military-grade aluminum reflector for improved signal strength and durability.
The Playmaker comes with a DISH Playmaker Portable Automatic Satellite Antenna, 25-foot RG-6 Coaxial Cable, and Printed Documentation.
Weight: 12.40 LBS, package dimensions: Height: 18.13 Inches, Width: 17.25 Inches, Depth: 13.75 Inches.
For more information, please visit:
https://winegard.com/dish-playmaker
Watch the video here:
---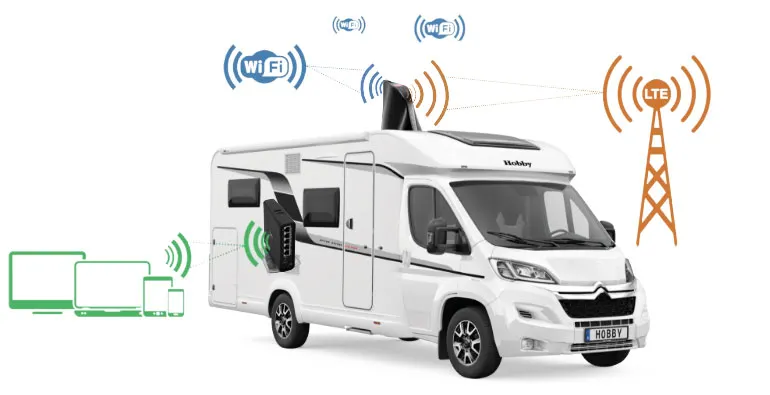 Winegard WiFiRanger
Watch livestreams and enjoy online entertainment in the comfort of your RV.
WiFiRanger routers are designed to provide mobile connectivity for a variety of use cases. Centralize your network with these secure and user-friendly routers. Internet comes into the WiFiRanger from WiFi, Cellular, or Satellite sources depending on what you have. Connectivity is then distributed out to your computers and devices through a secure WiFi signal and LAN ports.
One of the key benefits of WiFiRanger solutions is the wide range of features built into the products. You are able to connect multiple internet sources at the same time, monitor bandwidth usage, secure your network, and much more. Configure your router to operate exactly how you want to improve your mobile internet experience.
For more information, please visit:
https://winegard.com/wifiranger
---
Faulkner Deluxe Gas Grill – 12 000 BTU (Chrome)
MSRP $461.98 US
Nothing beats the flavour of a BBQ meal during the big game, and compact portable BBQs are the top choice for convenience.
This Faulkner deluxe gas grill can be used at the campsite, at tailgate parties or even on your patio at home. Lightweight, portable, and easy to set up and prepare evenly cooked food wherever you love to grill, this propane grill features 12,000 BTU heat output.
The grill has a polished silver finish with a stainless-steel grill and grate.
Grill dimensions: 20.35-inch x 12.2 inch and upper rack is 14.7 inch x 4.57 inch. The grill stands 22 inches tall when used with the included portable stand.
The Deluxe Gas Grill features locking top, adjustable temperature thermometers and a drip tray.
CSA approved and UL listed within America, available through your local RV dealer.