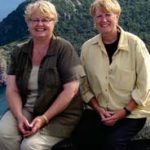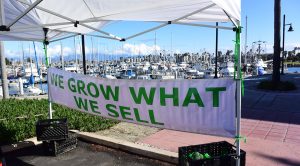 Do you know what a slow food market is? Slow food is synonymous with local food. The farmer, fisher, and producer offer their products directly to us, the consumers. There is no middleman in the process, no trucking in from far-away places. Slow food markets are a way of saying no thanks to the rise of fast food and fast-paced lifestyles. They facilitate eating locally and seasonally, taking time to enjoy simple pleasures like chatting with our neighbours and the purveyors while choosing our supplies.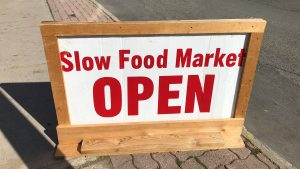 RV'ers have the advantage of enjoying a variety of local products wherever their adventures take them. We have shopped for fresh fish in California; oranges and grapefruit in Florida; tortillas and salsa in Texas. The Slow Food Market we go to on Sundays in Stratford, Ontario, doesn't offer pineapples from Hawaii or avocados from Mexico but it does offer the freshest local products available. The baker takes the time to explain the best way to enjoy his seven-grain loaves and crusty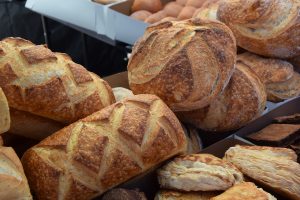 baguettes. The farmer offers a choice of eggs – white, brown, or duck. An off-premises chef provides a choice of frozen entrees for two. One vegetable purveyor sometimes sings to entertain the crowd. We think he also sings to his kale because it is the best we've ever eaten.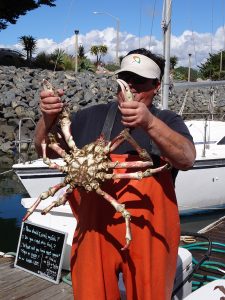 Slow Food markets have character and characters. Stalls are often makeshift and temporary. Regular customers, with their re-useable bags, arrive early. The produce is not necessarily organic. Some vegetables are not the prettiest because, even though they are washed, they are not waxed or polished and are sometimes misshapen. It's all about the flavour and the freshness. It's all about supporting local producers.
This recipe was created with slow food market farm-fresh carrots. They were so flavourful and colourful they needed little enhancement.
---
Honey-Buttered Roasted Heirloom Carrots
(Makes 3 to 4 servings)
INGREDIENTS
1 pound (454 g) baby rainbow carrots, scrubbed
1/4 cup salted butter
1 tablespoon (15 ml) raw honey
sprinkling salt
sprinkling pepper
DIRECTIONS
Preheat the oven to 425° F (218° C).
Place the carrots on a baking sheet. Set aside.
In a small saucepan, melt and constantly whisk the butter over medium heat until the butter becomes frothy and a golden caramel colour.
Remove the saucepan from the heat and add the honey. Whisk well.
Brush the honey-butter over the carrots. Turn and brush the carrots until they are completely coated in honey-butter.
Sprinkle the carrots with salt and pepper.
Bake for 15 minutes. Remove the baking sheet from the oven. Test for doneness. Brush any excess honey-butter on the baking sheet over the carrots. Return the carrots to the oven.
Bake for 15 minutes more or until the carrots are tender. Serve the carrots hot.
The Cooking Ladies' 10th cookbook, "On the Road with The Cooking Ladies, Let's Get Grilling", is available on Amazon at http://amzn.to/2CjLfR0 and wherever books are sold.