The 2014 GMC 1500 full-size pickup has been upgraded with more power and advancements. It's powered by one of three all-new EcoTec3 engines, a fully updated cabin with available next-generation connectivity and other features.
"Customers love them because they make life easier," said Mark Reuss, President of General Motors. "Their truck still needs to work for a living during the day, but it can also carry kids to ballgames, families can use them on vacations, and couples can drive in comfort for a night on the town."
We had the opportunity to test the new 1500 series trucks in the rugged Gros Morne National Park region of Newfoundland. After arriving at the Deer Lake airport we traveled on Route 430 through the rugged interior to Jack Ladder onto Wiltondale where we switched to Route 431, which would take us to Glenburnie and Woody Point, on the South Arm of Bonnie Bay, and over the hills past the 2300-foot Tablelands area, then drop back down to the small coastal village of Trout River for lunch at the Fisherman's museum.
We then reversed our way back towards Wiltondale, through the Southeast Hills then continued our way towards Rocky Harbour with the East Arm on our left as we drove north to Norris Point for an overnight stay. I missed our turn at Rocky Harbour and continued North with the rugged coast of the Atlantic Ocean on our left, towards Green Point. I stayed at Neddies Harbour (a small fishing village) in a deluxe cottage equipped with hi-speed internet, fireplace, cable TV, and washer and dryer. In the evening, during a feast of lobster and steak at the "Cat Stop", we were treated to Down East music. Then, as first time travelers to Newfoundland, we were ceremoniously "screeched-in", with the kissing of the cod and, of course, a wee dram of Newfoundland Screech (Jamaican rum) straight up. Newfoundlanders always managed to preserve the strong rum from shipwrecked boats.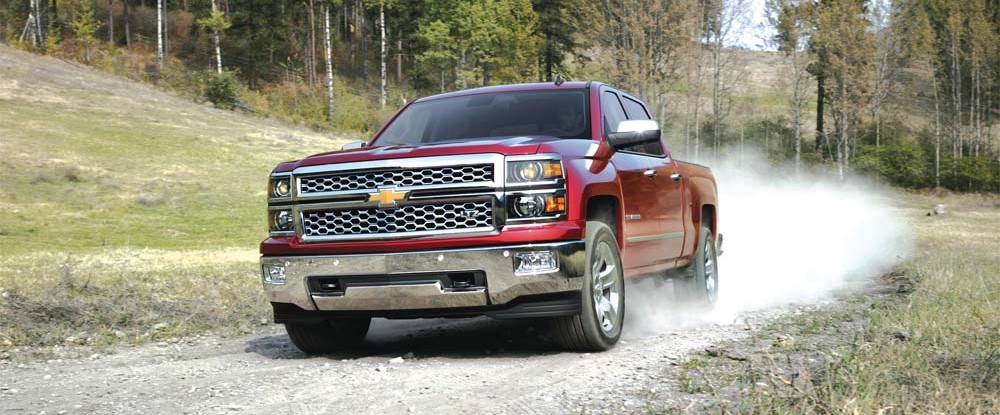 In the morning we did several tests towing different trailers and conducted tests for uphill and off-road manoeuvres. Moose are very abundant on Newfoundland roads, especially at night, and on our way back to the airport we were treated to a lunch of Mooseburgers. The roads provided many opportunities to test the agility of the trucks as we drove the narrow, well-maintained roads through the wilderness. The scenery is spectacular and well worth the drive for a holiday in your RV.
The 1500 series engines for 2014 have increased power, torque and fuel efficiency right across the board. There will be a 4.3L V6, a 5.3L V8 and a 6.2L V8 offered from a shared EcoTec3 engine family – all based on the proven small-block design. Each engine features standard direct injection, continuously variable valve timing and Active Fuel Management, which means they seamlessly switch to run on four cylinders during light-load driving to save fuel.
The 4.3L V-6 is SAE-certified at 285 horsepower and 305 pounds-feet of torque and the 5.3L V8 is certified at 355 horsepower and 383 pounds feet of torque. The 6.2L V8, which produces an SAE-certified 420 horsepower (at 5600 rpm) and 460 pounds-feet of torque (at 4100 rpm), is the most power of any pickup engine and torque of any light duty pickup truck engine. The 5.3L V8 has an estimated fuel consumption rating of 8.7 L/100km highway (2WD models). All three engines use lightweight aluminum blocks and heads mated with durable six-speed automatic transmissions. A "cruise-grade braking" feature downshifts the transmission on downgrades, which is intended to reduce brake wear, the V8 models use new, larger 9.5- and 9.76-inch rear axles with the strength to accommodate the engines' higher output. When you are towing a trailer or fifth wheel, strong brakes are important for stopping, especially on a long downhill run in the country. Duralife brake rotors are featured in the 1500 series fourwheel disc brakes, which feature a hardened and strengthened surface to reduce corrosion. These rotors are expected to last twice as long as conventional rotors and provide quieter braking with less vibration.
The two units can pull double duty for work or play. "Customers love them because they make life easier," says Mark Reuss, President of General Motors.
The 1500 series power steering uses an electric motor in place of an enginedriven hydraulic pump to save fuel and allows for tuning that's expected to result in a more consistent, crisp steering feel and plenty of assist for parking manoeuvres. The instrument cluster on all models feature six gauges with an available 4.2- inch color Driver Information Center, featuring vehicle status information, a trip computer, and other information, such as a radio and navigation system. The knobs on the control systems are coated with a rubber-over-mold technology, so they're easy to grip with your gloves on.
The Sierra has some of the most upto- date infotainment command centers for work and family, with natural voice recognition for easy, hands-free operation of many functions, including pairing and intuitive control of smartphones and other devices.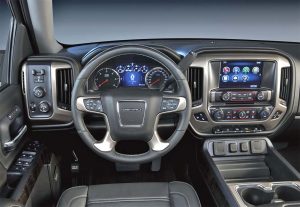 Safety features such as Forward Collision Alert, which uses a forwardfacing camera to notify the driver of an imminent collision, and Lane Departure Warning, which uses the same camera to track the truck's position in relation to a road's lane markers. Paired with Forward Collision Alert and Land Departure Warning is GMC's firstever Driver Alert Seat, which generates vibrating pulse patterns on the left and/ or right side of the lower seat cushion bolster to alert the driver in the event of potential dangers, including an un-signalled lane change or when approaching another vehicle too quickly.
Dual-density foam in the 1500 series` seats is designed to stay comfortable over long periods and continue to look great after years of use. Sierra's new high-wear cloth is designed to last longer and resist staining. A spilled drink will bead on the fabric, not soak in. Heated seats are available with cloth seats and standard with leather. To provide better protection for the driver and passengers, two-thirds of the cab is made from highstrength steel. To reduce wind noise and have better airflow, all models feature doors that fit into the body side openings rather than over the top of the roof. Tighter sealing of the front end allows only the air in that is needed for cooling.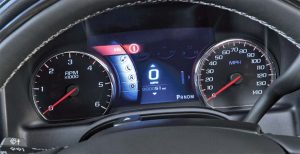 A second, high-mounted glove box with a flat floor joins the traditional box below. Each of the 1500 series doors has storage crafted to hold most beverage containers and other personal items. Along the center stack and center console are additional cupholders, discreet compartments large enough for most laptop computers, and connectivity options. It is available with a 110-volt outlet, up to five USB ports, four 12-volt outlets and an SD card slot.
For the first time on Extended Cab models, there are front-hinged rear doors with outside pull handles at the rear, providing improved access in tight parking spaces. This allows rear passengers to enter and exit the vehicle with the front doors remaining closed.
Crew Cabs represent more than 60 percent of Sierra owners, who can choose between two bed lengths. In addition to the five-foot, eight-inch box, a new six-foot, six-inch box is available. Regular cabs will have the six-foot, sixinch or eight-foot box lengths, while the extended cab will come exclusively with a six-foot, six-inch box.
Climbing into the bed of the 1500 is made easier thanks to the standard corner steps in the rear bumper, whether the tailgate is up or down. The steps are paired with hand grips formed into the top of each bed side while four movable upper tie-downs are also standard. They can be placed in nine different locations and can bear a 500-pound (227 kg) load. Available LED cargo lights beneath the bed rails will illuminate the bed when a tonneau cover is in place and the tail gate uses an integrated torsion bar with a damping mechanism that makes it easier to operate when lifting or lowering.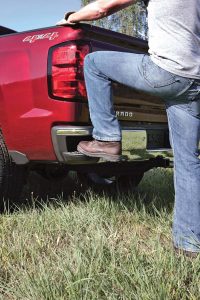 The Eco-Tech engines provide the power and torque of a real truck when you need it, and four cylinder fuel savings under light loads. To match the broad torque curves of the engines, the Sierra uses a 6-speed automatic transmission. The V-8 trucks will have stronger axles to handle the extra torque of towing heavy loads. The road ahead will be easier to see with projector headlamps, with visual and audible safety warnings that also vibrate the seat to warn you of forward collision and lane departure events.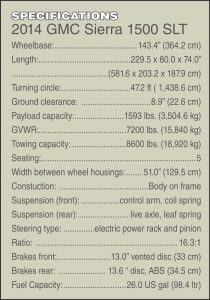 The optional Max Trailering Package is available on 2WD and 4WD V8 crew cab and double cab models and includes seven-pin and four-pin connector, enhanced cooling, automatic locking rear differential, heavy-duty 9.75-inch rear axle with 3.73 gear ratio, increasedcapacity rear leaf springs, revised shock tuning for increased control, and integrated trailer brake controller.
Silverado and Sierra trucks 1500 series trucks equipped with the 4.3L V-6 will have available towing ratings of up to 3,447 kg (7,600 pounds), the highest for any base V-6 in the segment. Trucks equipped with the 5.3L V8 and the max towing package, available later this year, will have towing ratings of up to 5,216 kg (11,500 pounds) when properly equipped. The 6.2L V-8 available for Silverado LTZ and High Country and Sierra SLT and Denali models also delivers class-leading maximum available trailering capacity of 5,443 kg (12,000 pounds) when properly equipped.
"General Motors customers want a truck that's honest, hard-working and dependable, just like they are. It offers a high torque standard V6 – the most capable V8 available in a light duty pick-up, smart technology that optimizes power and fuel efficiency based on how you drive plus the towing and hauling capability to handle the toughest jobs. Power and towing capacity are fundamental capabilities for full-size pickups," said Jeff Luke, General Motors Executive Chief Engineer for full- and mid-size trucks.