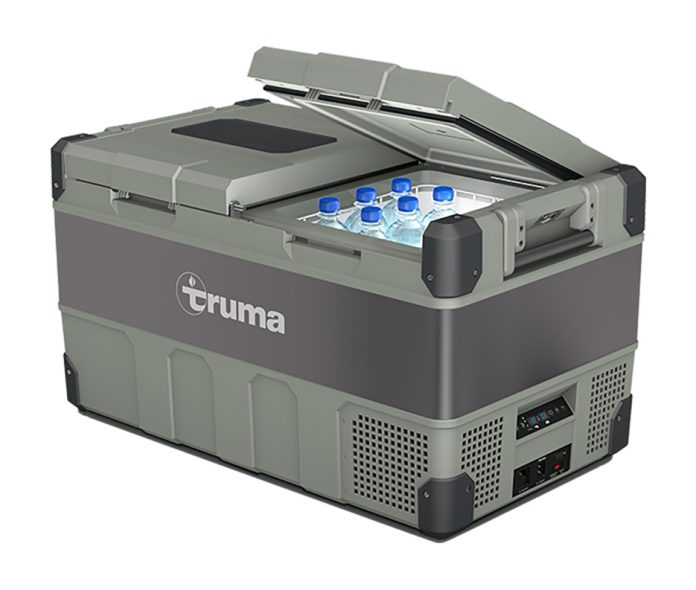 The Truma Cooler portable fridge/freezer is designed to keep food and drinks ice cold or frozen and is suitable for your RV or any backwoods adventure. The electric Truma Cooler can be used as a refrigerator or freezer. It comes in three series: the Weekender, the Traveler and the Adventurer, and there are seven sizes available including two models with dual zones allowing the use of a side-by-side fridge/freezer. It has space-saving handles that lay flush against both ends of the unit as well as two bottle openers on each side; reversible lids are available on coolers 60 L and larger. The smart Truma Cooler can be controlled by the intuitive digital display or with a Bluetooth App and has individually adjustable temperature zones on the dual-zone models. The quiet compressor cools the unit down to -8°F (-22° C). There is no worry in powering the cooler using your RV or car thanks to a 3-stage discharge protection for the vehicle battery, and there is a LED light inside. 
The Truma Cooler received the 2020 Vesta Award from Hearth & Home magazine in the outdoor room equipment category based on various criteria, including general design, construction, customer advantages, technology, and whether it advances the industry.
It was also given a European Innovation Award. The prize, awarded by DoldeMedien Verlag and the editors of 17 European RV magazines, recognized the portable fridges/freezer as the 2021 top innovative product in the camping accessories category.
Available through your local RV dealer. For more information on the Truma Cooler visit www.trumacoolers.com