Length:  11'6"
Slides:  n/a
Height (int): 76"
Height (ext):  94"
Width (slides in): 96"
Width (slides out):  n/a
Dry Weight:  3,671 lbs
116 DS
Approx. Price: $36,015 (USD)
With such construction highlights as composite fiberglass walls, safety glass radius windows, and toe-down brackets that are bolted to main and wing walls for extra reinforcement, the 116 Adventurer and the models in this series will provide seasons of enjoyment. Some special features this year include LED lights, a Blue Tooth stereo and a 26-inch rear entry door. Stylish interior décors and solid maple cabinet doors are other highlights.
---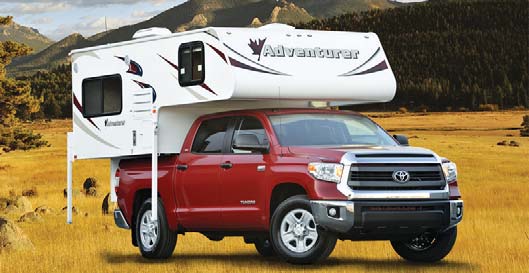 Length:  8'
Slides:  n/a
Height (int): 80"
Height (ext):  94"
Width (slides in):  90"
Width (slides out):  n/a
Dry Weight:  1668 lbs.
80 RB
Approx. Price: $19,064 (USD)
While the 80 RB offers a new 26-inch rear entry door and a Blue Tooth stereo for 2015, expect to see the several popular features including a comfortable bath complete with shower and toilet, a roll-over sofa, interior LED lights, plus a Dometic four-cubic foot two-way refrigerator, two-burner cook top, and large single bowl sink and high neck faucet. Some options include an A/C, exterior shower, a microwave and electric jacks.