Length:  19'6"
Box: Length:  11'6"
Slides:  3
Height (int):  76"
Height (ext):  8'9"
Width (slides in):  8'6"
Width (slides out):  12'2"
Dry Weight:  4738 lbs.
Water Tanks:  (fresh): 66 gal. (grey) 44 gal. (black): 44 gal.
Furnace:  30,000 BTUs
Air:  See Dealer
Sleeps:  65
1165
Approx. Price: $48,020 (USD)
Some special features on the Eagle Cap 1165 for 2015 include the now-standard Heki Bedroom skylight, a USB charging station, LED lights, a Bluetooth stereo, a 26-inch entry door plus the thoughtful EC Max Insulation package. With a length of 19'6" and box length of 11'6," there's ample space to add the optional 32-inch TV, modular dinette furniture, 12V patio awning, and roof rack system.
---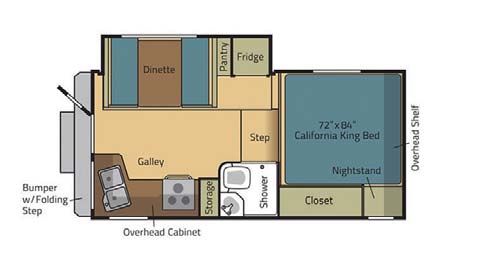 Length:  18'2"
Box Length:  9'10"
Slides:  1
Width (slides in):  8'6"
Width (slides out):  10'4"
Height (int): 78"
Height (ext):  7'10"
Dry Weight:  3514 lbs
Water Tanks:  (fresh):44 gal. (grey):31 gal. (black): 31 gal.
Furnace: 30,000 BTUs
Sleeps:  4-5
EC 960
Approx. Price: $36,225 ( (USD)
Some highlights of the new Eagle Cap 960 include a California king bed, a handy USB charging station, LED lights, and a Bluetooth stereo. There's also a 36-inch entry door, plus a one-piece fiberglass front cap, thermal pane windows, electric jacks, large wet bath, EC MAX Insulation. If that's enough, perhaps opt for the available electric rear awning, Comfort Step bumper, modular dinette furniture, A/C, adjustable roof rack and 19-inch TV.