Length:  15'
Slides:  n/a
Width (slides in):  6'6"
Width (slides out):  n/a
Height:  8'6"
Dry Weight:  1,678 lbs.
GVWR:  2,600 lbs.
Hitch Pin Weight:  175 lbs.
Water Tanks:

(fresh): 16 gal.
(grey): 18 gal.
(black): 9 gal.

Furnace:  20,000 BTU
Propane:  2 x 20 lbs.
Sleeps:  5-6
15 SDDB
Approx Price: TBD
With high quality materials to create ultra lightweight trailers, Taylor Coach comes to the table for 2015 with the 15 DBVBS travel trailer, featuring many highlights including a walk-in washroom, two-burner stove, single sink, and sleeping accommodations  to include a 54-inch double bed and rear stack-er bunks.  What's more is the long standing company includes one-piece aluminum roofs and floors to provide optimum structural integrity.  Floor plans in the Taylor Coach line range from eight to 24 feet.
---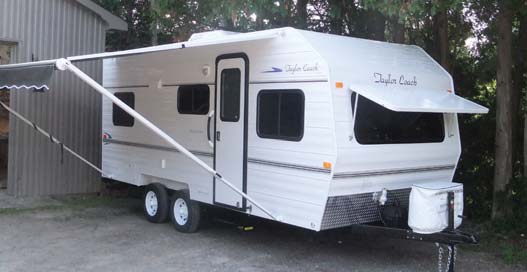 Length:  20'
Slides:  n/a
Width (slides in):  7' 3"
Width (slides out):  n/a
Height:  8' 6"
Dry Weight:  2,385 lbs.
GVWR:  3,500 lbs.
Hitch Pin Weight:  347 lbs.
Water Tanks:

(fresh): 30 gal.
  (grey): 21 gal.
(black): 21 gal.

Furnace:  20,000 BTUs
Propane:  2 x 20 lbs.
Sleeps:  5-8
20 SD
Approx Price: TBD
According to Taylor Coach, all models boast a custom build to suit individual tastes, styling and budgets, while offering a solid foundation to provide many seasons of RVing. One model in its series is the 20 SD featuring a walk-in three-piece bath in addition to a 54-inch Double bed. Like other models in the Taylor Coach line the 20 SD boasts one piece aluminum Roofs and Floors. When it comes to options consider the A/C unit and exterior TV mounting and hook up.