By Andy Thomson
I was hoping that by now I could give you a much more complete report on towing with our Tesla. I had planned to take it to the Airstream Rally in Denver in June and do some testing in the Rockies – but alas, that was not possible. We now have only 4,000 kilometers of towing with the Tesla, made up of many test drives and a few 180 – 250-kilometer trips. 
In February we started customizing a 27' Airstream to use with the Tesla but as the world changed it was moved to the back burner for this year. We did get the roof cleaned up and we made some changes to the A-frame area, but we still have not done anything with the underbody. The Airstream has an enclosed underbelly, but the tank enclosures are several inches below the underbelly and there is an opening for the spare tire. My goal was to make the 27' wide body Airstream tow as easily as the 22′ Bambi that we had been taking to the Toronto RV shows. 
When you are towing with the Tesla you can accurately determine the amount of drag by referring to the readout on the dash. Pick a time when there is no wind, and you can see exactly how much power you have used over 10, 25 or 50 kilometres. The Tesla on its own uses 200 watts per kilometer (WPK) at 120 kph. When towing the 22' Airstream Bambi that number rose to 380 WPK at 90 km/h. The 27' Airstream in its current form is running 390 WPK so I think with the undercarriage cleaned up we may get down to 360-370 WPK. 
Last week, I towed a small Lance 1475 travel trailer to Toronto, and I was pleasantly surprised how well it did. The Lance is 7'6" wide and has a torsion axle. The trailer features a nice low profile with a sloped radiused front end, but the back is still square. It was able to roll along at 375 WPK, I was expecting 400 or more. Conditions were perfect and it was cool outside so possibly the car was using less power to cool the batteries and motor, so this would help with power usage, then again, cold air has more density so more air drag. When I was towing the 27' Airstream the weather was warmer, we were running the AC, and while the Airstream is very aerodynamic, the 27' loaded for travel is 6,500 pounds, so the cooling system definitely has to kick in when you are towing up a hill. 
One interesting thing is that I thought I would have to unhook the trailer at superchargers because the spots are designed for cars to back into. This would not be the end of the world with this combination, because I can unhook and reconnect in less than 5 minutes, however, we have yet to have to unhook to recharge. Many of the stations are now being built with drive through charging stalls, and when we have had to charge at the non-drive-through stalls, we were able to pull in from the end and only block two stalls – we made a point of doing this only when there were empty stalls available for other motorists. 
To give you an idea what a short trip looks like, in August we took the Airstream from London to Riverside Campground, south of Niagara Falls. We drove from London to the Supercharger in Hamilton which is 137 Kilometers. We had lunch in the Airstream while the Tesla was charging, and it was fully charged before we were finished lunch. When we got to the campground, I suggested that they charge me $20 extra as I might use $10-12.00 worth of electricity to charge the car. On the way home we drove to Hamilton and stopped for a quick lunch as we only needed 25 minutes of charge time. The cost of charging at the Supercharger is $10-$14. The Superchargers are very convenient; they know it is your car when you plug in, so no credit card or cash is needed. The other chargers that I have used (only twice) were not as good, you needed their smartphone app, and it was not easy to arrange the payment. I am not sure why they don't work like a conventional gas pump.
Towing with the Tesla is all about efficiency, on a trip of 100 miles towing the trailer we use the equivalent energy of 8 litres of gasoline-burning 4,500 litres of air. This is the equivalent of 50 miles per US gallon towing (60 to our old imperial gallon). 
This is where I am not sure how much sense all the upcoming electric truck pickups are going to make. You cannot get a much less aerodynamic shape than a pickup truck, and they seem to have no intention of lowering the current ride heights. This leaves me with a few conclusions: we still have a lot to learn about aerodynamics and energy management, hot weather climbing in the mountains, and durability over the long run. On the other hand, everyone loves driving and towing with this car. I can say without a doubt I have bought my last gas-powered car. 
Tiguan Towing… 
Another vehicle I should update you on is our VW Tiguan. This is a 2.0 Turbo (see the article "Towing with a 2.0 Litre Turbo" in RV Lifestyle Magazine). As we experienced with the Tesla, the border closure has curtailed the amount of towing we planned for the Tiguan, but we have still managed to add 9,200 kilometres to it since the article was written. We have worked it pretty hard, towing much taller trailers than we would ever consider recommending for it. So far, the Tiguan has had no issues. Interestingly, it feels pretty good towing one of these tall trailers, and you are not really aware how hard the little motor is working. This is encouraging as we are seeing more vehicles transition from V6s to 2.0 litre Turbos. The latest example is the 2021 Toyota Sienna, which will now only come with a 2.5 litre 4-cylinder turbo with hybrid assist. If you are looking at a new vehicle and still have the choice of a proven 3.5 litre V6, that is still what I would recommend for the foreseeable future.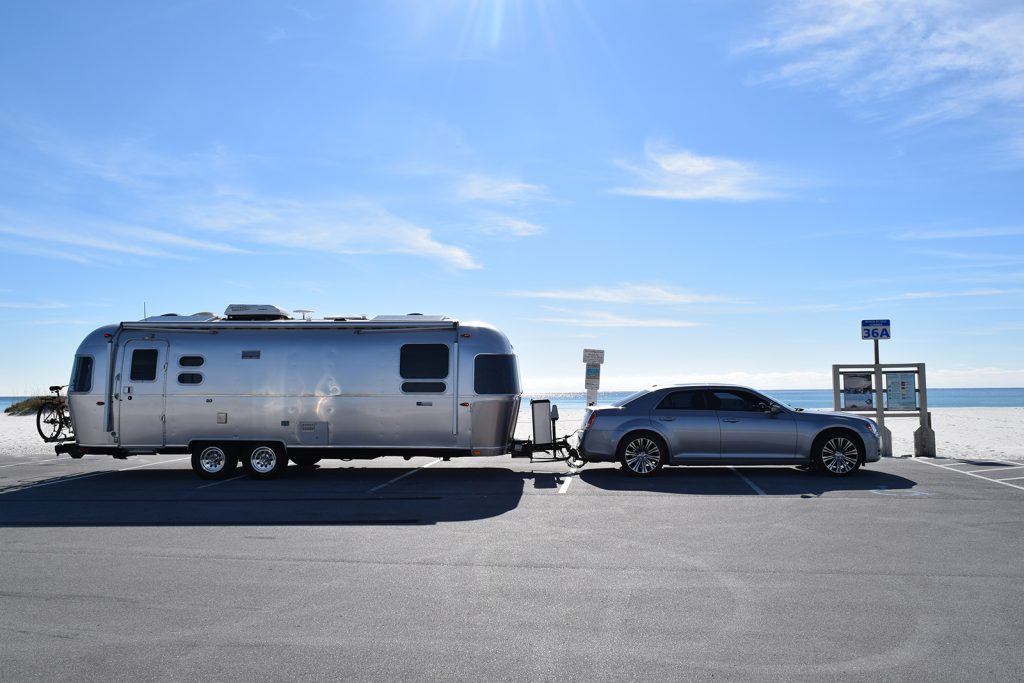 Chrysler 300
I have lost count of how many hundreds of test drives our 2014 Chrysler 300 has done. One change we made last year was to replace all four springs. These cars are styled to ride fairly low anyway, and since it has had a trailer connected to it pretty much continuously for the last six years, the springs were getting tired. We decided to try and experiment and installed the springs for the AWD 300 which let the vehicle sit 1.5" taller. The ride height never caused a problem, but people thought it looked low. The taller springs were a little too tall when first installed, but quickly settled into a good compromise – the centre of gravity is still much lower than any of the SUVs or trucks available. If you're not part of the "I have to have a truck or SUV" mindset, then the 300 is still the best all-around tow vehicle for the money, with great solo fuel economy, the seats are comfortable, and the cabin is quiet.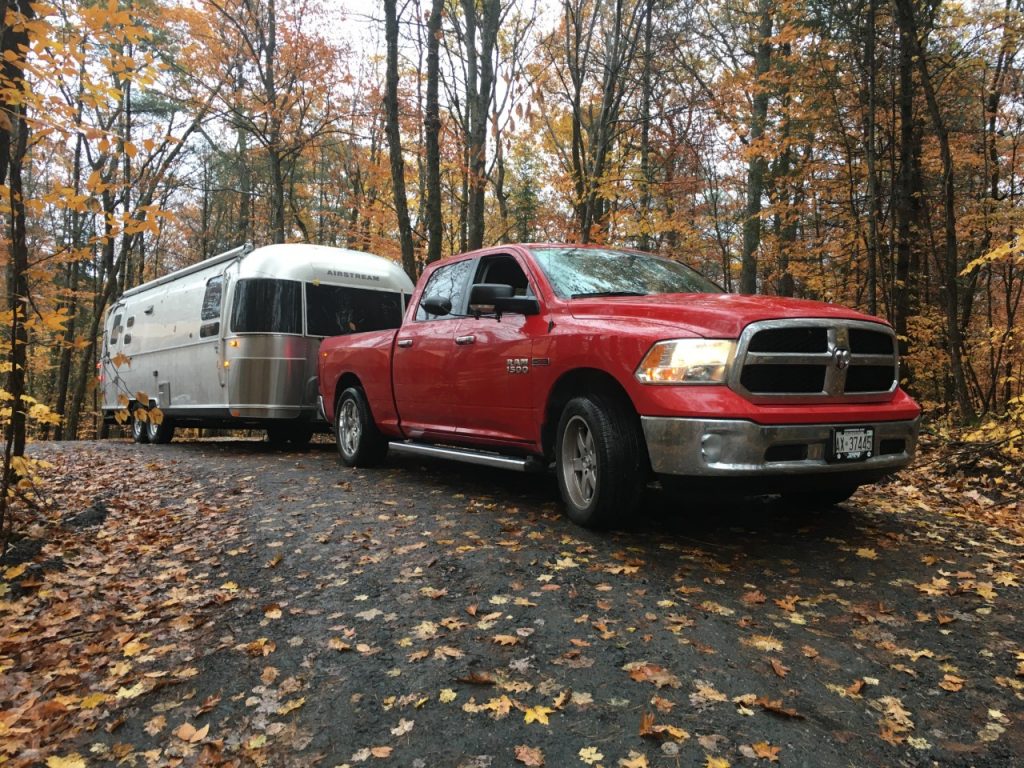 RAM 1500 EcoDiesel
The other overdue change was to the EcoDiesel Ram 1500. This truck came with wide, soft handling 17" tires. When the tires wore out this year it was time for an upgrade. Normally, the 20" rim option on pickups are 8.5" wide. We went instead with an aftermarket wheel that is 9.5" wide and paired the wheels with P275/50R x 17" XL tires. This combination handles dramatically better. On some types of road surface there is more vibration from the live rear axle, but the handling trade-off is worth the minor annoyance. It looks better too.