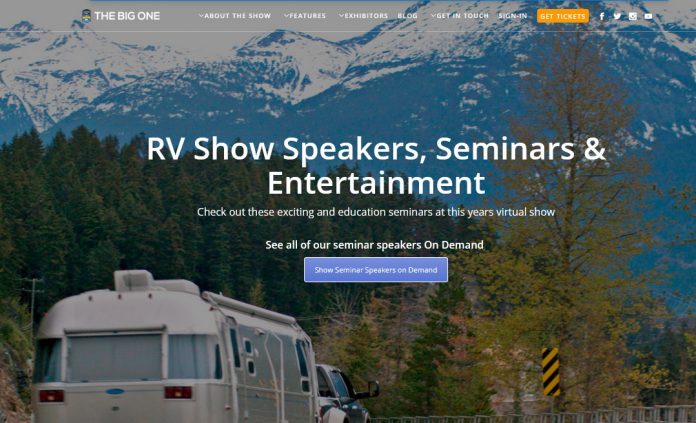 The organizers of the Toronto Spring Camping & RV Show & Sale have created a series of 12 recorded seminars from Canada's top RV experts – available now via the show's website.
Watch RV Lifestyle Magazine's Hitch Hints guru, Andy Thomson, describe tips and techniques for towing a trailer; Doug Grafton from Go Power! on solar power systems and inverters; Leroy Burkhart from OK Tire on "How to Prevent RV Tire Failure"; Rick Neddow from Trekker RV on "Top Tips to Successfully Maintain Your RV"; Alexandra Anderson from Camping In Ontario on "Finding the Perfect Campground", and more … there are 12 FREE SEMINARS – online courtesy of the organizers, sponsors, and exhibitors who brought you the virtual RV show.
If you registered for the show, you will be able to watch the seminars by simply clicking the blue box that says "Show Seminars on Demand". If you have not registered, you can still sign in FREE by clicking the little orange link at the top left corner that says GET TICKETS – and then go back to the seminar page to enjoy these entertaining and informative sessions … it's a wonderful way to start your voyage on the RV roads to adventure!
www.torontospringcampingrvshow.com/virtual-rv-show-seminars/