Virtual Fireside Chats – One more in this special series of Zoom events with Wayfarer Insurance Group and the Ontario Recreation Vehicle Dealer Association – coming April 14, 2022…

Wayfarer Insurance Group and the Ontario RVDA teamed up to host a three-part virtual Fireside Chats series for RV'ers.
The series was created to appeal to beginners hoping to expand their knowledge, seasoned RV'ers looking to brush up on their skills, and those who just want to interact with the RV community in the absence of in-person events.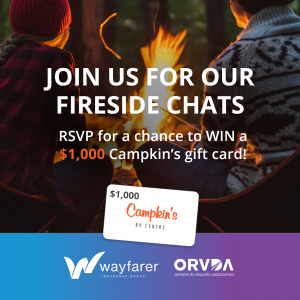 The first and third part of the Fireside Chats series will connect RV'ers with industry experts who are passionate about RVing, while the second part of the series will feature a musical performance by award-winning Ontario singer-songwriter, Danny Michel. Plus, by registering, you'll be entered to win a $1,000 Campkin's gift card!
Fireside Chats are free to join and open to the public.
For additional information, or to RSVP visit www.wayfarerinsurancegroup.com/orvda.              
Spring RV Prep & Preventative Maintenance with Jamie Russell
Thursday, February 10, 2022
7 p.m. EST
Music Around the Fire with Danny Michel
Thursday, March 10, 2022
7 p.m. EST
How to Improve Your RV Experience with a special guest from Go RVing Canada
Friday, April 14, 2022
7 p.m. EST
WHERE:               VIA INTERNET OR MOBILE WEB DEVICE
Hosted by Zoom
To join, visit www.wayfarerinsurancegroup.com/orvda
FOR ADDITIONAL INFORMATION, PLEASE CONTACT:
Natalie Conway, ORVDA
905-220-7885
natalie@ontariorvda.ca
Amy Bradley, Wayfarer Insurance Group
705-308-8918
amy@wayfarerinsurancegroup.com