By M.B. "The Wagonmaster" and Karen "The Cookie Lady" Wilson…

For years, we have been telling our RV friends that when you are on the road you have to be prepared for all kinds of weather. You never know when something could happen. This summer, two dust storms hit Phoenix, Arizona and covered everything in a layer of sand the consistency of talcum powder – it got into every nook and cranny, and penetrated every crevice in the RV. You couldn't even see across the road – it was like a snowstorm, but the "snow" was hot, and it hurt your eyes. If you were on the highway when this storm rolled through, things just went from bad to worse.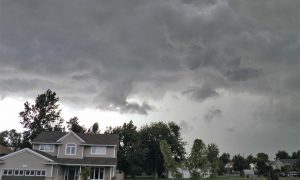 In the course of our travels, we have visited many beautiful places where the weather had a nasty tendency to deteriorate all of a sudden. We have experienced gale force winds, torrential rain, and other semi-tropical events, but we never expected that we would see this kind of weather at home in Ontario.
Boy, were we ever wrong! It was Saturday July 23, 2011. 6 a.m., and we were getting ready to head over to the Farmers Market in our home town of Petrolia, Ontario. As you may be aware, Karen is "The Petrolia Cookie Lady" – she has sent 37,800 cookies to our Canadian Troops in Afghanistan. Karen had a booth at the Petrolia Farmers Market and we were looking forward to a pleasant weekend – the weather report said that we would have a nice morning with a chance of thundershowers in the afternoon and evening.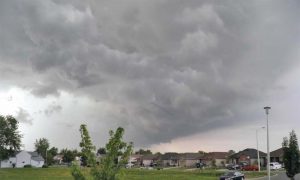 We had a great morning at the market and the weather was holding. Around noon, it started to get hot, and the crowds thinned out, so it was time to pack up and go home. Several people said that it felt like the humidity was getting bad and the atmospheric conditions. The pets that were accompanying their masters to the market were behaving strangely – cowering under tables whenever possible. We didn't pay very much attention to these signs at the time – we just went about our business and packed up our booth. By the time we arrived at home, the skies seem to clear and the weather report had been upgraded to "possible thunder showers this afternoon".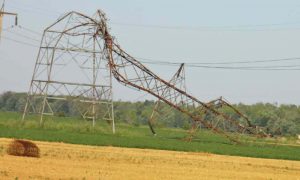 During the afternoon, we worked on a few things around the house. I The wind is starting to get stronger, clouds are moving around in all directions! thunder- air was getting heavy. They seemed to have a sense of anxiety caused by the began to notice that it was getting hotter and the humidity seemed to be getting worse. We had some rain, but that did not cool things down, and everyone in the neighbourhood had their air conditioning running on high. It was not fun going outside as it seemed like 100 degrees and the sweat just poured off me.
Around 6:45 in the evening, the summer skies started to darken just north of Petrolia, west of Wyoming. The clouds started building and thunder rolled across the fields. The wind picked up and the clouds appeared to be moving in different directions. It was very strange. I called Karen to come outside and see what was happening. Some of the neighbours came out of their homes and stood on the street to look at what was going on. It looked like the storm was forming behind the house across the street from us.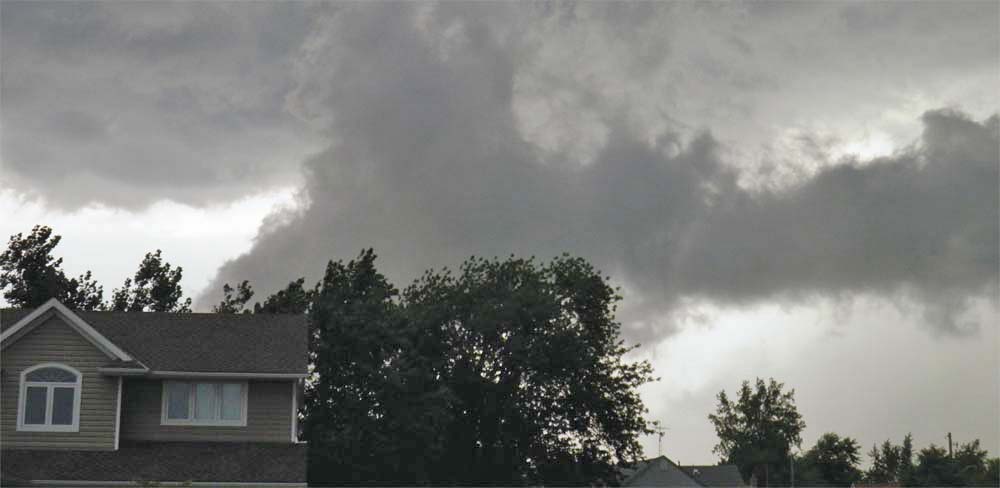 During the next half-hour we had thunder and lightning, but no rain. I turned to Karen and said, "it is going to rain any minute now, and when it does, lookout". The storm was moving slowly, as if it wasn't sure were to go. I grabbed my camera and started to take pictures. All of a sudden, a gust of cool air came down our street. People were surprised at how cool it had become, and how quickly the temperature dropped. I turned and looked to the northeast and the sky was turning green. I knew then that we were in trouble – a tornado was forming just over the horizon. Karen said to look straight up. I couldn't believe it. A funnel cloud was forming above our house. Thank goodness, it did not touch down.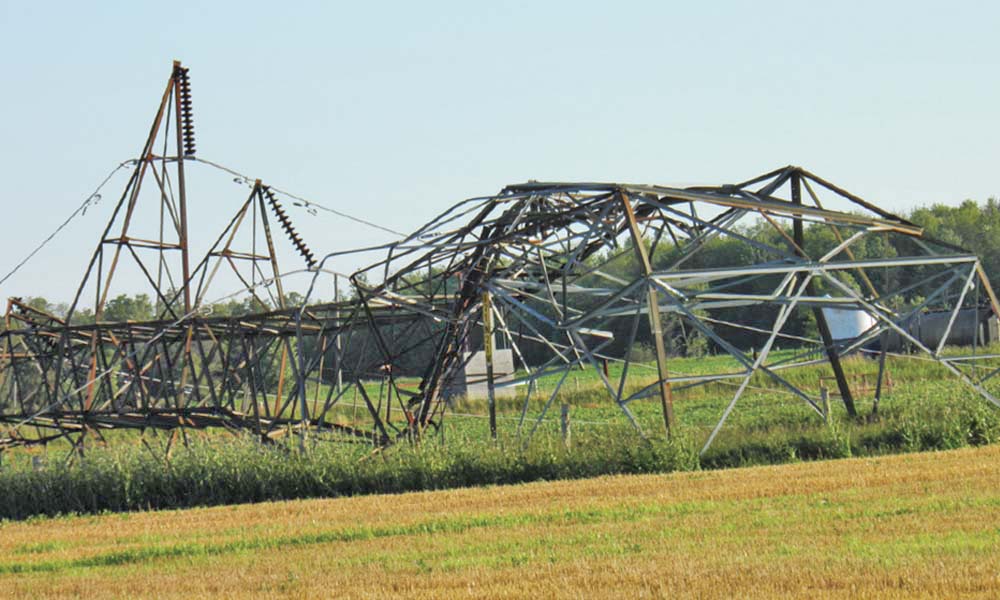 Within minutes, the power went off throughout Petrolia. The storm went over Wyoming just north of Petrolia, and a tornado touched down just east of the town. The power of that funnel cloud cut a swath across 11 kilometres of farmland, packing wind speeds of 180 to 230 km/h. It demolished barns, mangled six Hydro towers, and knocked out power to over 60,000 people. It also killed some farm animals, but no human lives were lost in the storm. People who were caught in the storm said that they did not see the tornado, only a white sheet of rain. This told the investigators from Environment Canada that the storm was wrapped in a rain curtain, meaning that rain was turned around by the wind velocity, creating a veil or shower curtain.
One of our neighbours parked his car in the wrong place. It didn't stand a chance when the tornado broke the branches off this tree.
Our power was out for more than 24 hours, but thanks to our neighbor, who had a generator, we had enough electricity to keep our refrigerator running.
After the tornado was over, I reflected on the unusual events of the day and realized that when we heard a storm was coming, we did everything wrong. We should have not been out in the street, looking at the tornado as if it was a tourist attraction. If that funnel cloud above our house had come down, we would not have stood a chance.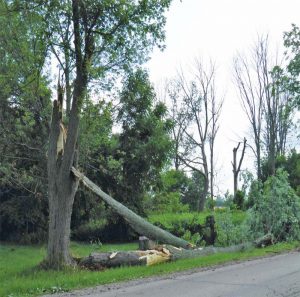 We always keep a weather radio on in our home and in our RV, but the storm was not visible on the weather radar and the weather radio did not go off until the tornado was already on the ground. That is how fast a tornado occurs – when the storm formed just north of Petrolia and crossed right over the town of Wyoming, trees came crashing down and hydro was out everywhere, but it was all over in about 10 minutes and the F2 tornado disappeared into the sky, as quickly as it had appeared.
On Sunday morning I went out and took pictures of the destruction. Six Hydro towers came down as if they were made of rubber. It was a mess – barns, trees, fields of corn and hay – all gone. Bales of hay were thrown across the road, hydro poles lay on the ground all over the place, and debris and all kinds of items were strewn everywhere. If this tornado had hit the more densely populated areas of Petrolia or Wyoming, I am sure that many people would have been hurt or killed.
There is a very important lesson to be learned from this experience. The climate is changing – nothing is quite the way it used to be. Not only do we have to be prepared for severe weather on the road, we have to be ready for unusual and extreme weather events at home.