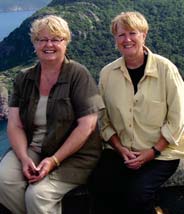 THE COOKING LADIES
by Lamont Mackay and Phyllis Hinz
Confederation Bridge, an 8-mile long engineering achievement built in 1997, links Canada's smallest province to the mainland. The island is a photographer's dream of rusty red soil, white churches, sandy beaches, distinctively shaped lighthouses, and rows of bushy green potato plants.
One of our best PEI photo experiences is Hosteller's Viewscape, a roadside lookout with room for cars and RVs, at French River. We dis-covered this vista late one afternoon. We looked beyond the surrounding fields and across the bay to a dock lined with bright blue, red, and green sheds, piles of lobster traps, mounds of netting, and moored boats. As we watched, a lone fishing boat created a gentle wake in the silent open span of water dotted with yellow and black floats.
When we are not photographing scenery we take pictures of our food. In addition to a lobster supper we savoured delicate Malpeque oysters, PEI mussels and fresh cut PEI fries. After a day of fishing, we treated our-selves to cod cheeks. These valued bite-size morsels are a tender juicy delicacy.
The cuisine of Prince Edward Island, like this recipe, combines the bounty of both land and sea. Our pota-to cod cakes are easy to prepare on either the grill or in a frying pan.
---
POTATO COD CAKES
(Makes 4 to 6 servings)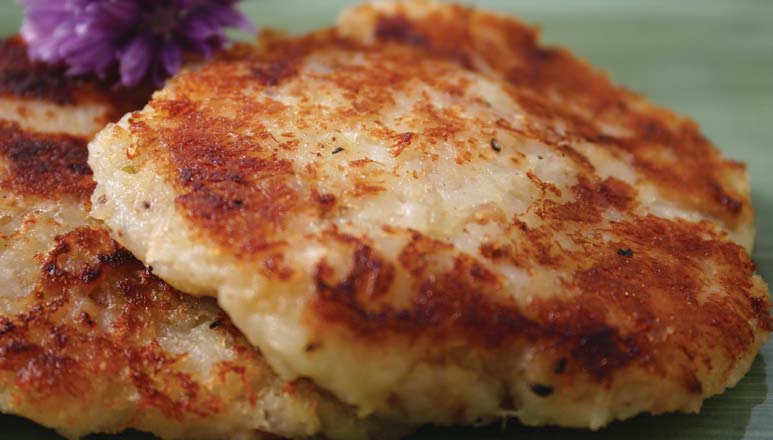 INGREDIENTS
2 large potatoes
1 pound (454 g) cod fillets
3/4 cup (180 ml) finely chopped onions
6 slices bacon, finely chopped
1/2 teaspoon (2.5 ml) black pepper
1/4 teaspoon (1.25 ml) salt
canola oil
DIRECTIONS
Peel the potatoes and slice them in half. Place the potatoes in a large pot of water. Bring the water to a boil. Cook the potatoes until they are almost tender.
Add the fish to the pot and let the fish and potatoes cook until they are both soft. Drain well and transfer the potatoes and fish to a large mixing bowl. Set in the refrigerator to cool.
In a frying pan, fry the onions and bacon over medium heat until the bacon begins to brown and the onions are tender. Drain the bacon and onions on paper towel and set aside to cool.
Mash the potatoes and fish with a fork. Add the onions, bacon, black pep-per, and salt to the bowl. Mix well.
If using a griddle on a grill preheat the griddle to high for 10 minutes with the lid closed. Reduce the heat to medium-high. If using a frying pan, preheat the pan over medium-high heat.
Spread canola oil on the griddle or in the frying pan.
Form the potato cod mixture into 8 to 10 patties about 1/2-inch thick.
Fry the potato cod cakes until golden brown on each side.
Please visit The Cooking Ladies' website at www.thecookingladies.com or email them at info@thecookingladies.com