Enjoy some of Ontario's finest vintages at the Sandbanks Estate Winery in Prince Edward County.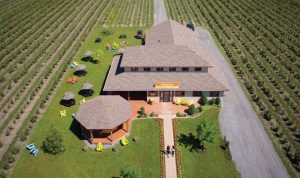 We recently had the opportunity to visit the beautiful Sandbanks Estate Winery located in the stunning wine region of Prince Edward County, Ontario's newest and Canada's fastest growing wine region. It is truly an oasis here, with over forty wineries now to enjoy, a burgeoning locale scene for the foodie, and advocate of farm to table, and for one in search of some good old hometown hospitality. Sandbanks Estate Winery, whose name is a tribute to the glorious sand dunes in the "County" as the locals call it, had just completed a renovation of their wine boutique. The expanded bar space and a brand new group tasting room was a definite necessity to enable Sandbanks to accommodate all the loyal customers who keep coming back with new friends and wine lovers alike.
We love the environment here at Sandbanks, the outdoors so inviting and picturesque with gorgeous vibrant fall colors welcoming you as you approach the winery. Inside the energy and friendliness of the staff is second to none, ready and eager to answer everyone's questions. And then there are the wines of course. One of our faves was the Baco Noir Reserve 2012, with intense flavors of plum and blackberry, a Double Gold Medal winner at the All Canadian Wine Championship Awards 2015. Delish!
Sandbanks was recently awarded the Elsie Award for LCBO supplier of the year (magnum division) and The Tourism/Hospitality award at the Quinte Business Achievement awards ceremony. We caught up with owner and wine-maker Catherine Langlois, busy in the vineyards attending to her vines, now preparing for dormancy. "Catherine," we asked, "after having worked in the vine-yards of Burgundy, what was it that drew you to Prince Edward County and this particular site?" She went on to explain "I fell in love with 'the County', this almost island with rolling hills where there is a real momentum of growing great things; wine, restaurants, fresh produce…and amazing people. It was just in the start of the wine industry in this beautiful region. Great energy!" We couldn't agree more!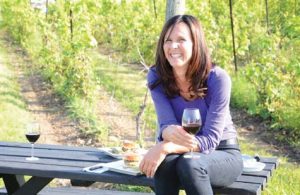 After returning back to the tasting room, we are reminded how the enjoyment of wine is an experience that engages all the senses, and here at Sandbanks, that experience is further enhanced as the home of resident artist Rita Thivierge contemporary art gallery.
Visually stunning pieces can be viewed throughout the tasting room and are also available for purchase. Here are two of Sandbanks latest releases that we are eager to share with you. We hope you enjoy them, and someday have the opportunity to visit Sandbanks Estate Winery and the County, voted as one of the Best Places in the World to Visit by Time Magazine 2015!
ABOUT THE WINE LADIES:
Charismatic and entertaining, The Wine Ladies take life 'one sip at a time', as they share the splendor of wine and food and the ideal 'Lifestyle' it entails. As hosts of their own TV show "One Sip At A Time… Adventures Around the Globe, and of their weekly radio show about wine, food and lifestyle, The Wine Ladies share their passion and live life to the fullest and without hesitation. These 'Lifestyle' passions are also shared through national newspaper columns and a very active social media platform, engaging their many followers and fans through their blogging, videos, Facebook, TWITTER, You Tube and more. 
www.thewineladies.com
SANDBANKS ESTATE WINERY,
17598 Loyalist Pkwy (Hwy 33),
Wellington, Prince Edward County,
Ontario, K0K 3L0
Tel: (613) 399-1839
www.sandbankswinery.comList of local campgrounds:
LAKE AVENUE PARK CAREFREE RV RESORTS
Cherry Valley, ON
613-476-4990
www.lakeavenuepark.com
QUINTE'S ISLE CAMPARK
Cherry Valley, ON
613-476-6310
www.qicampark.com
SANDBANKS BEACH RESORT
Picton, ON
613-393-3022
www.sandbanksbeachresort.com
SANDBANKS PROVINCIAL PARK
Picton, ON
1-888-ONT-PARK (1-888-668-7275)
www.ontarioparks.com/park/sandbanks
SMUGGLERS COVE RV RESORT
Picton (South Bay)
(613) 476-4125
www.smugglerscove.ca
WEST LAKE WILLOWS
Picton, ON
613-393-3213
www.westlakewillows.com
To learn more about all of the exciting opportunities in and around the Prince Edward County region – which is basically the "island" south of Belleville – visit their website at http://prince-edward-county.com/ or their tourism website at http://pecchamber.com/