Our RV Lifestyle Magazine crew toured the new model displays at the recent Elkhart RV Dealer Days trade show, to bring you a sneak peek at what's new and exciting for 2018. The units featured in this special report are just a few of the cool new designs that will be coming to RV Shows across Canada in the months to come.
Check out the video tours on our RV Lifestyle Magazine website – www.rvlifemag.com
One of the most popular models from Winnebago is the 38' Forza, available in a range of floorplans including a "bath and a half" model and a model featuring bunk beds.
This elegant yet affordable class A motorcoach offers a wide range of standard and optional equipment, and a variety of interior décor packages to suit your taste.
The 38F, scheduled to be featured in the next issue of RV Lifestyle Magazine, delivers excellent handling and reasonable fuel efficiency for a vehicle of this size and type.
For more information please visit www.winnebagoind.com
The 2018 A and C Evolution – or ACE, as the motorhome expert at THOR have named it, is the next generation in this very popular line of class A motorhomes.
The ACE features a drop-down front bunk that stows above the driver and navigator chairs – this front sleeping platform is reminiscent of the cabover bunk found in most class C motorhomes – hence the concept of a class A and C combination – it is a floorplan that many RV enthusiasts find to be ideal.
Designed to be very easy to drive, the compact class A chassis handles like a dream on winding country roads, and cruises in comfort along the interstates… small enough to negotiate the back roads, and large enough to accommodate the whole family, this is a unit that is well worth looking into at the upcoming RV shows!
For more information please visit
www.thormotorcoach.com/ace/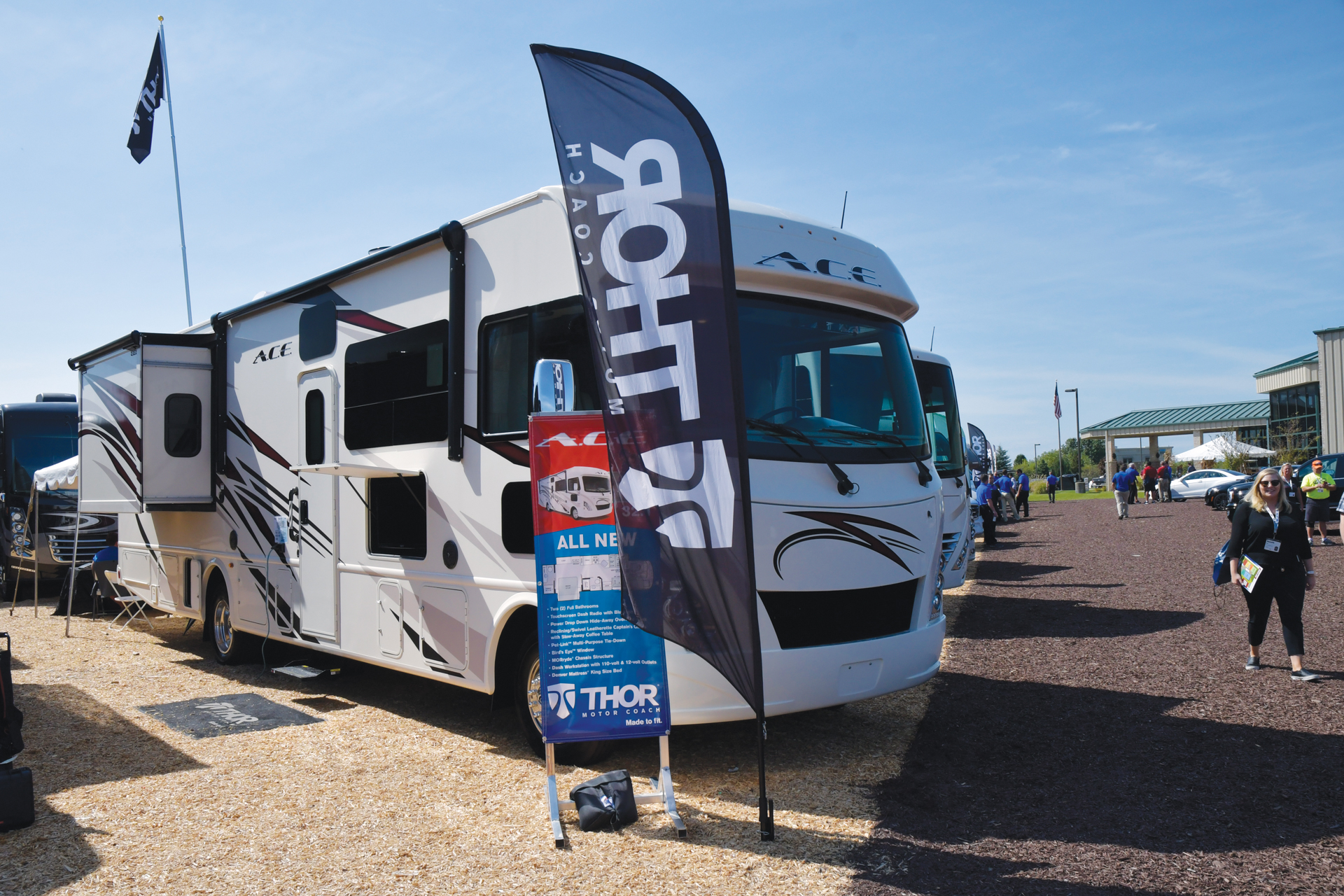 Livin' Lite Quicksilver Toy Hauler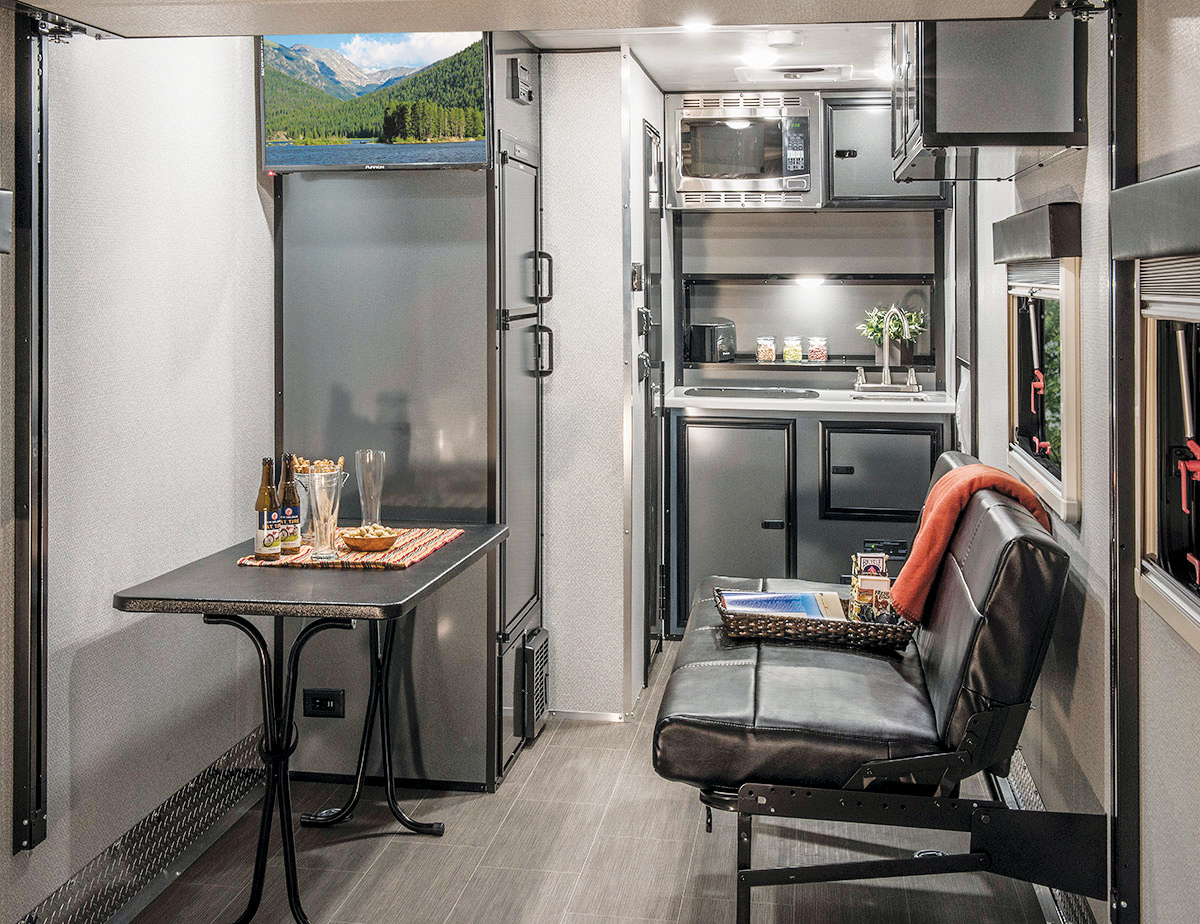 The all-aluminum Livin' Lite trailer line has been expanded for 2018 to include a series of toy haulers, designed to transport your bikes, snowmobiles, ATV's and a wide range of outdoor gear. We took a close look at some of the new models, and they are a very interesting combination of form and function, with excellent build quality and a feature package that makes the Livin' Lite a great choice for outdoor enthusiasts.
For more information please visit www.livinlite.com/products/quicksilver-toy-haulers/
Livin' Lite Camplite Trailers
While the Livin'Lite Camplight trailers may seem innocuous at first glance, there is quite a bit of design technology in these ultra-lightweight RVs. Built with a six-sided aluminum superstructure, with mold and water resistant composite materials throughout, these trailers are super easy to tow and built to last. We were really impressed with the laminated floor and vacuum-bonded laminated walls, and the use of high quality Azdel instead of the typical wood byproduct materials.
The Camplite trailers are well insulated for comfort in hot or cold weather, and feature dual pane Euro style windows, among many top-quality components.
For more information please visit https: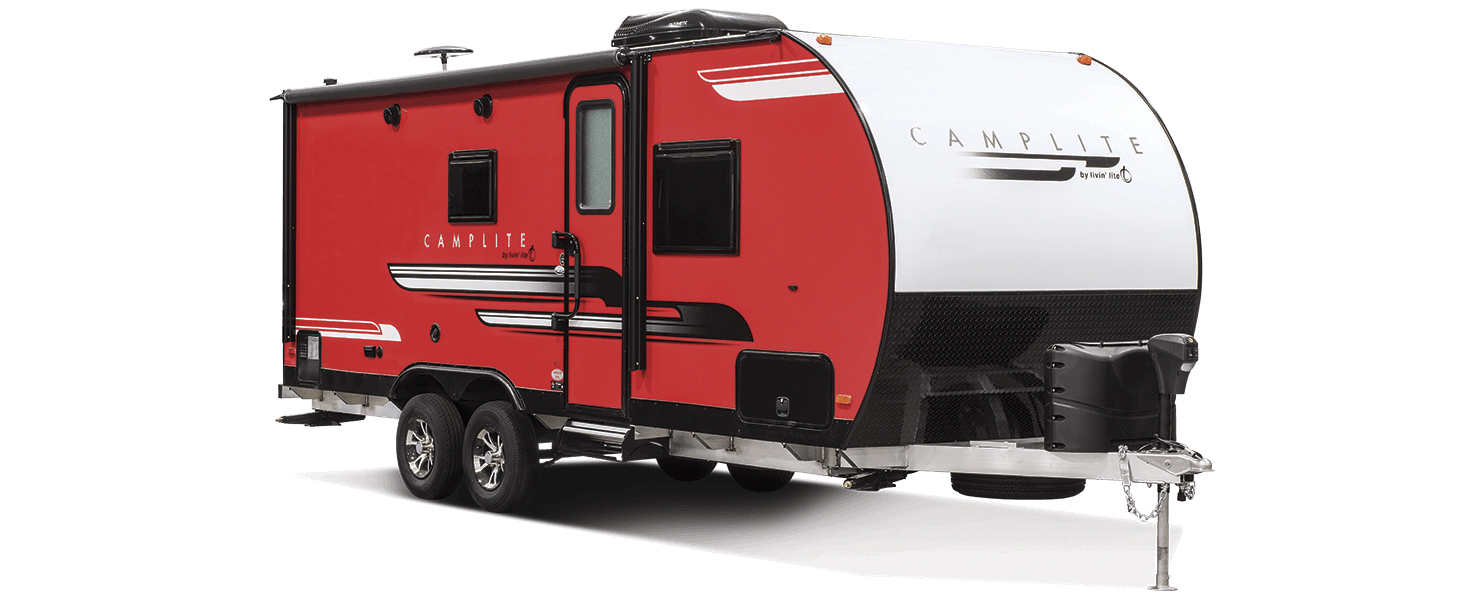 Jayco Talon Fifth Wheel Toy Hauler
We have been camping in Jayco trailers for more than 40 years, and the 2018 Talon toy hauler fifth wheel models are certainly some of the most impressive units ever produced by the Middlebury, Indiana company. Well-known for their old-world craftsmanship, the new Jayco models incorporate a modern flair that will appeal to traditionalists and millennials alike – a rare combination that will appeal to a very broad spectrum of RV enthusiasts.
For more information please visit
THOR Motorcoach Tuscany 45MX
Here is a luxury motorcoach that's ready to turn heads everywhere you travel – the Tuscany 45MX embodies all of the features you could imagine in a high-end RV, and more!
We checked out the 2018 model at the dealer preview, and the unit was a real show-stopper… with a tubular aluminum cage and a Freightliner XC-R chassis powered by a Cummins ISL 8.9L rear diesel engine, this triple-slide unit is a state-of-the-art motorcoach.
For more information please visit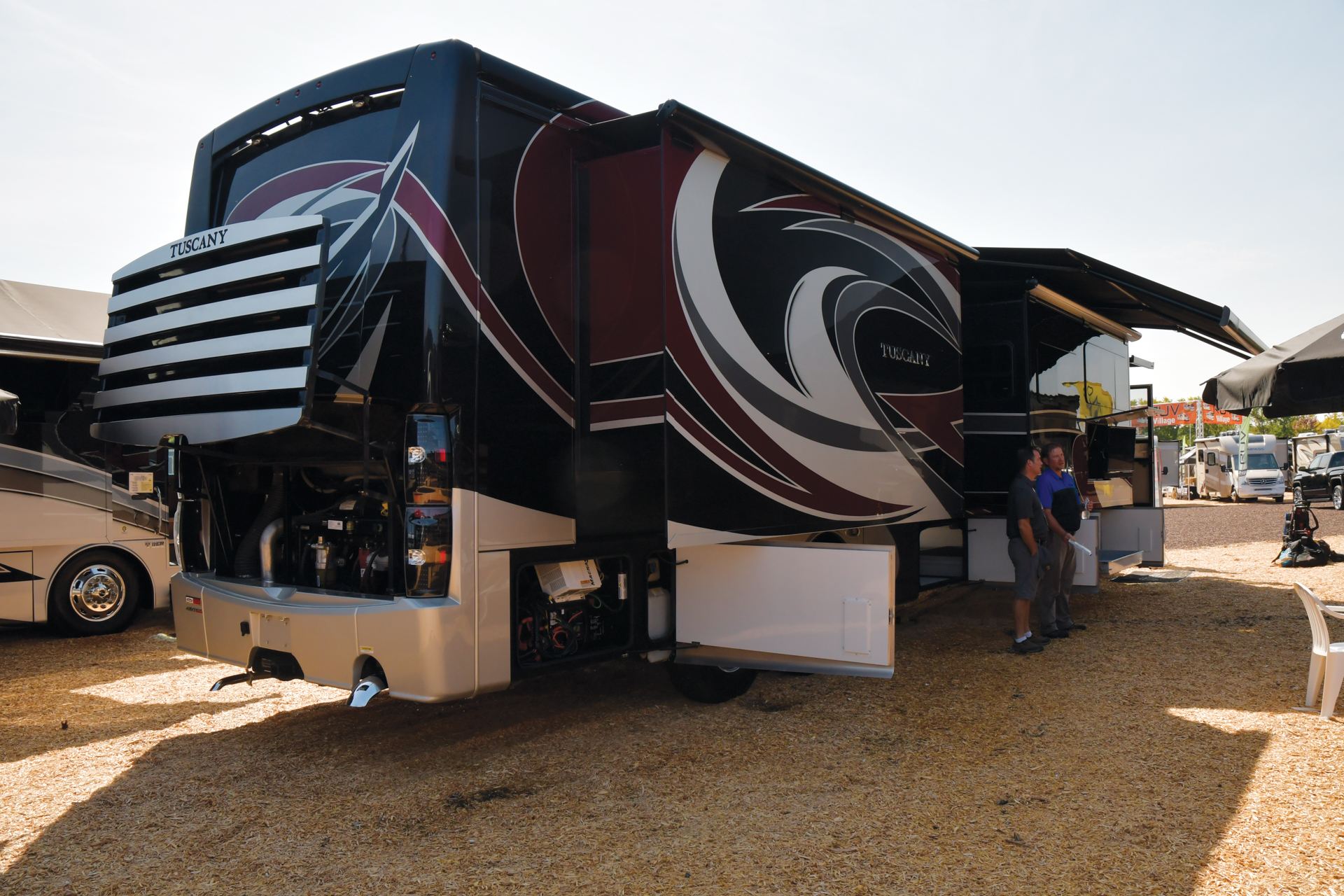 Gulf Stream Vintage Cruiser
Gulf Stream Coach has brought the nostalgic flair of the '50s into the 21st century with their series of Vintage cruisers – lightweight towable travel trailers in lengths from 17- to 23-feet, featuring laminated side walls, super-light construction, and aerodynamic design. These vintage-look units are may seem old-fashioned – and that's the idea – but they incorporate state-of-the-art technology and materials, so you won't be camping like they did in Grandma's day, you will be touring in style that leaves nothing to be desired… except perhaps the classic '56 Oldsmobile, which is, unfortunately, not included with the trailer!
For more information please visit www.gulfstreamcoach.com/products/light-weight/vintage-cruiser
When you have a wanderlust that can't be satisfied by touring the paved highways and byways, you have to go off-road with a compact motorhome that's designed to conquer the boonies. The new Winnebago Revel is just such a vehicle – riding on a 4×4 Mercedes-Benz® Sprinter chassis with a 3-liter turbo-diesel engine that delivers 325 lbs./ft. of torque, this is one cool off-road cruiser!
The Revel is designed to let you take your off-road toys with you – stow your bikes in the 140-cu. ft. gear garage or strap your kayak to the roof… there are all kinds of gear storage solutions in this unique design. When you reach your destination, unload the toys, lower the rear power lift bed and enjoy dinner in the full galley, equipped with a 2.5-cu. ft. compressor refrigerator. With a solar power system, diesel-powered heating, and a cassette toilet, this compact motorhome is an off-road explorer!
For more information please visit www.winnebagoind.com/products/class-b/2018/revel/overview