Aerodynamic Touring!
Text and photos by Norm Rosen
RV enthusiasts will no doubt be familiar with the classic lines of the Lance truck camper, famous throughout North America as one of the best-built RV products on the road.
Lance has been refining their design and building quality RV products since 1965, with a full range of travel trailers now complementing the array of recreational vehicles from this California-based manufacturer.
The Lance travel trailer factory is part of a 141,000 square foot state-of-the-art production facility, covering a 22-acre campus. To fully appreciate the precision and quality control that goes into every Lance model you can tune in to YouTube – search for Lance Camper Factory Tour to find a selection of videos from many sources, or go directly to our favourite Lance YouTube video at this link:

We really like the attention to detail and commitment that the Lance team have made to creating a quality product – from the factory craftsmen and women to the top-level management, the team at Lance are very proud of what they build, and their customers reflect that sentiment.
Many of the components and materials used in the Lance travel trailers are both innovative and unique within the segment. For example, Lance utilizes Azdel™ composite material in place of Luan wood to virtually eliminate mold and mildew. Azdel™ is 50% lighter than wood, carcinogen and formaldehyde free, and the composite has a better "R" value than the commonly used wall materials, which provides better insulation and sound absorption. Lance also uses Euro-Lite™, a wood-based product that is lighter, formaldehyde free, and stronger than the typical cabinet material, with a beautiful and durable finish. For the exterior construction, the aluminum framed superstructure provides a very strong yet lightweight vehicle, and Lance has developed a proprietary process called LanceLock™, that features interlocking aluminum extrusions to connect all exterior panels. Lance uses stainless steel fasteners for corrosion resistance and extended longevity.
While weight savings and durability are the obvious benefits of the use of high-end materials, the use of Azdel™, Euro-Lite™ and the removal of all Mercury results in the creation of an eco-friendly, toxin-free RV.
Lance builds a full range of aerodynamic travel trailers from 14 – 24 feet. We selected a Lance 2285 model with front and rear entry doors for this review and hitched it to a Dodge Durango GT with all-wheel drive to check out the towing characteristics of this very attractive combination.
Tipping the scales at just 4930 lbs (dry weight), the Lance 2285 travel trailer is a unit that can be towed by most mid-size SUVs and pickup trucks, providing an excellent blend of features in a unit that is relatively lightweight, aerodynamic, and built to last.
Construction
From the top of the trailer to the point where the rubber meets the road, the Lance 2285 embodies the state-of-the-art in travel trailer design and construction. The one-piece crowned roof is covered with Energystar rated RMA XTRM PLY® thermoplastic Polyvinyl Chloride (PVC) roofing material and features vents that clamp in place, eliminating screws and joints that could be the source for potential leaks. This roof carries a fifteen-year warranty from the date of original purchase. Below the roof membrane, the roof is insulated with rigid block foam for maximum "R" value, and the roof structure is strong and durable. Our test unit featured the Lance Eco Camper 4- Season certified All Weather Package.
The trailer walls are finished with a laminated fiberglass bonded exterior with PWP substrate.
The laminated and insulated floor, walls, and ceiling are strong and very well finished. The Super Slide operates quickly and quietly, and the mechanism is lighter and less bulky than the typical slide designs.
The trailer has smooth, high gloss fiberglass exterior walls that are laminated under intense pressure with heat-setting adhesives. The trailer has radius entry doors and windows with frameless tinted Dualpane glazing.
The front wall of the trailer is finished with a high gloss finish and features a TPO lower front gravel guard with jewel LED lighting.
The foundation of the trailer is a super lightweight, powder coated, tempered steel custom chassis featuring Huck bolt construction that is stronger than the typical welded chassis.
On the Road
There is no doubt that the Lance travel trailers are built for serious travelling. The 2285 rides on heavy-duty independent rubber torsion bar suspension axles with Ex-Lube bearings and self-adjusting brakes. The 2285 features aluminum wheels with USA Goodyear Radial Tires.
We hitched the Lance to the Durango with an Eaz-Lift Class III equalizing hitch, and we used Husky dual brake pad friction sway controls. The result was a rig that balanced perfectly, reacted to the road with smooth and precise control, and provided a thoroughly pleasurable towing experience.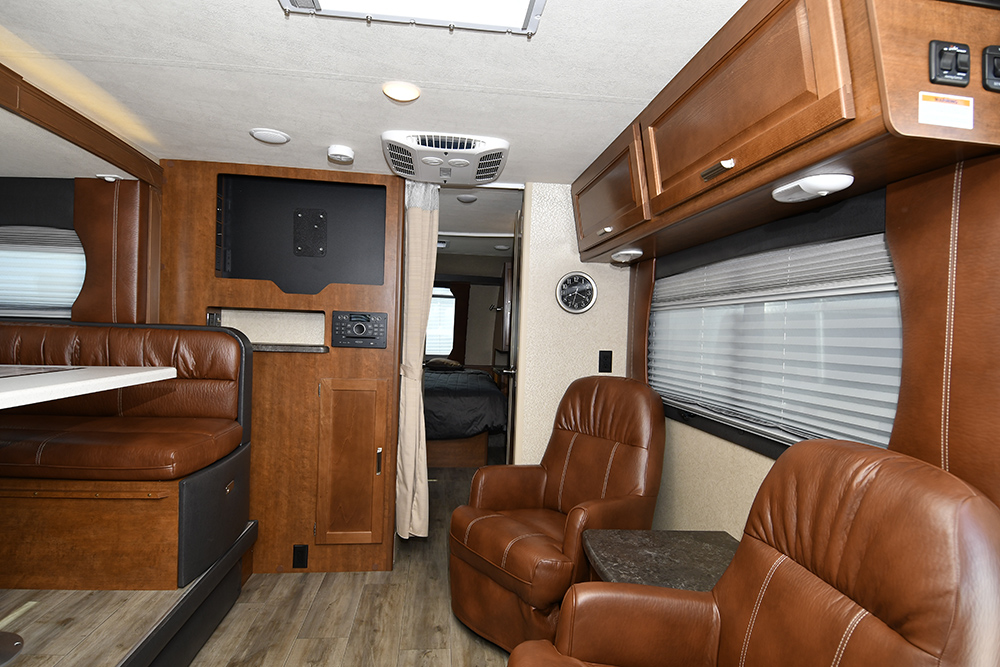 In the Campground
When you arrive at your campsite, it only takes a few minutes to unhitch, stabilize the trailer, connect your utilities, extend the slide, and start enjoying your RV vacation. The standard equipment package includes manual tongue and stabilizer jacks, but our unit had the optional LCI Smart Jack that remembers the height of your tow vehicle hitch ball… it may seem like a small detail, but it brings a new convenience to a basic trailer function, and we really liked this option.
Safety and ease of access are always a concern in a campground and the Lance trailer addresses this with by installing very solid double entry steps that are 24 inches wide and feature step well LED lighting. There is a swing-out assist handle at each entry door.
Exterior storage compartments are spacious and nicely finished. One of the exterior storage compartments has a special rack that holds the exclusive Lance Portable Table with built-in storage. The storage compartments and the two entry doors are "keyed alike" for your convenience.
The optional awning is an ideal way to expand your campsite comfort zone. The awning has a wind sensor to help it avoid damage, and operation is as easy as one-touch it's out, one touch it's in.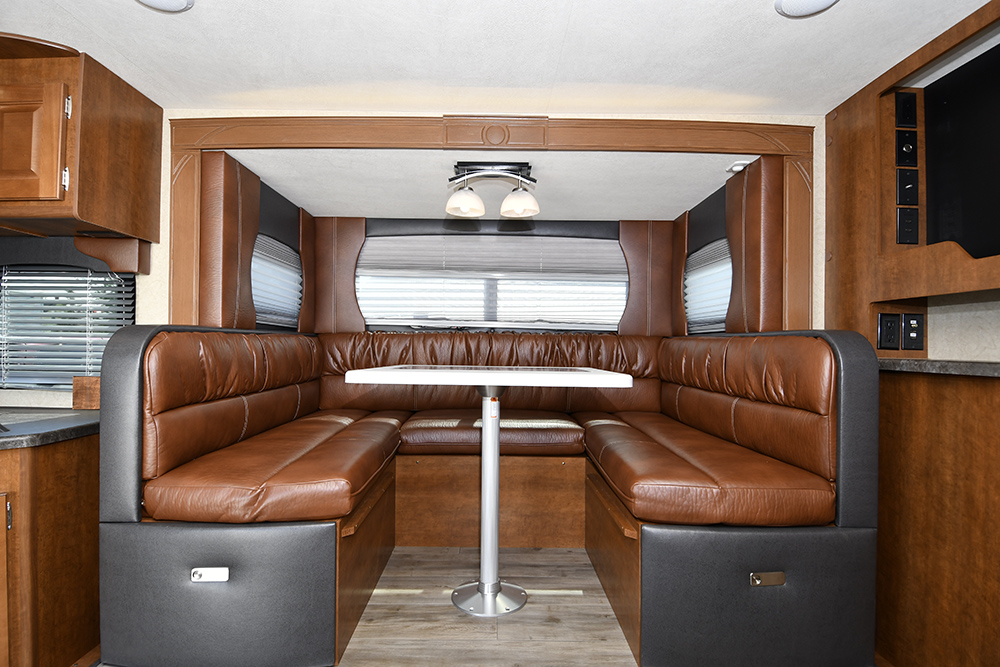 Our selected floorplan, with twin swivel chairs in the rear lounge area, is designed to sleep four; the 2285 is also available with a floorplan that has a sofa instead of the swivel chairs, and that configuration can sleep up to six. Our test unit was finished in the Roadster interior décor package, with very stylish and comfortable leather-like upholstery and matching trim. The interior is very nicely appointed with Day/Night shades in the dinette and the bedroom, with "Slow-Rise" blinds.
The main entry for this floorplan is at the rear of the trailer, and you step up into the galley/lounge area. The Super Slide dinette area is spacious and comfortable and provides easy access to the entertainment array on the bulkhead just forward of this area. The dinette area provides ample table space and a great view of the campground. The dinette seating is equipped with locking pull-out storage drawers that provide extra convenience.
When you enter through the front door you have a luxurious master bedroom, with walk-around queen size bed, ensuite vanity and a separate lavatory. Entertaining in the campground is one of the best parts of the RV experience, and Lance provides a very good AM/FM/DVD stereo system with both interior and exterior speakers, and Bluetooth connectivity. There is a standard TV antenna, and the trailer is pre-wired for cable TV or satellite services. There are two optional 12-volt TV models – 28 inch for the bedroom, and 32 -inch for the lounge.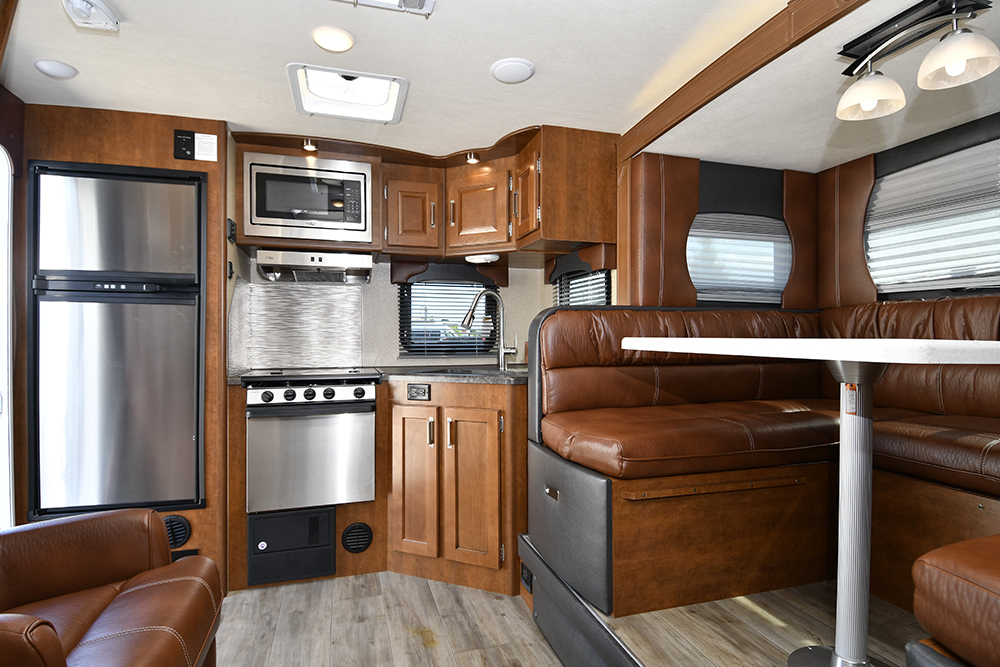 In the Galley
While the corner galley is relatively compact, it is fully equipped and incorporates a 7 Cu. Ft. 2-way refrigerator with stainless door panels, sink, oven, stainless steel 3-burner range with cover and backsplash. Our galley was equipped with the optional High Pointe microwave oven. There is a stainless-steel range hood with light and exhaust fan. Counter space is ample, and all drawers and cupboards in this area are well designed and beautifully finished. Two windows give you natural light during the day, and the LED lighting system provides plenty of illumination for evening meals and midnight snacks.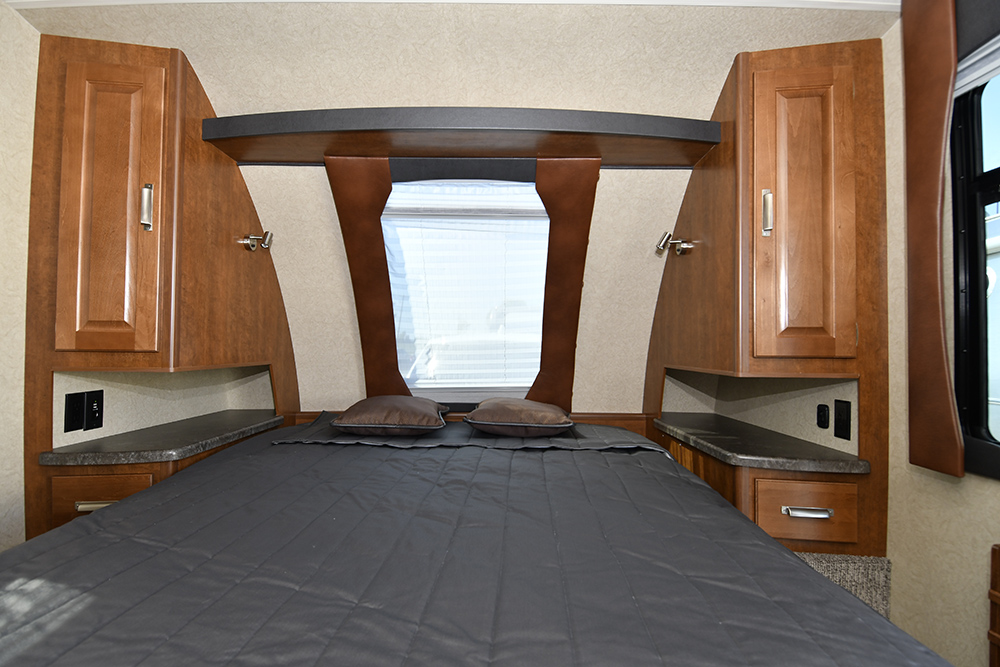 In the Bedroom
The master bedroom features a walk-around deluxe queen bed with innerspring mattress. Pillow covers and bedspread are standard, and you can opt for the Bed Maid "sleep system" incorporating sheets and comforter.
The bedroom has LED mood lights and reading lights, along with the overhead lighting. The front wall has a large contoured picture window that is tinted and laminated for strength and decorated with a very attractive frame and privacy drapes.
In the Bathroom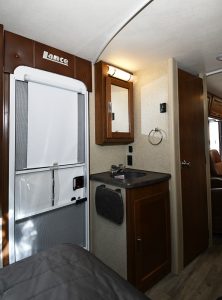 The 2285 has a unique approach to the master bathroom, with the porcelain marine toilet and shower in a separate enclosure, and the vanity and sink in the master bedroom area. A folding extension to the vanity counter gives you a spacious area adjacent to the residential style undermount oval sink, and the high-rise faucet gives you lots of space. The medicine cabinet above the sink has a mirrored door for your convenience.
The shower stall is ample size, with a very nicely appointed adjustable slide bar shower head assembly and an overhead power roof vent. Ducted heating in this area assures a nice warm floor on cool campground mornings.
RV Systems and Options
All of your RV systems can be monitored from a control panel – water levels, battery charge, and optional equipment are easily managed from this single array.
The trailer provides many features for your camping comfort and convenience. The electrical system includes a 12V/USB charging port inside, and an exterior 12V/120V and entertainment cable patio outlet.
The trailer is pre-wired for an optional 170-Watt solar panel.
Lance trailers feature enclosed, insulated and heated fresh water tanks, and a
Gas/Electric/DSI water heater.
Climate control systems include a standard 25,000 BTU forced air furnace with wall thermostat. There are three air conditioning options: Coleman 13,500 BTU with wall control; Coleman 15,000 BTU with wall control, or Dometic 10,000 Low Profile with wall control. You can opt for Fantastic Vent roof vents.
One of the options we are very impressed with is the wireless backup camera with tow vehicle monitor. This really helps ease driver tension in heavy traffic, and it is an essential safety option when backing in to a campsite. Among the popular options that buyers often order when they build their 2285 are a 19' power awning with LED lighting; an awning slide out cover; electric stabilizer jacks and upgraded galley range/oven.
The Bottom Line
At more than $60,000 CDN, the Lance 2285 models represent a substantial investment in the travel trailer sector, but they embody design elements and quality that set them apart from most travel trailers in the industry. As a long-term investment, the sleek aerodynamic Lance travel trailers are built for today's active camping families, and they should continue to provide excellent value for a generation to come.
---
Specifications
Lance Camper 2285
Overall Length 27'0"
Floor Length: 22'6"
Exterior Width: 96-3/8"
Exterior Height w/Optional: 13.5M A/C 10'2"
Interior Height: 78"
Gross Dry Weight: 4930 Lbs.
Hitch Dry Weight: 635 Lbs.
Axle Weight: 4295 Lbs.
Cargo Carrying Capacity: 1470 Lbs.
GVWR: 6400 Lbs.
Fresh Water Tank: 45 Gallons
Grey Water Tank: 90 Gallons
Black Water Tank: 45 Gallons
Refrigerator: 7 Cubic Feet
Propane: 2-5 Gallon Tanks
Furnace: 25,000 BTU's
Sleeping Capacity: 6
Tire Size: ST205/75R14
MSRP – as tested: $69,639 CDN
Many thanks to the team at Oxford Dodge Chrysler Jeep in London Ontario, and the crew at Can-Am RV Centre, for their assistance with this road test project.