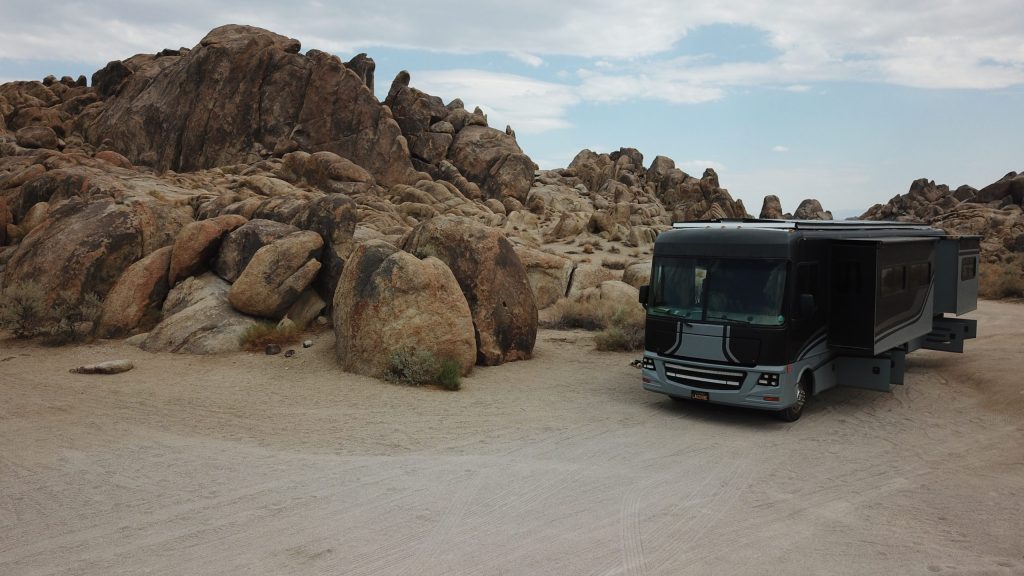 By Vincent Jacob
An immersive visit to a unique RV – transformed into a solar-powered music studio motorhome!
A pioneer of electronic music for more than 25 years and equally adept at audio production, concept creation, and inventive audiovisuals, Joachim Garraud is regarded as one of the world's most influential producers and composers.
His latest accomplishment – giving artists a new playground and inspiration by creating a solar-powered mobile studio. In the middle of the desert, with the best equipment at your fingertips to immortalize your creation, what could be better than getting lost in the vastness of the desert and letting yourself be inspired on the spot?
Plus, if everything is designed to reduce its carbon footprint, what more could you ask for?
Transformation process
In 2018, Joachim Garraud realized a childhood dream when he bought a Fleetwood brand motorhome / 2009 Terra, for $33,000. An 8-month restoration project was required because it had oil leaks, bad insulation, and exposed electrical cables. In order to complete his project, Joachim turned to his friends and experts: James and Maxime for the layout, Charles Coolen for the customization, the company Focal for the music, and Perth, who'd lived in a converted bus for three years, and provided valuable assistance in installing the solar panels.
Having refurbished it himself, Joachim Garraud nicknamed the vehicle LAGoodVibe. It comes with a recording studio complete with drums, turntables, and a voice cabin. It is also a real motorhome with five beds. Solar panels on the roof provide all the electrical power needed to run this one-of-a-kind vehicle!
Follow these links to watch the transformation process on YouTube:
Step-by-step renovation part 1
I had the chance to board the LAGOODVIBE mobile studio with Joachim Garraud and test this unique studio.
I woke up at 5 a.m. that morning, excited to experience this new kind of studio (unlike my guitarist Burak, who spent the previous night partying!). Joachim was showing the other members of my band around when we arrived. Guitars, bass, amps, and drums were loaded into the vehicle, and we hit the road. While Joachim was driving, Fanny, our bassist, and I polished the lyrics for the song we planned to record, and Burak and our drummer Forrest were making coffee.
Finding an inspirational place, recording the song, mixing it, and returning to L.A. were the objectives of the day.
Suddenly, Joachim pressed a button and, just like in Star Trek, a computer screen slid up from the floor and appeared above a workstation behind him. An Imac pro connected to Focal speakers and a MIDAS XR 18 interface which allows recording both inside and outside of the bus.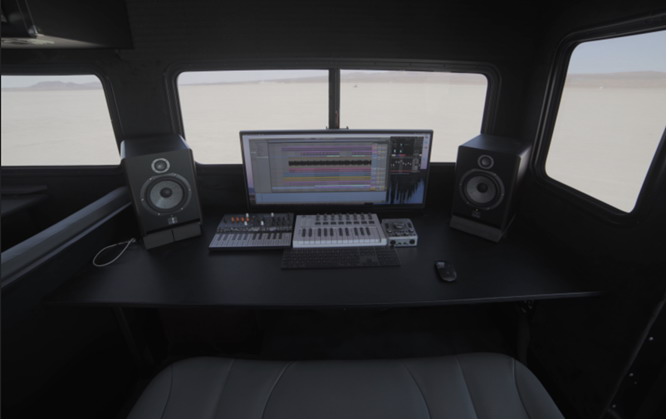 In addition to the workstation, there's a small kitchen, a dining table, and four berths behind the main room. The back of the bus has one more room, large enough to serve both as a voice booth and as a drum recording room.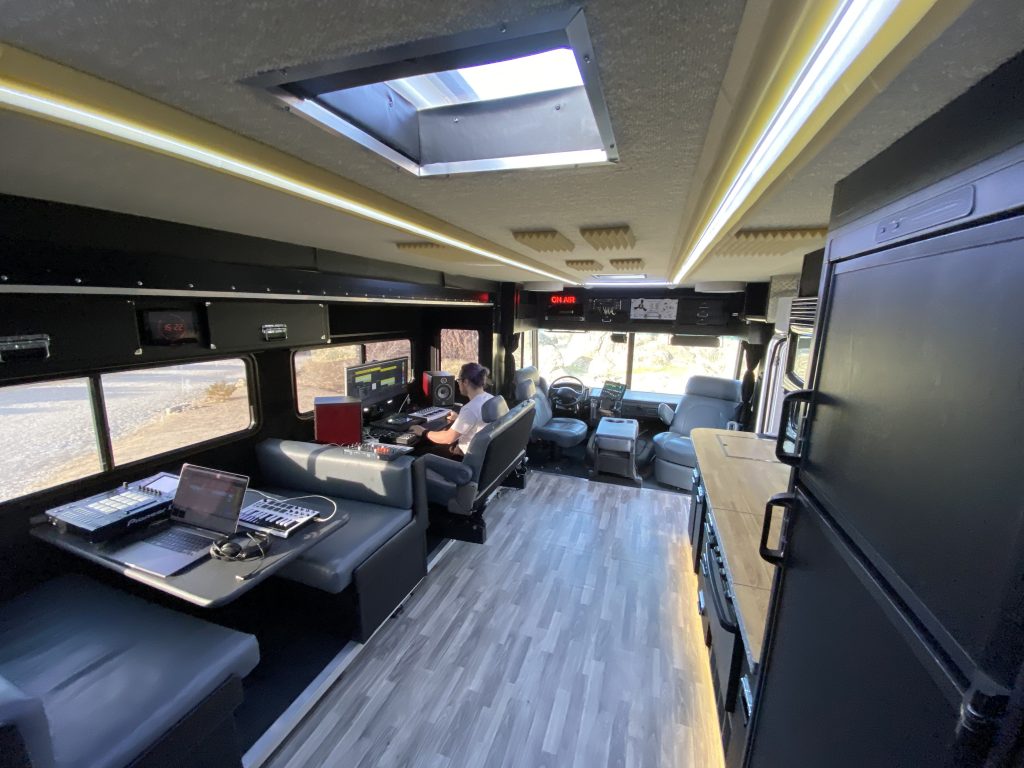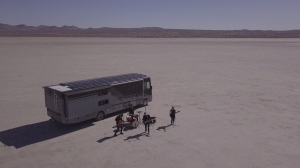 When we arrived at our destination (a dried-up ancient lake in the middle of California), Joachim stopped the engine, and the immensity of the scenery took over. The view was fantastic.
In the open air, we recorded four takes, then sat back in the bus to listen with Joachim. The sound was incredible!
Solar charged batteries power everything, so no engine noise interferes with the sockets. On a screen, energy production and consumption are displayed. As we were blasting our sound recordings, the solar panels on the roof were producing more energy than we were using. Mind-blowing!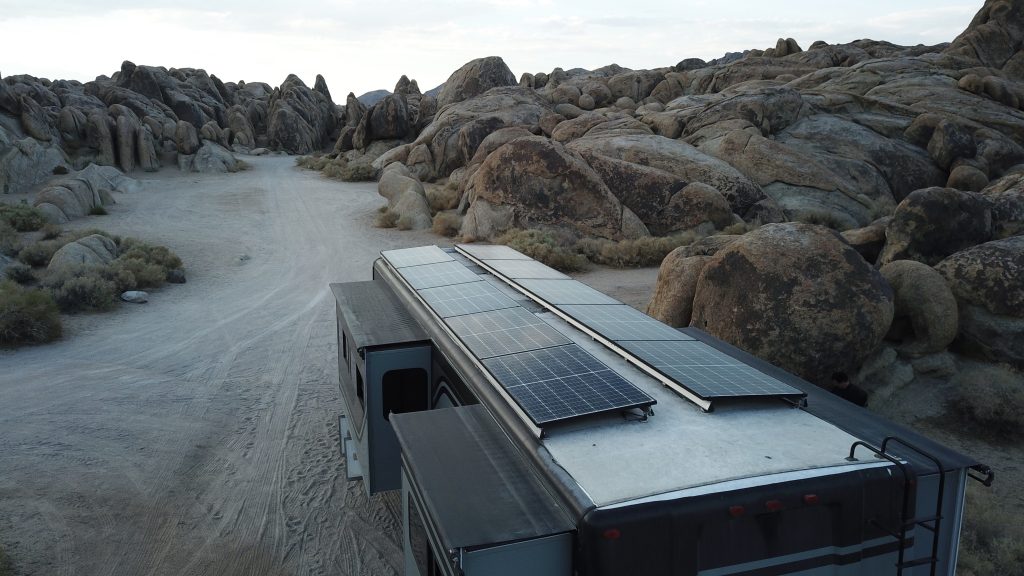 After recording some vocals in the back cabin, the song took shape.

As the sun went down, Joachim finished an electro remix in addition to the rock version that we recorded.
Follow the link below to watch the music video…
Yard Of Blondes "Je veux danser tout l'été" (Original Rock Version) Official Music Video
By 8pm, we were on the road, heading back to L.A. Mission accomplished.
Continuing the LAGOODVIBE adventure, Joachim travelled with other musicians to create new projects, resulting in two new collaborations:
Joachim and the French artist DeLaurentis recently created the project AVORIAZ aboard LAGoodVibe, harnessing the energy of the sun to create a rich sound that bridges French electro with international pop. "Blue Monday", the duo's first single, announces an album rich in texture, sound, and positive energy, which they defend side by side, from Paris to Los Angeles.
With the French singer Gaël Benyamin, the idea of California Road 101 was to combine the colours of California with the French texts of Gaël. Having worked on another project together before, Joachim and Gaël know each other well. Four songs and three music videos came out of their 5-day trip between L.A. and San Francisco.  Official music video "Le Flow De Michel"
LAGOODVIBE lives up to its name and we wish you the immense pleasure of boarding this exceptional vessel one day for a breathtaking sensory experience.
Vincent Jacob