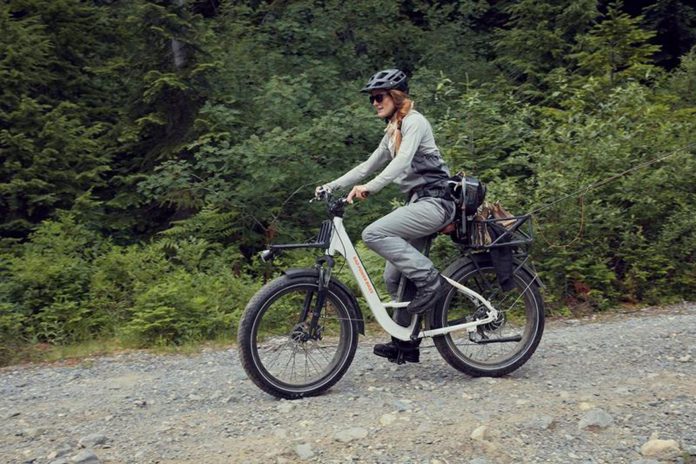 Many of our RVing friends travel with one or more bicycles. It is one of the most natural and healthy ways to get around at the campground. We learn to ride when we are kids, and it is a skill that you never seem to lose. When we camped with our kids, we always carried their bicycles on the back of our trailer so they could get some exercise after sitting in the car all day.
Bicycles have always had narrow tires with low rolling resistance that are easy to use on smooth, flat roads. These tires made it difficult to steer a bike on the gravel roads in subdivisions where we lived. We often purchased bikes for our kids that had balloon tires that could handle the rough surface with a little more control and comfort, but found that they needed a little more effort to pedal the bike since the tires had a higher rolling resistance.
As campers, we want to be able to ride on the uneven ground in a campground that is often covered with loose gravel, and today, many campers want to go off-road, riding through the fields and forests. To be able to handle the rough, uneven surfaces and give a little bit of shock absorption, many new bikes come equipped with what are called "fat tires".
As the years go by, many of us are obviously not as young as we used to be – the knees get weaker and we get out of breath easily. We could all use some help pedalling on sloping ground, or on longer rides. A bike with a battery powered electric motor may help to solve this problem. A standard one will allow you to travel 20 km at a time with a lot less effort, and still get exercise.
Unlike cars and motorcycles, electric bikes create no air pollution, making them great for the environment. They also feature a hybrid cycling mode, which means you can use the pedals if you're feeling energetic. Many electric bikes allow you to pedal for extra power, which is great for building leg strength and increasing your cardio performance.
Because e-bikes are capable of greater speeds for longer periods of time than standard bikes, you want extra control. Wider tires provide better traction and the freedom to leave the pavement, and a front suspension fork will help tame some of the rougher roads you might explore. A rheostat on the handlebars acts like a throttle to determine how fast you can go. Even when travelling up a hill, the pedalling effort is minimal and if you stop pedalling, the motor stops. Good disc brakes are a must for slowing a bike at high speed.
Today, there are many types and brands of powered bikes that you can ride without a licence or insurance. There are three different classes depending on how much power you want and how fast the motor will drive you:
Class 1 bikes have a motor (max 750w) that assists while you're pedaling, up to 20 mph.
Class 2 models have a throttle that can propel a bike up to and maintain 20 mph without having to continuously pedal.
Class 3 bikes can assist you up to 28 mph.
When purchasing a powered bike, more torque can give you faster starts and more boost. A more powerful electrical motor has the torque to help you cross busy streets with better acceleration and climb steep hills – up to 15% grades – without stalling. A bike with a higher watt-hour rating will keep you going for a longer time before the battery runs out of energy and you have to pedal all the way home. Battery life is dependant on how fast you ride and how much power you need. Climbing hills takes more power.
Most bikes have three levels of power, anywhere from 25% of your pedal power up to 200%. If you like long rides, or riding at full power, be sure to get a battery with a higher watt-hour rating.
One very important rating to consider is how long it takes for the battery to recharge. Batteries can often be recharged in four hours from the electrical outlet at a house or about eight hours from your car battery. The rechargeable battery is projected to have a life of 5,000 miles or over 250 recharges.
Most batteries lock to the bike and come with a key that lets you unlock and remove it to charge it off the bike, and to remove the battery to reduce the weight when you are carrying the bike up stairs or mounting it on a bike rack.
Many bikes have derailleurs and Shimano multi-speed shifters that let you ride on different terrains. For enhanced safety, your bike should have disc brakes and an additional brake sensor on the left lever that turns off the motor.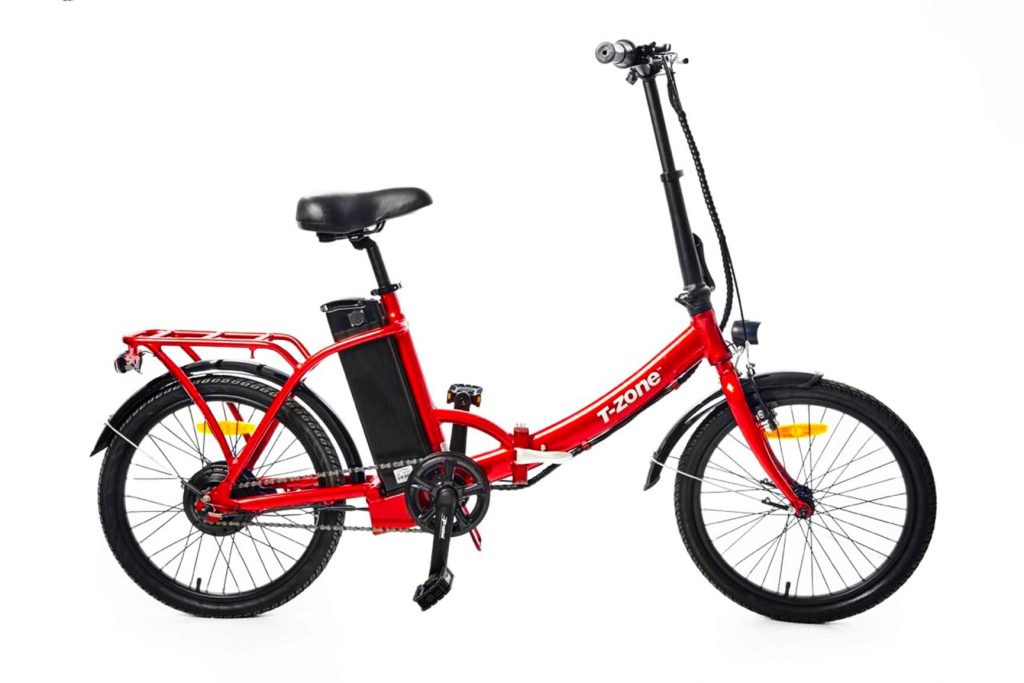 Some RVers prefer a folding frame that allows the bike to be stored inside an SUV or a compartment in a motorhome. If you want to go riding off-road, you should choose a bike that has a stronger fixed aluminum frame, but it will need to be carried on a rack mounted to the back of your SUV or motorhome. Their weight makes them difficult to mount on a roof rack. Women may prefer a step-through frame with a more comfortable wider seat.
Do you intend to ride after dark? There are many bike lights available that simply attach. Some e-bikes come with one, some don't. There are also loads of available accessories, including front baskets, rear racks, suspension forks, and custom colours.
A heavy electric bike may be more stable but will take more effort to pedal up hills or carry from place to place. How heavy the electric bike is will determine how easy it is to maneuver.
Will you go riding on rough terrain, chasing down steep hiking trails, or venturing through the forest? If so, then a mountain bike is perfect.
Mountain bikes have strong frames, often made from carbon fibre to withstand the shock of hitting rocks and gullies while trail riding. Mountain bikes have better ride manners thanks to shock-absorber type suspension in the front forks and updated geometry of the frame. The motors on electric mountain bike models have greater torque to be able to dash up steep inclines. These are expensive bikes meant for the true outdoorsman.
There are many brands and styles of e-bikes to choose from, the brand that you like best may not have a dealer in your area, so once you have made a decision on a model, it will likely have to be ordered.
Many companies offer a free test ride since there are so many variations and bikes are often out of stock. Delivery can often be up to six months for the bike of your dreams. The least expensive e-bike that we encountered was in the $1,000 price range, but you are wise to order a unit with stronger frame, motor and battery. If you are interested in serious off-road riding on forest trails, stump jumping, and climbing steep terrain, a mountain e-bike with a carbon frame can cost $6,000 or more.
Is it worth the investment to add an e-bike (or two) to your RV gear? Yes, if you consider the health benefits and the pure joy of cruising along without a care in the world. Watch for me on my e-bike next time you visit your favourite campground and enjoy the ride!