Lead photo: CLEAR2O RV Triple Canister Water Filtration System (CTC300)
Clear2O RV Water Filters
January 9, 2023 – CLEAR2O's' CPF1000 DirtGUARD™, the first-ever RV sediment pre-filter for use with inline RV carbon filters, will shortly be available with a 10 micron pre-filter.
The DirtGUARD™, a two-stage system with a sediment filter that blocks dirt particles clogging up the carbon filter is the first line of defence in capturing and removing dirt, silt, sand and debris from your water.
Watch the video to see how this unique product works…
CLEAR2O is also launching its new CRV1005 RV Inline Water Filter down to the 5 Micron level, with increased water flow and longer filter life. The CRV1005 solid carbon block filter reduces harmful contaminants, bad taste, sulfur odour and chlorine in your drinking water.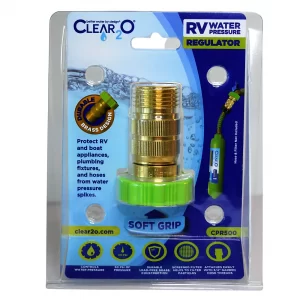 The CPR500 Water Pressure Regulator will also make its debut to protect your RV's plumbing system. Easy to install to the campground, it controls the water pressure that feeds through the water hose into the RV.
For a multi-stage filter, the new CTC300 RV Triple Canister Water Filtration System allows you to customize your level of filtration for maximum protection through three separate ways, ensuring the cleanest water, engineered and designed specifically for RV users. The convenient solid freestanding or mountable stand is weather-resistant and can be placed on the ground or in a storage bin.
For those using a single filter, the CDF1501 is the CLEAR2O® RV 2 in 1 Dual Filtration Replacement Water Filter. This product is also being unveiled at the Florida RV Show, and is ideal for RVers using a single canister. It serves as a Pre-Filter to block sediment (10 micron) and the carbon block (5 micron) to eliminate bad taste and odours in the water.
About CLEAR2O®
Founded in 2008, CLEAR2O® manufactures a variety of high-quality water filtration products under its CLEAR2O® brand in the growing water purification category. As a leader in the market, the company is bringing its mantra of 'Better Water by Design' to countless homes and RVs, and into the hands of customers craving healthier, better-tasting water. The extensive line of products includes filtered water pitchers, in-countertop filtration, whole-house filtration, garden & pet water filter, outdoor recreational products for on-the-go, Camping & RV filtration systems.
For more information, please visit your local RV dealer, or surf the web to: https://www.clear2o.com/