This list has been supplied by our friends at REV Group, manufacturers of the American Coach® Brand and other fine RV products.
Each year, Americans mark the country's birth with Fourth of July celebrations. The national holiday recognizes the day the Declaration of Independence was adopted during the Second Continental Congress on July 4, 1776, in Philadelphia, PA.
For RV'ers and those who love to travel, Independence Day delivers some of the best sights, sounds, and stops of the year. While the East Coast is rich with "independence" sites, there are many significant museums, attractions, activities, and fireworks displays throughout the country that represent the United States and its independent, bold spirit.
The team at American Coach have recommended ten RV-friendly destinations and attractions in this compilation of lesser-known or remote sites that embody the national impact of the July 4th celebration. All the destinations have been selected based on their historic, patriotic, or All-American flair.
About the company…
Made in the USA, American Coach is a luxury brand of recreational vehicles that is celebrating its 30th anniversary this year. American Coach motorhomes are known for their design, lavish touches, and innovative engineering that make a road trip a relaxing experience. American Coach is part of the REV Recreation Group (RRG), a subsidiary of REV Group, Inc.
American Coach models have earned numerous industry awards, including "Top RV Debut" and "Must See RV." For more information, visit https://americancoach.com.
Celebrate America by visiting 10 "Off-the-beaten-path" 4th of July Destinations!
Please note: each Fourth of July stop has been researched but be sure to call ahead to confirm hours of operation, advance ticketing requirements, and other relevant attendance details.
National Museum of the U.S. Air Force, Near Dayton, OH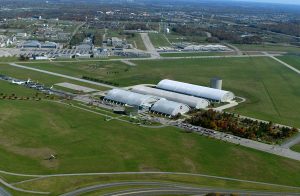 For more than a century, the U.S. Air Force has defended the United States in the air, space, and cyberspace through the skill and bravery of American Airmen and Airwomen. Located on the Wright-Patterson Air Force Base, the free National Museum of the U.S. Air Force is the world's largest military aviation museum. The museum features more than 350 aerospace vehicles and missiles and thousands of artifacts.
One of the historic events showcased at the museum is the moon landing. On July 20, 1969, the United States' Apollo 11 became the first crewed mission to land and walk on the moon. Touch actual rocks from the lunar surface of the moon and the planet Mars as part of "SPACE: A Journey to Our Future," a highly interactive special exhibit that showcases the country's space exploration program.
RV'ers can spend the night at Thousand Trails – Wilmington RV Resort. The resort has 170 acres of premiere camping along with an on-site lake that provides opportunities to fish and canoe.
For more information regarding the National Museum of the US Air Force, visit https://www.nationalmuseum.af.mil/
Let Freedom Sing! – Nashville, TN
Known as America's home to country music, downtown Nashville is hosting a free Let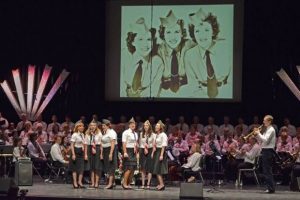 Freedom Sing! event that includes a concert by three-time, Grammy-winning singer and songwriter Brad Paisley. The city is also putting on its largest fireworks show ever, synchronized to live music from the Nashville Symphony.
Located on a peninsula with views of Percy Priest Lake, RV'ers can spend the night at Elm Hill RV Resort, which offers full hook-up sites and several other amenities. Guests can also rent boats, kayaks, and paddle boards to explore Percy Priest Lake.
Check out the Let Freedom Sing! Website at https://www.visitmusiccity.com/july4th
Cody Stampede Celebration & Parade, Cody, WY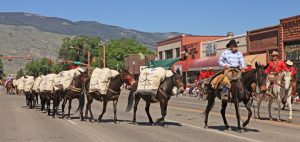 To truly experience the spirit of America's Wild West, plan to attend the four-day Independence Day celebration in Cody that runs July 1-4. Since 1919, Cody has been showcasing the toughest and most talented cowboys and cowgirls, legitimately earning its title as "Rodeo Capital of the World."
During the holiday, Cody is hosting the PRCA Rodeo where contestants compete for $400,000 in prize money. The weekend also includes three parades where the red, white, and blue will be on full display – a Kiddies' Parade on July 2 and a Stampede Parade on July 3 and 4. At dusk on July 4, fireworks will explode above the Wyoming River. Cody is also home to the Buffalo Bill Center of the West with five museums under one roof. Explore Plains Indian cultures, trailblazing cowboys and cowgirls, classic and modern western artworks, and more.
Cody is 55 miles from the east entrance of Yellowstone National Park, which became the country's first national park on March 1, 1872. In addition to its exploding geysers, bubbling paint pots, mesmerizing hot springs, and travertine terraces, Yellowstone is also home to the United States' national symbol, the bald eagle. RV'ers can stay overnight at Ponderosa Campground.
Visit the Cody Stampede website at https://www.codystampederodeo.com/
Independence Rock Historic Site, Alcova, WY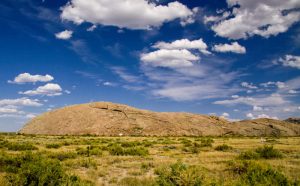 Travellers who happen to be in southern WY travelling on State Route 220 should keep an eye out for the Independence Rock Rest Area. The granite rock is approximately 130 feet high and was a well-known landmark on the Oregon, Mormon, and California emigrant trails. More than 5,000 names are carved on the rock by 19th century pioneers who travelled treacherous trails and braved tough conditions in search of their American dream in the Western states. One of the earliest names carved into the rock is M.K. Hugh and is dated 1824. Hiking is allowed on and around the rock.
Overnight accommodations aren't plentiful near Independence Rock Historic Site so it's best visited along the way to another destination.
Learn more about Independence Rock at https://wyoparks.wyo.gov/index.php/places-to-go/independence-rock
Kaboom Town!, Addison, TX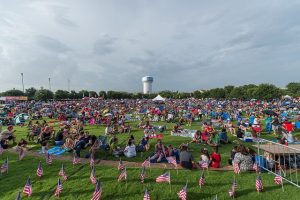 Everything is bigger in Texas, so it is not surprising that on July 3 there is a "best of" fireworks show that lasts for a solid 30 minutes just outside of Dallas. It is not only locals who brag about the patriotic display, but it is also received accolades from the American Pyrotechnics Association, too! Spectacular views can be found throughout Addison but one of the best ways to take in the show is to book a watch party at a local restaurant or hotel. The parties typically include live music and special Fourth of July morsels and libations, served with a side of festivities.
RV'ers can stay overnight at Sandy Lake MH & RV Resort near Dallas. The resort's amenities include a dog park, fitness centre and swimming pool.
For more information regarding Kaboom Town! visit https://addisonkaboomtown.com/
Freedom Park, Omaha, NE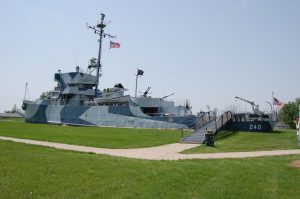 Located along the banks of the Missouri River in the heartland of the country, Freedom Park honours the United States Navy. The free outdoor park and museum showcase two impressive pieces of military hardware – the minesweeper USS Hazard, which received three battle stars for its service during World War II, and the Cold War-era training submarine USS Marlin.
RVers can spend the night at West Omaha / NE Lincoln KOA Holiday, which offers 85-plus RV sites that are satellite friendly.
For more information about the park, visit http://omaha.net/places/freedom-park
Mount Rushmore National Memorial, Keystone, SD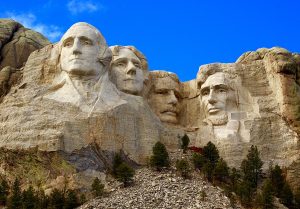 Located in the town of Keystone with a population of 427, a visit to Mount Rushmore is worth the trek. This colossal stone edifice in the Black Hills of South Dakota took 14 years to complete from 1927 to 1941 and cost approximately $1 million. The heads of Presidents George Washington, Thomas Jefferson, Theodore Roosevelt, and Abraham Lincoln are 60 feet tall and were carved into the granite face of Mount Rushmore. The four presidents were chosen to represent the nation's birth, growth, development, and preservation.
On July 3, presidential re-enactors George Washington, Thomas Jefferson, Abraham Lincoln, and Theodore Roosevelt will be strolling the grounds, giving talks about their presidency, posing for photographs, and providing autographs.
While Mount Rushmore isn't hosting its typical Fourth of July fireworks display, many of the surrounding small towns are. Throughout the Badlands and Black Hills, American pride will be on full display with parades, re-enactors, Old West shootouts, cook-offs, car show 'n shines, live music, ice cream socials, farmers markets, and more.
RV'ers visiting Mount Rushmore can stay overnight at American Buffalo Resorts or Mount Rushmore KOA Resort at Palmer Gulch in the heart of the Black Hills.
Visit the website for more information on this KOA resort: https://koa.com/campgrounds/mount-rushmore/
For more information on the event, check out the Mount Rushmore website at https://www.nps.gov/moru/index.htm
AmericaFest, Pasadena, CA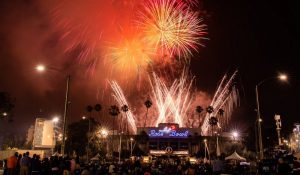 AmericaFest, held at the Rose Bowl Stadium, promises to deliver the largest Fourth of July fireworks display west of the Mississippi. The day-long event is a celebration of all things red, white, and blue and includes tailgating, live entertainment, motorcycle stunt show, and a renowned fireworks show.
RV'ers can stay overnight at Orangeland RV Park conveniently located nearby several Anaheim attractions.
Visit the AmericaFest website at https://www.visitpasadena.com/events/annual-events/americafest/
Columbia State Historic Park, CA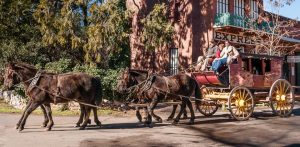 While the Gold Rush produced great wealth for some, it also transformed the United States. As miners rushed in, the population of California swelled, helping to accelerate its admission to the Union as the 31st state.
Two years after gold was found in 1848 at Sutter's Mill, the town of Columbia was established. Today, visiting Columbia State Historic Park is like travelling back in time. Visitors are surrounded by the largest collection of gold-rush-era structures in the state of California. Merchants are dressed in 1850s attire, there is the smell of coal smoke from the blacksmith shop, and the rumble of a stagecoach as it arrives in town. Stroll down Main Street, stop in the vintage shops and eateries or try to strike it rich by panning for gold.
Columbia is one of three gold-rush towns clustered together on the outskirts of Yosemite National Park, which is famous for its giant sequoias, dramatic waterfalls, and granite cliffs.
RV'ers can stay overnight at Black Oak Casino and Resort – a perfect home base for visiting Yosemite and touring the "Gold Country."
For further information regarding the park memorial day event, visit http://www.visitcolumbiacalifornia.com/
Colonial Parkway, VA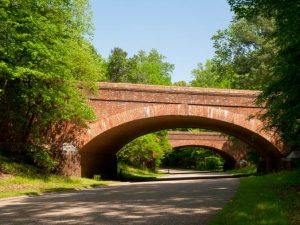 An entire Fourth of July can be spent in Virginia's Historic Triangle of Jamestown, Williamsburg, and Yorktown. The 23-mile Colonial Parkway connects the three towns and has numerous scenic pull-offs with historical markers that provide descriptions of the view. A day-long Liberty Celebration at the American Revolution Museum at Yorktown features outdoor living-history experiences that allow visitors to explore life in Washington's Continental Army, see artillery demonstrations, and watch performances by the Fifes and Drums of York Town. In the city of Yorktown, evening activities include a bell-ringing ceremony, patriotic concert, and an amazing fireworks display booming over the York River.
RV'ers can spend the night at American Heritage RV Park.
Find out more at https://www.nps.gov/colo/parkway.htm