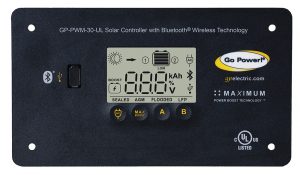 Help protect the life of batteries when on the road and avoid over-charging them with Go Power!'s 30-amp PWM Solar Controller. Complete with integrated Bluetooth capabilities, the product is offered in the company's Overlander solar kit, the largest 12-volt solar charging kit on the market, as well as in their complete solar and inverter systems. All Go Power! solar controllers are now compatible with lithium batteries and come with a five-year warranty.
https://gpelectric.com/products/30-amp-solar-controller-bluetooth/
---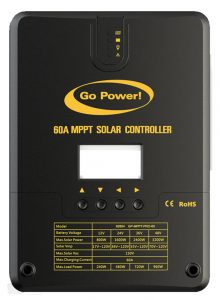 Also by Go Power! is its largest solar controller, the MPPT-PRO-60, a 6-amp controller that uses Maximum Power Point Tracking technology to boost battery charging in all tilt and sun conditions and protects the life of solar batteries, whether lithium, AGM or lead acid. The MPPT-PRO-60 also provides multiple convenient display options including Bluetooth or a remote display.
https://gpelectric.com/products/60-amp-mppt-solar-controller/
---
Go Power! Solar Flex Panels pack a lot of power into a small package. These high-efficiency, monocrystalline thin film solar panels provide outstanding performance, are cost-effective, and are perfect for mobile applications like RVs and boats. Now available are the 35 and 55-watt kits, a 5-watt increase over previous flat-panel models.