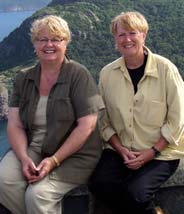 We recently relocated to Stratford, Ontario. There is so much to do here, we have little time to cook! We are consuming local cuisine and culture like kids in a candy store.
Although there are periodic sightings of "The Biebs" in town, we had to settle for a photo-op with a cut-out of Justin Bieber at the Stratford Perth Museum. The Justin Bieber Exhibit – Steps to Stardom tells the story of Bieber's beginnings in Stratford and his rise to stardom. The exhibit has been extended until at least October 2019.
We have shopped at the Slow Food Market for locally produced food, drink and crafts. We've walked along the Avon River and enjoyed the swans. Over the span of three days, at Stratford City Hall, we watched the filming of an upcoming segment of Murdoch Mysteries for the CBC.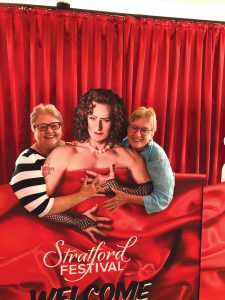 Our first Stratford Festival experience was The Rocky Horror Picture Show at the Avon Theatre. Costumes in the audience were almost as wild and as much fun as those on stage.
On the Studio Tour, we dropped into the creative spaces of artists' and artisans'. At the Stratford Writers Festival, we attended the cookbook launch of Farm To Table, Celebrating Stratford Chefs School Alumni, Recipes & Perth County Producers, at the Stratford Chefs School. You can read our review of the book by going to our blog at:
www.thecookingladies.com.
During the "Appetite for Words" culinary portion of the Writers Festival, we enjoyed inspiring literary dinners with celebrity chefs: Cooking with the Wolfman, Indigenous Fusion, and A Taste of France with Jane Sigal.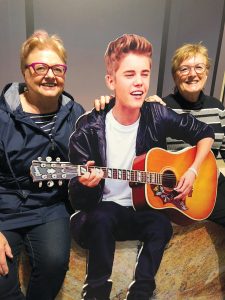 Amuse-Bitch, a play-on-words with the French culinary term amuse-bouche, was the title for two events in October that provided works in progress by Canadian women writers. Amuse-bouche is a complimentary appetizer offered by chefs as a glimpse of what's to come.
As you can see, we have little time to cook these days but we have created a simple amuse-bouche recipe that will tickle your taste buds.
AMUSE-BOUCHE AVOCADO TOAST
Ingredients:
3 slices thickly-sliced rustic multi-grain bread
1 avocado
1 tsp (5 ml) freshly squeezed lemon juice
1/4 tsp (1.25ml) lemon pepper seasoning
3 tbsp (45 ml) soft cream cheese
3 to 4 cherry tomatoes, cut into thin, round slices
balsamic glaze
sunflower seeds
Directions:
Toast the bread until golden brown and crunchy. Cut each slice into 3 to 4 pieces. Set aside.
Cut the avocado in half, lengthwise. Remove the pit. Use a spoon to scoop out the flesh. Discard the pit and the skin.
Place the avocado flesh in a bowl. Mash the avocado coarsely with a fork.
Mix in the lemon juice and the lemon pepper seasoning. Set aside.
Spread cream cheese all the way to the edges of the toast.
Spread the avocado mixture over the cream cheese.
Place 2 to 3 cherry tomato slices over the avocado. Drizzle a line of balsamic glaze over the tomatoes.
Garnish with a light sprinkling of sunflower seeds