Class B Convenience
Text and photos by Norm Rosen
Many RV enthusiasts find that the compact versatility of a class B motorhome is the ideal combination of camping and touring convenience. Small enough to fit in some residential garages that can accomodate 9'4″ tall vehicles, yet large enough to be comfortable for a couple or a small family, these mini-motorhomes check most of the boxes on your RV wish list.
We visited the team at Sicard RV in Smithville, Ontario, to check out the Winnebago Travato 59KL, a class B model built on the Ram ProMaster chassis, that delivers comfortable accommodations, reasonable fuel efficiency, and a very pleasant driving experience.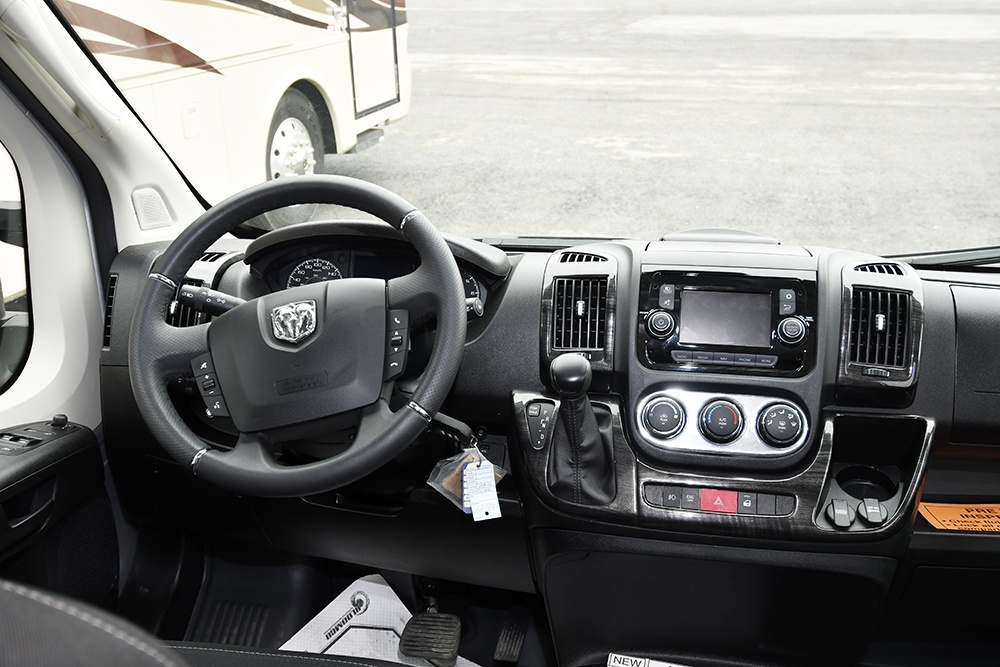 On the Road
Slip into the front leather cab seats and you command a view of the road that is unobscured. All controls are within easy reach, and if you can drive a car, you can drive this motorhome with no trouble at all. The vehicular components include in-dash SiriusXM satellite radio (you must arrange your own SiriusXM subscription) and a 5-inch LCD color touch screen with GPS and a colour rear-view camera monitoring system.
You can see the experience of the Winnebago engineers in the details throughout this vehicle – for example, there is a lockable storage compartment in the floor between the front cab seats, in an area that would otherwise have been underutilized.
The Travato is equipped with a 280HP 3.6L V6 engine, mated to a 6-speed automatic 62TE transmission, delivering 260 lbs. feet of torque. On the road, it handles with the agility and ease of a family van, riding on stylized aluminum wheels and Nexen Roadian CT8 HL, LT 225/75R16 tires.
We found the acceleration to be lively with two people, your gear, and full tanks, and the ride and handling characteristics are excellent… this is, after all, a chassis based on Europe's most successful commercial cargo van – the Fiat Ducato – with a powertrain that is designed for use as a commercial vehicle. It is unlikely that the RV application will approach the load for which the chassis was engineered.
For your safety, the Travato has six front air bags: front, side curtain, and side seat bolster.
Innovative Technologies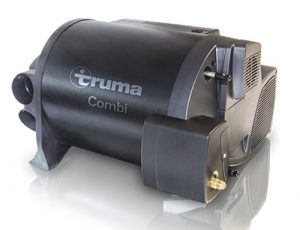 The Travato was the first motorhome in North America to feature the new, 97% energy efficient, Truma Combi eco plus, a European design that incorporates the water heater and furnace functions in a space-saving and fuel-efficient unit. The heater runs on LP gas mode when you choose to be self-sufficient, and you can switch to electrical mode at the camp site, or you can operate in mixed mode for the greatest amount of heating output for cold weather camping. The Truma Combi eco plus heats the vehicle and the water very quickly, it is very fuel efficient, and in warm weather you can set the unit to heat just the water without running the furnace. The Truma Combi eco plus is controlled from an LED panel that allows time adjustable settings for water and air temperature. Four high performance ducts direct the heat throughout the interior.
We found the Truma climate control system to be very effective and quiet.
The Travato incorporates a Volta Power Systems Pure3 Advanced lithium Energy System which features 8,600 watt-hours of total maximum energy storage capacity. The newest Travato models KL and GL will boost this capacity from 8,600 watt-hours to 9,500 watt-hours, and the Boldt and Limited-Edition National Park Foundation Travato models are increasing from 11,600 watt-hours to 12,800 watt-hours, so Winnebago owners can enjoy the freedom to camp anywhere without the noise or greenhouse emissions of a generator. The Pure3 Advanced Energy System enables RVers to run virtually any appliance, including air conditioning, through the night. The system charges while driving, idling, connected to shore or through MPPT-controlled solar panels, and the Pure3 system lets you monitor energy use, charge time and capacity remaining through the myVolta app, which syncs with a new Bluetooth feature on the energy storage packs.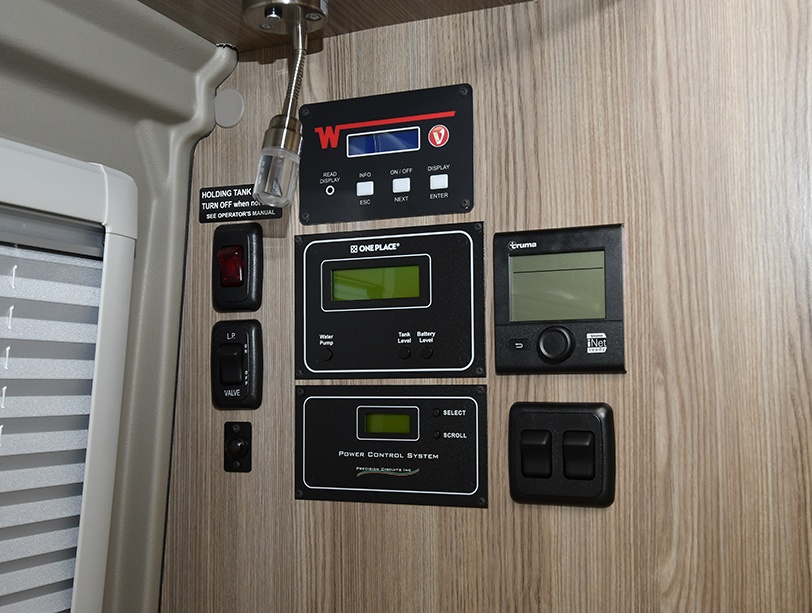 Our test vehicle was outfitted with 200-watt Zamp solar panels, which are expandable to provide off the grid power and daylight charging for the AGM batteries. A 1,000-watt pure sine wave inverter provides power for household appliances, such as smartphone chargers, tablet chargers, CPAP and BPAP machines, off the dual AGM absorbed glass mat maintenance free group 31 RV batteries.
On the roof, our test unit had a King Control OmniGo omnidirectional local off-air HDTV antenna. This model requires no programming and features a single remote-control program search from any connected TV. The compact size of this component allows for more solar panel space and roof top storage. Also on the roof, there is a standard Coleman Mach 10 13,500 BTU air conditioner that uses less power to start up and is quieter than earlier models.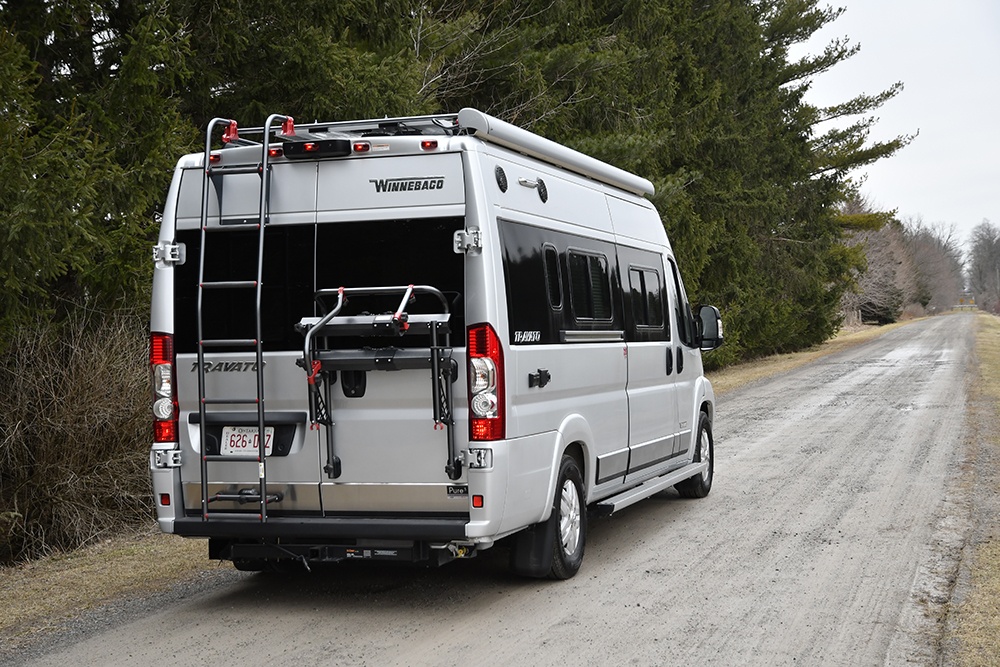 The unit we tested was outfitted with illuminated full-length aluminum running boards, a MaxxAir premium vent with rain hood, a bike rack, exterior ladder, and roof rack. The vehicle was also fitted with side and rear screen door options. For Canadian models, you can order a drainage system heater – the Travato is pre-wired for this option.
In the Campground
With a compact motorhome, it is a simple matter to position the vehicle in the campsite, connect the water, sewer, and electric hookups, and extend the armless Carefree of Colorado powered 13-foot awning. This awning has LED lighting and a motion sensor to automatically retract in strong winds. 
In a matter of a few minutes, you are set up, and when it is time to take a side-trip or head for another destination, your departure process is just as quick and easy.
For campground entertainment, there are a pair of exterior speakers that are connected to the interior surround sound system via Bluetooth, and the system can play music from your phone.
We tested the Travato on a blisteringly cold winter day, and we were impressed with the quick heating performance and the energy efficiency of the vehicle's insulation, which has been increased from previous model years.
Inside the Travato
The interior design and décor of the Travato are clean and modern, with a new European blind system that provides complete black out and added thermal insulation. The blinds use a "bottom up" concept that increases your privacy while allowing you to open the blinds as required for light and air flow.
The storage area above the driver and passenger seats is an ideal place to store the pleated windshield blinds with solar thermal break and easy to use side privacy screens.
In the Galley
The Travato has a very compact galley. The 59G/GL models are outfitted with a two-door refrigerator, the 59KL has a one-door refridgerator, a convection microwave oven, a two-burner cooktop, and an under-counter sink with residential style faucet. The sink and cooktop are outfitted with tempered glass splash guards that fold down to increase your counter space.
Sleeping Accommodations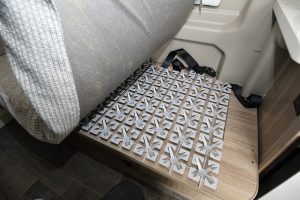 The Travato 59K is designed to sleep two adults. It offers the comfort of twin beds and a pair of rotating captain's chairs. Your floorplan can be configured to provide twin rear beds, or two rear lounges with seat belts. The beds are a very interesting design, with a Froli Star bed foundation system that features independently adjustable firmness springs that conform to your body, under a thick foam mattress. This provides a surprisingly comfortable sleeping accommodation. A Flex bed kit is provided to convert the twin beds to a queen size when you use the table and pedestal mount and assemble the lounge cushions accordingly.
While this is a compact motorhome, there are several areas where Winnebago has provided quite a bit of storage space. The overhead cabinets are deep enough for a dinner plate, and the door latches operate with a very confident hold. The cabinet storage capacity is quite generous considering the size of the vehicle, and there is an easily accessed storage area under the passenger side bed.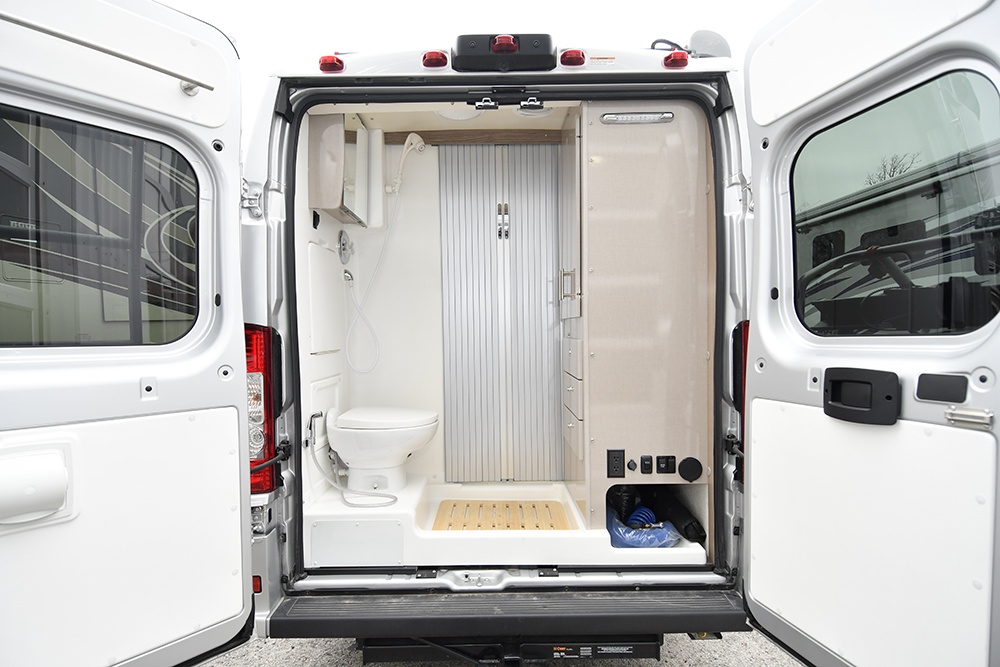 In the Bathroom
The Travato 59KL features a very spacious rear wet bath/shower, sink, and toilet, with a removable bamboo shower platform. Your water system access is enclosed at the rear of the passenger side of this area. As described above, this model incorporates the Truma Combi eco plus heating and hot water system, a German-engineered system that substantially reduces the space normally occupied by a conventional furnace and hot water tank, while providing fast recovery hot water supply.
The Bottom Line
An excellent value within the class B motorhome segment, the Travato 59KL should be on your list of RVs to consider for 2020. With a 1-year manufacturer limited warranty, and an extensive North American network of Winnebago and Ram chassis dealers, you are never far from help if you need roadside assistance or repair.  
---
SPECIFICATIONS
Winnebago Travato 59KL
Fuel type Gas
Fuel capacity 24 gal (90 L)
Exterior length 21 ft.
Exterior width 6' 9"
Exterior height 9' 4"
Interior height 6' 3"
Dry weight 7,910 lbs.
GVWR 9,350 lbs.
Fresh water 18 gal.
Grey water 12 gal.
Black water 12 gal.
LP Gas 6 gal.
Tongue weight 350
Hitch weight 3500
MSRP as tested: $125,000 CDN
– prices will fluctuate with the exchange rate – for current pricing please see dealer.
Many thanks to the team at Sicard RV in Smithville, Ontario, for their assistance with this road test.