Elkhart, Ind. – Truma North America is set to supply the US RV market with premium Truma Aventa rooftop air conditioners.
The Truma Aventa is German Engineered for the perfect balance of cooling and humidity, creating ultimate comfort while minimizing noise in a modern, energy-efficient, low-profile design.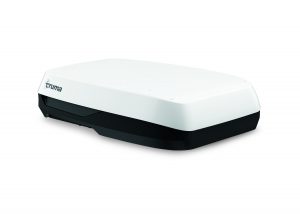 "The innovative and intelligent design of the Truma Aventa maximizes cooling while reducing noise. At the same time, we are balancing temperature and humidity to achieve the ultimate comfort zone," stated Mark Howlett, Sr. VP of Sales & Business Development for Truma North America.
The Aventa will be offered in two models. The Eco model offers 13,500 BTU/h cooling capacity, while the Comfort models offer 15,000 BTU/h cooling capacity. Both Aventa models will be offered in black and white.
Compatible with ducted and non-ducted systems, the Truma Aventa comes standard with many advanced features, including automatic cooling mode, dehumidification mode, night mode, air circulation mode, and three manually selectable cooling mode fan speeds (low, medium, high).
"We entered the North American market with premium heating and water heating products. A top-tier air conditioner to complement our heating systems was the natural next step. The introduction of the Aventa gives us the capability to provide year-round comfort systems. This increases ROI for our customers, giving them the ability to use their RV in any season knowing their comfort is backed by 70 years of German engineering," said Gerhard Hundsberger, President & CEO of Truma North America.
Truma is a premium solutions partner to the outdoor recreation community. Truma started doing business in North America in 2013, establishing its headquarters in Elkhart, IN. Backed by over 70 years of German engineering, Truma has a long history of providing quality solutions to the global outdoor recreation market. Truma provides "Simply Better" world-class systems designed and tested specifically for outdoor adventures and the diverse terrains unique to North America. Truma distinguishes itself by its high-quality products, exemplary customer service, knowledgeable technicians, and customer-first philosophy.
For more information about Truma and its products, visit www.truma.net or email info@trumacorp.com.
Truma Gerätetechnik GmbH & Co. KG is the innovative system supplier for motorhomes, travel trailers and mobile applications. The company offers "more comfort on the move" and a comprehensive product portfolio in the fields of heating, water and air conditioning systems as well as LP and power supply. Truma also manufactures maneuvering systems for travel trailers. Truma stands out thanks to the high quality of its products, the exemplary service and close proximity to its customers. The headquarters and production site are located in Putzbrunn near Munich. Truma also has offices in Great Britain, Italy, Sweden, China and the US. The family-owned business has a workforce of 600 employees. Truma counts among the "TOP 100" most innovative medium-sized companies in Germany.