Length:  13'
Slides:  n/a
Width (slides in):  58" (interior)
Height:  72"
Curb Weight:  1,075 lbs.
GAWR:  2,200 lbs.
Tongue Weight:  100 lbs.
Furnace:  See Dealer
Propane:  See Dealer
Sleeps:  See Dealer
T@G MAX
Approx: Price: See Local Dealer
The T@G Teardrop Camper Trailer is the result of a combination between its older sibling, the T@B teardrop travel trailer and the classic teardrop trailer from the 1940s. The T@G features the modern amenities, doors, windows and styling from the T@B while marrying it with the retro, teardrop shape and size. The 100 percent aluminum framed trailer sports a silver or white fiber-glass exterior with colored graphics.
---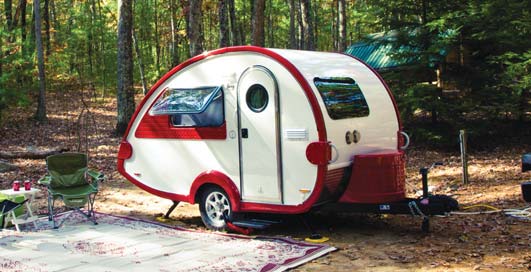 Length:  15'2"
Slides:  n/a
Width (slides in):  76"
Height:  89"
Water Tanks:

(fresh): 5 gal.
(grey): 19 gal.
(black): 6 gal. (wet bath models)

Dry Weight:  B@sic; 1,475 lbs.
GVWR:  $2,800 lbs.
Hitch Weight:  B@sic: 1,125 lbs.
Furnace:  See Dealer
Propane:  See Dealer
Sleeps:  See Dealer
T@B MAX
Approx: Price: See Local Dealer
With a wealth of features and options considering its length of just 15 feet, two inches, the T@B M@XX teardrop trailer will bring smiles to many RVers' faces looking for an easy-to-tow, yet stylish unit to enjoy the RV lifestyle.  For instance, the top of the line M@XX offers an entertainment center, three-way, Thetford Port-a-Potti, and even A/C, while the wet bath models offer a five-gallon fresh water tank and a six-gallon black water tank.