2021 marks RV Lifestyle Magazine's 50th anniversary year and we have highlighted some favourite previously published recipes from Phyllis Hinz and Lamont Mackay, otherwise known as The Cooking Ladies.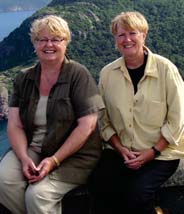 This 'Lemon Wild Rice Soup' recipe, which makes four servings, first ran in RV Lifestyle Magazine in 2006 in Vol. 35 No. 6.
INGREDIENTS:
3/8 cup wild rice – 1 vegetable bouillon cube
1 1/2 cups cold water – 1 tablespoon lemon juice
1 tablespoon canola oil – 2 tbsp. finely chopped lemon peel
1/2 cup thinly sliced celery – 3 tablespoons cornstarch
1/2 cup thinly sliced carrot rounds – 5 tablespoons water
1/2 cup finely diced onion – 1/2 cup table cream
4 cups water – 1/2 teaspoon finely chopped fresh parsley
METHOD:
Place the wild rice and cold water in a saucepan. Bring the mixture to a hard boil. Reduce the heat. Cover the saucepan tightly. Continue to boil gently for 30 minutes.
Turn off the heat and keep the covered saucepan on the burner for 25 to 35 minutes or until the rice has blossomed. The grains will be soft and curly. Drain the rice and set it aside.
Place the oil, celery, carrot, and onion in a deep saucepan. Cook and stir over medium-high heat until the onions become transparent.
Add the four cups of water and the three bouillon cubes. Stir to dissolve the cubes as the water comes to a boil. Turn the heat to medium and slow boil for 20 minutes.
Add the lemon juice and the lemon peel. Add the blossomed wild rice.
Combine the cornstarch and five tablespoons of water to make a smooth paste. Slowly stir the cornstarch paste into the soup.
Simmer the soup for 10 minutes to allow the cornstarch to cook and the soup to thicken.
Add the cream and fresh parsley.
–
Phyllis Hinz & Lamont Mackay are authors of On The Road With The Cooking Ladies, Let's Get Grilling https://amzn.to/2OSGLbZ and a new series of guidebooks entitled Stratford For All Seasons https://amzn.to/38w4bvu.
You can find The Cooking Ladies on Facebook/ Twitter/ Instagram or on their website at: www.thecookingladies.com.