By The Cooking Ladies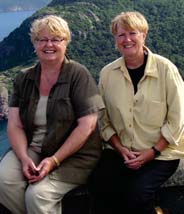 2021 marks RV Lifestyle Magazine's 50th anniversary year and we have highlighted some favourite previously published recipes from Phyllis Hinz and Lamont Mackay, otherwise known as The Cooking Ladies.
–
Here is the recipe for Ginger Treats, as printed in Vol. 37 No. 1 in 2008.
INGREDIENTS:
1/4 cup/60 ml butter
1/3 cup/80 ml brown sugar
1 egg, well beaten
1/8 cup/30 ml molasses
1/2 teaspoon/2.5 ml vanilla extract
1/2 teaspoon/2.5 ml orange extract
1/8 teaspoon/0.63 ml salt
1 teaspoon/5 ml baking soda
1-1/4 teaspoons/6.25 ml ground ginger
1/8 teaspoon/0.63 ml ground cloves
1-1/8 cup/280 ml all-purpose flour
24 mini marshmallows
METHOD:
In a bowl, combine the butter and brown sugar. Mix well.
Add the egg, molasses, vanilla extract and orange extract. Mix well.
In a separate bowl, combine the salt, baking soda, ginger, cloves and flour. Add the dry mixture to the wet mixture and mix well. Chill 1 hour in the fridge.
Preheat oven to 375°F (190°C). Roll the mixture into melon baller size or heaping teaspoon size balls. Place the ginger balls on a baking sheet covered with parchment paper. Keep the balls 2 in (5 cm) apart. Place a mini marshmallow in the middle of each ball.
Bake for 10 minutes or until the marshmallow is browned.
–
Phyllis Hinz & Lamont Mackay are authors of On The Road With The Cooking Ladies, Let's Get Grilling https://amzn.to/2OSGLbZ and a new series of guidebooks entitled Stratford For All Seasons https://amzn.to/38w4bvu.
You can find The Cooking Ladies on Facebook/ Twitter/ Instagram or on their website at: www.thecookingladies.com.