We hitched the Element to a Chevrolet Impala to demonstrate the feasibility of towing with a family sedan – what a wonderful combination!
The Shape of Things to Come!
Road test and photos by Norm Rosen
Back in the days when we first started publishing Camping Canada Magazine, it was not unusual to hitch a travel trailer to the family car and hit the RV road to adventure.
Over the years, travel trailers grew in size and weight, until the price and availability of fuel prompted the automotive industry to downsize, and the typical travel trailer tow vehicle was more likely to be an SUV or a truck.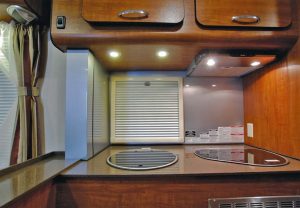 In recent years, the RV manufacturers have responded to the need for lightweight travel trailers that can be towed by a range of family vehicles. It is, in a way, a "back to the future" scenario that will benefit millions of North American families who want to enjoy the RV lifestyle, but cannot justify the purchase of a truck or SUV solely for the purpose of towing a trailer.
One of the RV manufacturers that has responded to the need for lightweight towable travel trailers is EverGreen Recreational Vehicles, of Middlebury, IN. EverGreen manufactures Ever-Lite, Ascend, and Element travel trailers, and I-Go travel trailers and fifth wheels.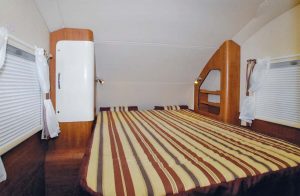 For this RV Lifestyle Magazine Road Test feature, we focused on the Element travel trailer line, a deluxe ultramodern design that combines aerodynamic engineering and the latest in lightweight materials to create a trailer that is, in every aspect, the shape of things to come. You can tow this trailer with a range of family sedans, passenger vans, and mid-size SUV and cross-over vehicles… we selected a Chevrolet Impala with V-6 engine to illustrate the towability of the Element. When suitably equipped, the Impala is an excellent tow vehicle for an aerodynamic trailer in this weight range – modifications include an auxiliary transmission cooler, high capacity electrical package, class III equalizing hitch and sway control – for the full story on towing with a family sedan, please refer to Andy Thomson's Hitch Hints column on page 6.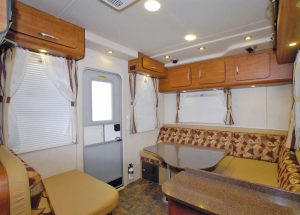 Our physicist friends tell us that the aerodynamic design of a travel trailer is a function of the coefficient of drag, and that depends on the frontal area of the trailer. The Element has a unique "ultra-low drag" design that exposes less than 60 square feet to air resistance, far less frontal area than the typical travel trailer. To maximize the aerodynamic advantage, the Element has an enclosed battery and LP compartment with a marine hatch.
Construction
The Element ET26 SRL is a top of the line unit that is engineered from the ground up to provide years of pleasurable touring. Utilizing an automotive style chassis fabricated from high strength, low alloy steel (HSLA) for light weight and long-term durability, and an advanced fulcrum tracking (AFT) axle system to achieve the balance and stability you need for smooth tracking at highway speeds, the Element tows like a dream.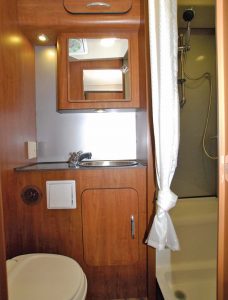 This very interesting frame utilizes components with interlocking grooves and bolt-together assembly that eliminates many of the welds typically found on trailer frames. This produces a lighter, stronger and more durable chassis. The Element frame components are protected by an automotive- style electro-coating process that retards rust and corrosion.
The unitized-body construction forms an exoskeleton of composite panelized components that are fused and fastened to form a one-piece exterior shell that is stronger and more aerodynamic than conventional designs. The walls are vacuum bonded with a heavy gauge welded aluminum core frame, and insulated for all season comfort.
There is no doubt that the engineers who have created the EverGreen RV trailers have been inspired by European design, American automotive technology, and the latest in sustainable composite materials. Step into the Element and you are immediately impressed by the elegance of interior components – smooth functional curves flow gracefully throughout the trailer, cabinet doors are sculpted from composites, and the structure and cabinetry is crafted from exceptionally durable ComposiTek™ materials that are ultra-resistant to rot and mildew. The Euro-style windows are formed from tinted acrylic to control UV, and provide privacy. From a materials perspective, the trailer is eco-friendly, and recyclable – but it should last a lifetime.

Every aspect of the Element reflects the latest in RV design and materials. The ExoShell roof features a repairable/ paintable/seamless polymer coating, which is bonded to the roof surface to create a very durable exterior membrane. The front wall has Diamond Shield coating to protect against stone chips, bug acid, winter salt, sand, road debris and scratches. The radius corner slide room has a four-point actuator for smooth, quiet operation… everything on, in, and around the trailer is leading-edge technology.
Build a trailer of this quality and you know that it will last for years. EverGreen RV covers the Element with a 2-year limited warranty on the trailer, 3-year limited warranty on the structural components, and 12-year roof material warranty. There is a 1-year free roadside assistance program for Element buyers. Your dealer can explain this in greater detail.
On The Road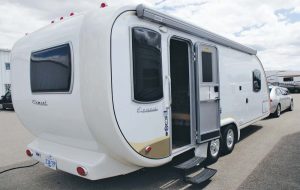 The Element utilizes independent trailing arm torsion suspension integrated with a through-chassis fixed beam axle to smooth out the ride, and an advanced fulcrum tracking axle configuration with wide track hubs and nitrogen filled and balanced tires for the best possible handling at highway speeds. Our test unit had Mastertrack ST 225/75R15 tires, specially made for travel trailers, with load range D (2640 lbs. at 65 p.s.i.). A 16-inch wheel package is optional. The running gear on this trailer is designed for serious travelling, with Aluminum ICF technology rims and E-Z lube hubs.
Hitching and unhitching is a cinch with the Fulton manual crank trailer tongue jack, and there is a very convenient self coiling vinyl coated stainless steel aircraft-grade safety cable system that we have never seen before, but it sure beats the old dangling chains!
In The Campground
When you arrive at your campsite, the Element reveals the true genius of its design. Four-point stabilizer jacks crank down with very little effort. All of the RV systems are easily accessible – open the service compartments to reveal quick hook-ups for your water, electric and sewer systems. Your LP gas bottles are located in the front compartment – there is a dual tank LP regulator with automatic changeover for your convenience. Extend the electrical hookup, connect your water supply hose, touch the control switch to extend the automatic awning and you are ready to enjoy your leisure time.
The Element has a lockable exterior utility compartment and a self-coiling water hose with hot and cold taps, ideal for a wide range of campsite purposes. Your camping gear is at your fingertips – it is a cinch to load or unload the oversized and lighted exterior pass-through storage compartments.
Our test vehicle was outfitted with the cold weather option package, including ducted 25,000 BTU LP furnace, heated holding tanks, ceramic tank insulation, and double insulated bulkhead. Power vents in the bedroom and bathroom help to circulate the airflow through the trailer, and the optional 13,500 BTU low profile rooftop AC with IPO roof vent was a good choice – other roof air options include a 15,000 BTU version of the AC unit, and a 10,500 BTU heat pump model.
For the maximum in eco-friendly camping, the Element is available with an optional solar power package that includes a 10-Watt rooftop solar panel, a solar charge controller, 120-Watt prep lines, dual battery boxes and trays, dual mode battery switch, interior solar controller display panel prep wire, and rooftop panel mounting plate.
Interior Elegance
We were very impressed with the clean, functional lines of the Element's interior. Keeping in mind that this is a rather large lightweight towable trailer, the interior is quite spacious – compare this to other RVs of similar weight, not to trailers of similar length that have larger slide-out sections and tip the scales hundreds if not thousands of pounds heavier than the Element.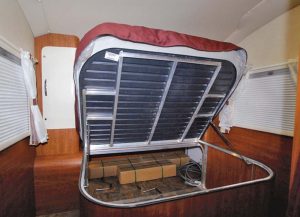 We really like the flair of the radius corner cabinetry and the contoured doors with concealed hinges. The interior looks like a European yacht – with convertible lounge seating in the living area, and true 60×80" queen size bed with designer coordinated mattress cover. Under the bed is a molded frame with gas-charged lifts that let you tilt the queen-size mattress with very little effort to access the large storage compartment.
Our test unit was equipped with most of the options – including a 24" LCD TV in the bedroom and an optional 24" LCD TV with detachable swing mount in the living room. Cable/satellite input is standard, and there is an optional omni-directional roof mount TV/radio HD antenna. The entertainment centre features an AM/ FM/CD/DVD/IPOD/USB entertainment system w/IPOD dock. The exterior of the trailer is prepped for an additional LCD TV, or you can move one of the interior TVs to that location. There is a convenient 110v exterior GFCI outlet.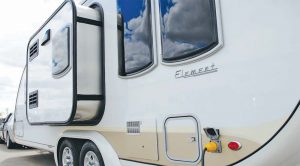 The galley in the Element is unlike any we have seen in the RV industry. Nestled into the slide-out section are a very distinctive stainless steel, two-burner LP cooktop with folding glass cover, a stainless steel power range hood with light, and a stainless steel kitchen sink. Beside the galley counter is a 3-way (LP/AC/DC) refrigerator with freezer compartment, and there is a microwave oven mounted below the cooktop… an interesting galley arrangement that makes a lot of sense.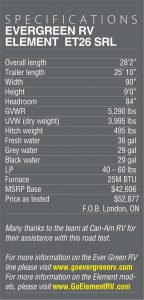 The bathroom in the Element is compact but fully equipped, with toilet, shower, and vanity with stainless steel sink. The 6-gallon DSI gas/electric water heater is well suited to fill the needs of a family of four.
The Bottom Line…
If you are looking for a sleek, futuristic travel trailer that will tow like a dream behind your family sedan or van, the Element ET26SRL certainly fills the bill. With Eco-friendly composite materials and the very latest in RV technology, this trailer will turn heads everywhere you go.