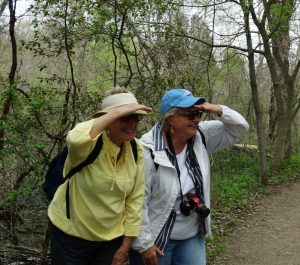 Originally published in the spring of 2019.
We are lucky to have four seasons here in Canada. Some of us are winter people who love all the outdoor activities that only snow and ice allow. Some of us are summer people who are drawn to sandals and the beach. We personally think the in-between seasons of spring and autumn are the best. We especially like the freedom that spring brings because we get to shed our heavy boots and winter coats. And we like autumn because nature puts on a show of colours unheard of in many other places. How lucky we are to live here.
So, now in that season of shedding, and springing, and sprouting, we are not amused by any surprises that the weather has in store for us. We've had it with winter. The grating sounds of snowplows are a distant memory. Birds, of all types, have migrated north. Baby bunnies have pushed their noses up out of the soil. Flowers are popping up in gardens and bushes. Sunsets seem more brilliant. Blossoms fill in the trees. Daylight hours are longer. Spring Festivals across the country promote maple syrup, parades, and tea parties. For those who haven't spent the winter in warmer climates, spring is the time to open up the RV and prepare for the next trip.
We like to create recipes that reflect the season. Hot soups and thick stews have been on our winter menu and we're ready for a change. Unfortunately, mother nature doesn't always do what we want. When winter struggles to hold on and the temperatures bounce up and down erratically, this quick, and easy chili will take the chill away.
---
INGREDIENTS
(Makes 4 to 6 servings)
1 1/2 pounds (.68 kg)        ground beef
1 tablespoon (15 ml)         olive oil
1                                        large mild onion, coarsely chopped
2                                        medium carrots, thinly sliced in rounds
1 cup (250 ml)                  water
1                                        14 oz (398 ml) can pizza sauce
2                                        14 oz (398 ml) cans tomato sauce
1 teaspoon (5 ml)              hot sauce
2 tablespoons (30 ml)       Worcestershire sauce
1 teaspoon (5 ml)              garlic powder
2 teaspoons (10 ml)          chili powder
2 cups (500 ml)                 cooked barley
1                                        14 oz (398 ml) can red kidney beans, drained
METHOD
Brown the ground beef in a frying pan over medium heat. Break up the meat as it cooks. Cook thoroughly.
Drain any excess fat from the meat. Set the meat aside.
Add the olive oil to a large pot over medium heat. Add the onion and carrots. Stir and cook for 3 to 4 minutes or until the carrots are tender.
Add the cooked beef, water, pizza sauce, tomato sauce, hot sauce, Worcestershire sauce, garlic powder, and chili powder to the onion and carrots. Stir to combine the ingredients.
Stir and cook over medium heat for 3 minutes.
Stir in the cooked barley and kidney beans. Continue to stir over medium heat for 3 minutes.
The Cooking Ladies' 10th cookbook, "On the Road with The Cooking Ladies, Let's Get Grilling", is available on Amazon at http://amzn.to/2CjLfR0 and wherever books are sold.
Follow The Cooking Ladies' on Facebook, Twitter, Instagram, and Pinterest. Links are on their website: www.thecookingladies.com