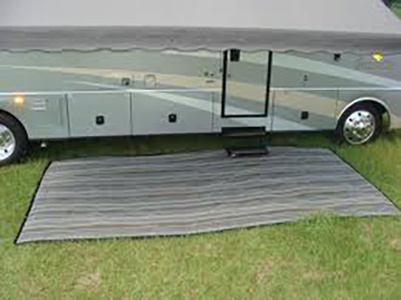 Looking for a way to cheer for your favourite team while you are on the road? Here's a full range of mats and outdoor carpets from Canadian RV Mats, the official distributor of RV Ground Mats, Sun Shades, Floor Guard Garage Mats and Palm Tree Rope Lights.
Mats are constructed from a 32 oz per square yard anti- skid vinyl coated nylon.
Raised edges (1") consist of an ethafoam barrier heat-sealed all the way around the mat Mats are 100% waterproof and UV treated material used is rated from –40 degrees Celsius to +40 degrees Celsius.
RV enthusiasts will appreciate the luxury of stepping out of their vehicle onto a clean, attractive campsite ground mat – it's the ideal way to eliminate the hassle of stepping into a puddle of water or in mud. Canadian RV mats are approved by campgrounds all across Canada for their breathability, as they do not kill the grass below the mat!
Canadian RV Mats are mildew and rot resistant and include 10 grommets to allow you to stake down the mat, so it stays where you want it. Available now through your local RV dealer.
For more information please visit https://canadianrvmats.com/