The North Face and BMW Designworks have unveiled the results of their collaboration at the 2019 Consumer Electronics Show (CES) in Las Vegas.
The brand-new trailer from the two companies is covered in a new breathable fabric developed by the North Face called Futurelight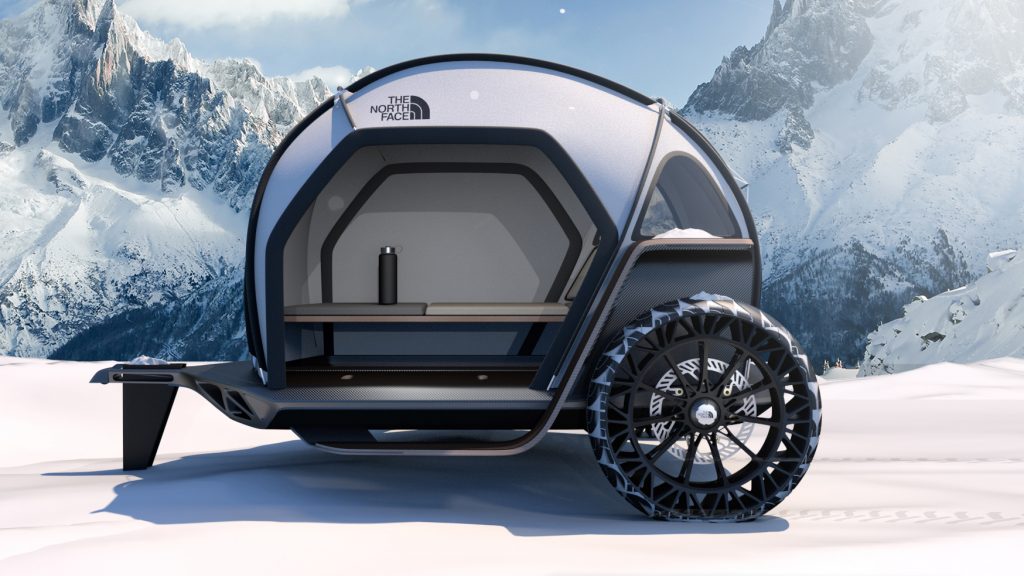 Similar to Gore-tex, the company claims Futurelight has better breathability and water resistance due to the nano-sized openings. These openings come from a process called "Nanospinning", a process used to create the fibers of the fabric.
"Right now, the expectation from a waterproof product is something loud, crunchy, muggy and unpackable. With FUTURELIGHT we can theoretically use the technology to make anything breathable, waterproof and for the first time, comfortable," Global General Manager of Mountain Sports at The North Face Scott Mellin said in a release. "Imagine a waterproof t-shirt, sweater or even denim that you actually want to wear. Today we start with jackets, tents and gloves, but the possibilities could be endless."
The Company says Futurelight technology has allowed them to be more environmentally conscious, creating three-layer garments using recycled fabrics and production that cuts chemical consumption while being produced in a cleaner, solar-powered factory.
BMW Designworks, a subsidiary of the automaker took the fabric and stretched it over a geodesic frame, reminiscent of the BMW GINA concept of 2008, where BMW say they drew inspiration from. The GINA was a concept car with a fabric shell over it, instead of traditional metal body panels.
"We combined both physical and digital worlds to showcase this material, ensuring the holistic vision of the brand was clearly communicated while giving people a real 'hands-on' experience," stated Designworks LA Studio exec, Laura Robin. "Thinking about extreme performance in new and unexpected ways from our experience of working across multiple industries, helped us to provide consumers with a unique and never before seen insight into the very heart of the material and its key attributes."
The FUTURELIGHT™ Camper, is on display during the global consumer electronics tradeshow, by invite-only Jan. 7 – Jan. 11 in Las Vegas.
FUTURELIGHT™ will first become available to consumers in The North Face Fall 2019 product line and will be featured across the brand's pinnacle performance collections.
Don't be expecting to see these on the road anytime soon, the trailer is simply a design concept meant to demonstrate the abilities of the Futurelight fabric.