A Taste of Denmark in Solvang, California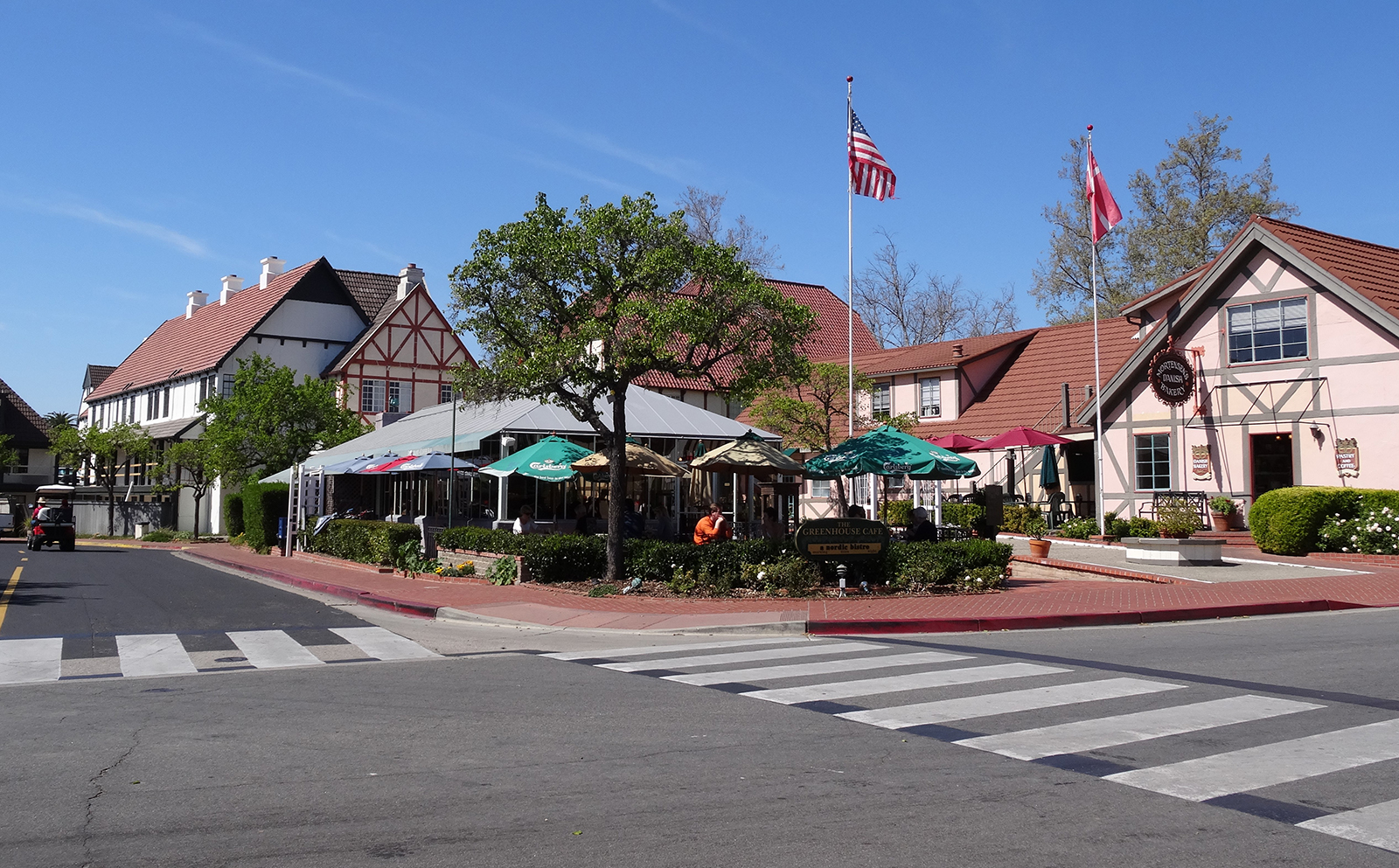 Solvang, a small town in California's Santa Barbara wine country, began as a Danish settlement in 1911. The architecture is strikingly European with cross-beamed timbers and thatched roofing. Only ten percent of the people living there today claim Danish ancestry, but Solvang is known as being almost more Danish than Denmark! The Little Mermaid, a copy of the statue in Copenhagen, greets visitors on the main street. A sculpture of Hans Christian Andersen overlooks a public gathering place.
Solvang offers a smorgasbord of food experiences, from traditional to 21st century. In the early morning, the warm sweet scent of fresh baking drifts along downtown sidewalks from Danish bakeries. At the take-out window of the Solvang Restaurant, you can buy ableskiver, small, round Danish pancakes smothered in raspberry jam. Ingeborg's is a chocolate factory, candy store, and ice cream parlor. A 1960s conveyer belt in the back room conjures up visions of actress Lucille Ball and her friend, Ethel, wrapping chocolates but stuffing most of them into their mouths and shirts. Their conveyor belt was too fast for them. At Chomp, anyone who is a kid or feels like a kid, can draw on a blackboard, slide up to soda fountain stool at the counter, or slip into a booth. The diner is 1950s-style with rock and roll music, thick milk shakes, burgers, and fries.
This basil balsamic bagel burger recipe is our version of the trendy Caprese burger we enjoyed at Chomp.
---
Basil Balsamic Bagel Burger
(Makes 4 servings)
Ingredients
10 sundried tomatoes

1 garlic clove, peeled and cut in half

1/4 cup (60 mL) balsamic vinegar

1/2 cup (60 mL) extra virgin olive oil

4 (125 g) ground beef patties

4 plain or multi-grain bagels

12 fresh, large basil leaves

4 thick slices fresh mozzarella

4 tomato slices
Directions
Place the sundried tomatoes in a bowl and cover with boiling water. Set aside. After 5 minutes, drain the tomatoes and discard the water.

Place the sun-dried tomatoes and garlic in a food processor and process until the pieces are small.

Add the balsamic vinegar and olive oil. Blend until the mixture is smooth. Set aside.

Preheat the grill on high (550-600°F/290-315°C) for 10 minutes with the lid closed. Using a pair of long handled tongs, oil the grate by wiping it with a piece of folded paper towel dipped lightly in canola oil.

Grill the ground beef patties about 5 minutes on each side or until the internal temperature registers 160° F (71°C) on an instant-read thermometer.

While the patties are cooking, cut the bagels in half and brush each cut side with olive oil.

Toast the bagel halves cut side down on the grate until golden brown, about 2 minutes.

Place the toasted bagel halves open-faced on serving plates.

Spread all 8 bagel halves generously with the sun-dried tomato mixture.

Place 3 basil leaves on the bottom half of each bagel. Place the cooked beef patty on top of the basil. Follow with the tomato and mozzarella slices.

Refrigerate leftover sun-dried tomato mixture in a covered container for up to 1 week.