Full-body paint and a unique method of construction make the Pleasure Way a distinctively different class B "plus" motorhome. The Ford chassis is nimble, fuel efficient, and a pleasure to drive.
Your Key to RV Adventure!
Road test and photos by Norm Rosen
The RV Lifestyle Road Test Team had the opportunity to test drive the 2014 Pleasure-Way Pursuit at The Hitch House in Barrie, Ontario. It was a unique opportunity to visit the dealership, which is about to open a beautiful new showroom and repair facility, replacing the building that was destroyed by fire in November 2012.
On The Road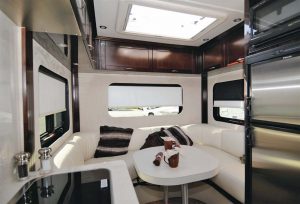 The Canadian-made Pursuit class B plus motorhome is built on Ford's very popular E350 dual rear wheel cutaway chassis, creating a compact vehicle that is easy to drive, a pleasure to manoueuvre in traffic, and relatively fuel efficient. Pleasure- Way has a long tradition of excellence in design and craftsmanship that is evident in every aspect of the motorhome.
RV enthusiasts who prefer to tour in compact motorhomes enjoy the "B Plus" category for the additional space they provide compared to the classic type B motorhomes. With a wide-body design and a taller profile than the typical vanstyle motorhome, the Pursuit represents a distinctively different category of RV – ideal for touring with a small family and efficient enough to use as an all-round family vehicle.
"Step into the Pursuit and you enter an environment that looks more like a luxury European yacht than a North American RV."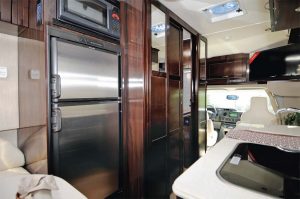 On the road, the Pursuit handles much like a family van. With lots of power from the 6.8L EFI V-10 (gas) engine, and the convenience of a 5-speed automatic transmission, power steering, and anti-lock power disc brakes, the Pursuit cruises effortlessly along the highways. Visibility is excellent with large side mirrors, and the rear vision camera system integrated into the Clarion in-dash touchscreen navigation system with Bluetooth, iPod and USB connections, and a back-up camera that is outstanding. It only takes a few minutes to become accustomed to the physical dimensions of the vehicle, and you can literally hit the road for years of touring adventures.
Elegant cabinetry with expert craftsmanship and solid wood components give the Pursuit a designer appeal that will wow your guests.
The Pursuit is equipped with a 5,000 pound capacity class III hitch and seven- pole wiring harness so you can tow a trailer, a boat, or a second vehicle. A "continental style" rear tire carrier holds a full-size spare.

Slip behind the wheel and you can enjoy the best of both worlds – a comfortable home away from home, and a family vehicle that delivers good fuel efficiency.
With 32 cubic feet of exterior storage including a large pass-through compartment you have plenty of cargo space for a small family. The exterior storage compartment box is made of 10 gauge steel, welded for superior strength. The standard 4 KW Onan generator is housed in a compartment near the front of the coach on the driver's side this places it as far away from the rear bed and living area as possible to keep the sound level down and the access hatch provides easy access for maintenance.
Slide behind the wheel and you will enjoy a supremely comfortable driving experience. The ultra-leather driver and passenger seats rotate to give you a front dining area – you can place the Corian table in the cab area for a convenient workspace. There is a 110v plug in the cabinet to power your laptop. Above the driver and passenger seats you can order an optional 43" x 76" trundle bed that becomes a comfortable upper sleeping area.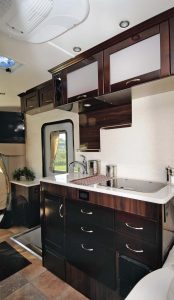 Interior Elegance
Step into the Pursuit and you enter an environment that looks more like a luxury European yacht than a North American RV. Curved solid maple hardwood cabinet doors and hand-fitted crown moldings complement the rich ultra-leather upholstery in the rear lounge. Corian countertops, a stainless steel sink with single-lever faucet and a host of galley features make this compact motorhome a standout in any campground.
The Pursuit is bright and stylish, with multi-position opening skylights complete with screens and shades, and large frameless windows with day/night roller shades. At night, the interior is illuminated with a range of LED lights.
The rear u-shaped lounge is the centre of attraction when you are in the campsite. You can entertain four or five adults in comfort, and enjoy your favourite TV and video programming on the 32" LED LCD TV, complete with a Blu-Ray player and built in Wi-Fi.
With ample overhead and drawer space, and covers for the sink and stovetop, the Pursuit galley is a marvel of RV efficiency.
The Pursuit may be compact, but it certainly is comfortable! With thick foam cushions and top grade upholstery, the area is easily accessed for dining, watching TV, or just relaxing. The 2014 Pursuit features an optional Tri- Fold Electric Sofa – touch a button and the lounge becomes your master bedroom. The bed is extremely comfortable, thanks to Memory foam that conforms to your individual curves to relive pressure points.
One of the most important areas of any class B motorhome is the bathroom – with limited space available in a unit of this size, the typical floorplan makes showering a bit of a challenge – not so in the Pleasure-Way Pursuit. The bathroom in this model is surprisingly spacious and very well equipped, with a 41" wide and 80" tall Corian and glass corner shower stall, and maple cabinetry. A Corian vanity with backsplash and stainless steel sink with single lever faucet and a porcelain residential-style toilet complete the facilities. As the Pleasure-Way engineers point out, Corian is easy to clean, resists mildew and bacteria plus ads a level of luxury and functionality not found in similar sized motorhomes. Above your head a large skylight brightens the washroom – the overall impression is amazing – you would hardly think that you are in a compact RV – this has to be the best bathroom we have ever encountered in a vehicle in this category.
Built For Adventure!
With a curved shower stall and residential quality toilet, the bathroom is the most impressive we have seen in a vehicle in this category.
The Pursuit is engineered and constructed to meet the needs of the active RV traveler. The wide-body consists of a full steel frame and bonded fibreglass panels forming a strong and durable vehicle. Pleasure-Way has mastered the technique of bonding fiberglass to steel, with a proven track record for over a decade. This unique construction process eliminates unsightly exterior moldings and all the potential water leaks that are common with conventional construction methods. Pleasure-Way finishes the Pursuit with a full-body paint job to achieve an exterior coat that lasts longer and is far more durable than gel coat.
The one-piece molded fiberglass roof is insulated for comfort all year round, and helps create a quiet environment on the road and at the campsite.
The Pursuit is engineered for the needs of the modern family. Multiplex wiring simplifies the electrical switches that are found on three convenient panels. Our test vehicle was equipped with an Onan 4kw generator, a 13,500 btu roof air conditioner, and a 12-foot power awning to expand your campsite comfort zone.
Specifications
This Canadian-made vehicle is well suited to all-year RV enjoyment. A 16,000 btu forced air furnace and a roof air conditioner keep the interior comfortable. The a six gallon auto ignition propane water heater and Shur-Flo demand water pump assures plenty of hot water for showers and cooking. The Pursuit carries 29 gallons of fresh water, 27 gallons of grey water, and a 23 gallon black water holding tank. There is a convenient by-pass system to let you winterize the water system for cold weather and winter storage.
In The Galley
The new power sofa option let's you touch a button and transform your rear lounge into a master bedroom.
Compact and efficient are the two key concepts in every class B motorhome galley, and the Pursuit certainly delivers the goods in these departments. Ingenuity and attention to detail abound in this area, with every square inch accounted for and materials and workmanship reflecting the pride of expert craftsmen. Materials are optimized for the RV application – the cabinet drawers have solid maple fronts and drawer boxes are made from Baltic birch plywood – harder, stronger, and straighter than conventional plywood this is far superior to the typical particle board used in the RV industry. The drawers glide on metal ball bearing extension guides. Positive locking catches keep the drawers and upper cabinet doors from opening as you drive.
We were particularly impressed with the décor in the Pursuit. The contemporary look and feel of the cabinetry, the Corian countertop and backsplash, and the stainless steel sink and faucet is elegant and upscale. We liked the spice rack and the selection of appliances – the Dometic two-way six cubic foot double door refrigerator with stainless steel front is ideally suited for travelling. The two-burner LP gas range with glass cover plate to expand your counter space, and the microwave convection oven complete the galley features.