Save That Sofa!
Camping can be fun, but there are times when you want to protect your RV's interior from the dust and dirt that comes with the great outdoors. The SofaSaver from Covercraft is the ideal solution – with three sizes to fit most full-size sofas, and seven colours, the covers are washable and dryable, feature armrest flaps and universal seat belt openings and have a non-slip grip area on the back of the fabric.
Available at RV dealers across North America. For more information please visit https://www.covercraft.com/us/en/product/sofasaver.SRS
Vue Smart Wireless Camera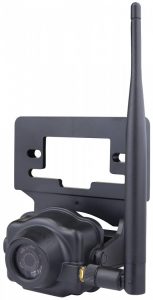 The wireless vueSMART Trailer Camera by Hopkins Towing Solutions is adapted to work on any trailer lights with a universal mounting bracket with no re-wiring required. Take a picture or record video at any moment, including at night thanks to the LED lights. Its HiDef Camera covers a full 152° and the Hopkins Towing Solutions Mobile App is accessible to any smart device. Designed for harsh environments, it's waterproof and comes with a one-year warranty.
For more information please visit www.hopkinstowingsolutions.com
Tire Pressure Monitor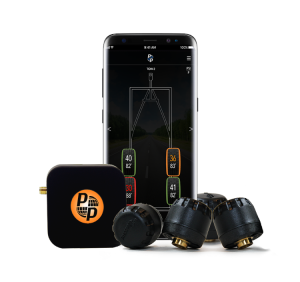 PressurePro's PulseFX is a tire pressure management system designed specifically for RVs and towables (boats, box, flatbed, livestock, campers, fifth wheels), light fleets and more. Its 'bring your own device'-based system allows users to leverage existing smart devices to display real-time readings and alerts directly through the free PressurePro App. Key features include: 24/7 tire performance monitoring, push notifications and FX warning light, ability to monitor up to 40 tires, vehicle naming and storage for easy monitoring of multiple trailers, fully adjustable vehicle layout and display and fully customizable alert systems. PressurePro's sensors can read pressures from 8 to 215 PSI (also in BAR or kPa) and temperatures in both Celsius and Fahrenheit. The PressurePro App comes with step-by-step registration and installation.
For more information please visit Pressure Pro: www.pressurepro.us
RV Window and Blind Kit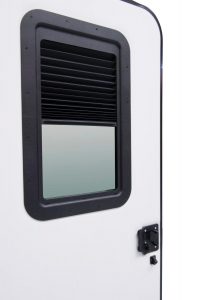 Lippert's Thin Shade® Complete Kit for RV Entry Doors is a window and blind kit specifically for Lippert Components® entry doors. It helps block out the sun and keep RV inside temps cool. Kit includes tinted glass window for added privacy, black exterior and interior window frame with an integrated seal to keep moisture out, horizontal blind, and hardware.
Window frame 24.72" x 15.72" / window dimensions 23.72" x 14.72"; weighs
8.2 lbs. Easy to install and adjust for the perfect amount of shade. Made in the USA.
For more information please visit Lippert Components: store.lci1.com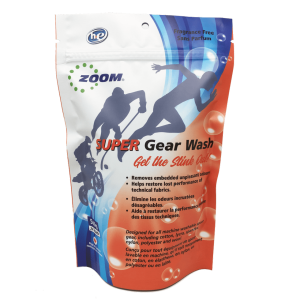 Zoom Super Gear Wash
Get the stink out with ZOOM's Super Gear Wash. It removes embedded and unpleasant odors, bacteria and body oils and helps restore lost performance of technical fabrics. Designed for all machine washable sport gear, including cotton, Lycra, Spandex, nylon and polyester, the fragrance-free wash – septic and colour safe – comes in a 540-gram stand-up sealable pouch and does 24 loads.
For more information please visit www.zoomcleaner.ca/shop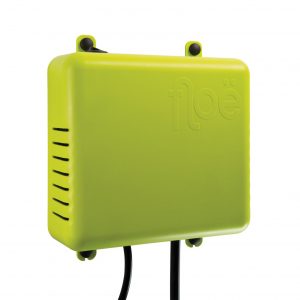 Flush Those Pipes!
The Floë Integrated Drain Down System by Lippert Components is an industry-first water drainage system that quickly flushes out an RV's freshwater pipes and tank, anywhere, anytime – providing water that campers can readily use. By pushing compressed air through the freshwater lines the system helps remove stale, stagnant water that can foster harmful bacteria growth. Floë can also help prep for winterization by preventing frost damage to pipes and freshwater tanks on RVs, trailers and boats during cold months. It comes available in two power configurations: 12 Volt DC or 110 Volt AC and is simple to install. One-year warranty.
For more information please visit Lippert Components: https://store.lci1.com/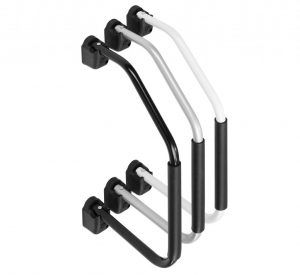 Stromberg Carlson – Lend-A-Hand Assist Rail
One of the greatest concerns in a campground setting is safe and easy access to your RV, and on a cold and damp morning that can be as simple as a good grip on your entry assist handle. The Stromberg Carlson Lend-A-Hand line of railings provides steady support and ease as you go up or down the stairs. The assist rail secures open to make entering or exiting your RV easier, and folds to the side of your RV for travel. No tools required for securing rail in the open or closed positions. The mounting bracket is designed for left hand mounting applications, which corresponds to the left side opening of most RV doors.  Made from aluminum powder coated tubing,  the Lend-A-Hand model shown here is 27" long, including mounting brackets, and when extended it protrudes from the exterior wall of the RV by 15.5", providing a grip as you climb or descend the entry steps.
Available through your local RV dealer. For more information please visit www.strombergcarlson.com/product/lend-a-hand-standard-assist-rail-replacement-hardware/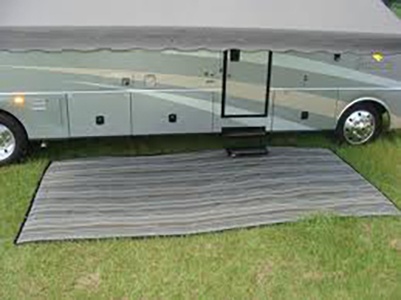 Canadian RV Mats
Looking for a way to cheer for your favourite team while you are on the road? Here's a full range of mats and outdoor carpets from Canadian RV Mats, the official distributor of RV Ground Mats, Sun Shades, Floor Guard Garage Mats and Palm Tree Rope Lights.
Mats are constructed from a 32 oz per square yard anti- skid vinyl coated nylon.
Raised edges (1") consist of an ethafoam barrier heat-sealed all the way around the mat Mats are 100% waterproof and UV treated material used is rated from –40 degrees Celsius to +40 degrees Celsius.
RV enthusiasts will appreciate the luxury of stepping out of their vehicle onto a clean, attractive campsite ground mat – it's the ideal way to eliminate the hassle of stepping into a puddle of water or in mud. Canadian RV mats are approved by campgrounds all across Canada for their breathability, as they do not kill the grass below the mat!
Canadian RV Mats are mildew and rot resistant and include 10 grommets to allow you to stake down the mat, so it stays where you want it. Available now through your local RV dealer.
For more information please visit https://canadianrvmats.com/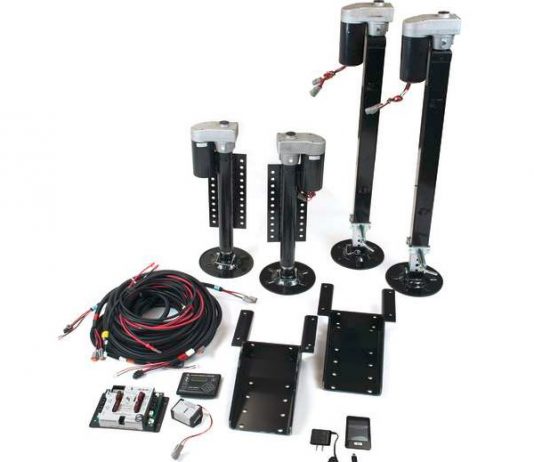 On the Level!
The Ground Control® TT levelling kit is a one-touch aftermarket product from Lippert Components that is designed to make your RV levelling task as easy as pressing a button. Four corner mounted electric stabilizing jacks and a trailer tongue jack automatically sense the level and in just three minutes your RV will be safely and solidly stabilized. For hitching and unhitching the tongue jack has a memory function that will adjust the jack to the proper height for your tow vehicle – set it once, then just touch a button to attach or remove the trailer from the hitch ball.
For more information and to locate a dealer in your area please visit www.lci1.com/automatic-leveling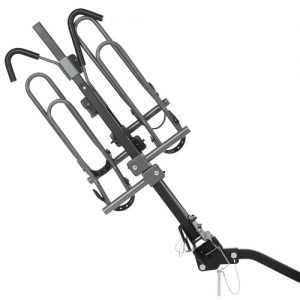 Rolling in Style!
The Swagman XTC2 Tilt hitch mounted bike rack is a great way to carry one or two bikes with the secure mounting capabilities of a platform style rack, but this unique product also has a titling feature. The XTC2 Tilt bike rack comes complete with a 1-1/4"receiver bar and a 2" adapter plate allowing it to easily fit most hitches. With foam padded hooks to help protect the bike frame, and an easily adjustable push button ratcheting system to stabilize and secure the bikes into the wheel hoops, the rack can accommodate wheels up to 2.5" wide. This light weight, easy to assemble system supports most frame sizes, folds into clamshell shape when not in use and tilts away from your vehicle.
Available though your local RV dealer. For more information please visit www.swagman.net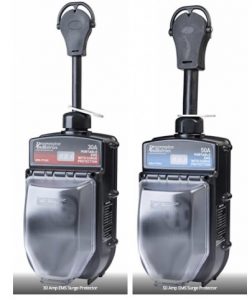 Portable Surge Protector
The EMS-PT30X and PT50X portable surge protectors from Progressive Industries are designed to be compact and easy to use, and come with an all weather shield assembly, rugged pull handle, improved secure locking bracket, built-in scrolling digital display and a tough Lexan housing. The computer control is driven by state-of-the-art microprocessors.
Designed for recreational vehicle use only, these surge protectors are available through your local RV dealer.
For more information please visit www.progressiveindustries.net/
NOCO Genius Boost HD 2000 Amp UltraSafe Lithium Jump Starter – GB70
We had the opportunity to talk with Mark Camelli from NOCO about the Genius Boost HD line of portable lithium-ion battery jump starter packs, and particularly the GB70 model shown here, which is ideal for many RV and general automotive applications. This compact unit delivers 2,000-amps (15,700 J3S) for jump starting a dead battery in seconds, and it features a patented safety technology to provide spark-proof connections and reverse polarity protection, for safe and easy use.
This powerful battery booster can also double as a portable power source for recharging USB devices, or powering 12-volt devices like a tire inflator, power inverter and much more. It features a 400-lumen flashlight with multiple modes including an SOS beacon, and it can provide up to 40 jump starts on a single charge.
Designed for boosting the dead battery in a car, boat, RV, truck and more, this battery jump starter is ideal for use with gas engines up to 8 litres, and diesel engines up to 6 liters.
The GB70 Lithium Battery Jump Starter comes with 12V XGC male and female adapters, an XGC extension cable, a micro USB cable, microfibre storage bag, and a user manual.
Other models are available that are appropriate for larger RV models.
For more information please consult your RV dealer, or visit https://no.co/gb70