Protect your RV from the Harsh Outdoors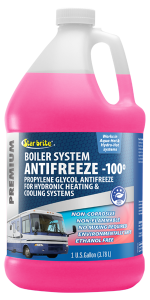 Protect your RVs boiler system with the Star Brite Boiler System Antifreeze. The Boiler System Antifreeze is a safe way to protect your RV from the cold and ease your mind while camping. The antifreeze is created with virgin propylene glycol, and is ethanol-free, safe, odorless, tasteless, and non-flammable.  The antifreeze contains corrosive inhibitors designed to protect the internal components of your RV from harsh weather.
The antifreeze is formulated to have a high specific heat and boiling point and provides burst protection down to -100ºF (-73ºC) at full strength. For more information on the product, visit the Star Brite website at http://www.starbrite.com/item/boiler-system-antifreeze-100
Cool Down with Dometic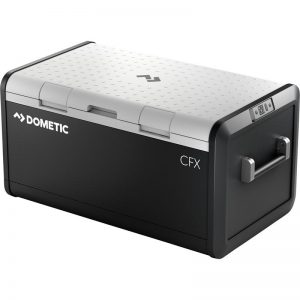 Dometic has released the Dometic CFX3 100, a high-powered cooler that will benefit any RV enthusiast looking to change coolers. The Dometic CFX3 100 boasts an intuitive and easy to use design, with an easy-to-read High-Resolution Color Display and soft touch buttons enabling seamless control and monitoring of the cooler's performance.
With the CFX3 App, temperature control of the cooler can be altered over the phone. The cooler as includes the heavy-duty yet lightweight ExoFrame construction with fender frame protected edges and aluminum alloy handles, giving the cooler extreme durability to go along with its modern look. To check out the Dometic CFX3 100, head over to the Dometic website at https://www.dometic.com/en-us/outdoor
Griddle and Grill with Blackstone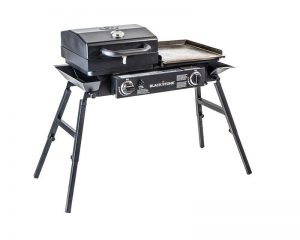 With summer arriving, it is only right to break out the barbecue. Luckily, Blackstone recently released the Tailgater Combo (Griddle + Grill), an all-in-one cooking device that can cook a variety of food, from fish, to burgers, and anything in between. The griddle allows for quick searing of bacon and eggs, while the grill boasts 35,000 BTUs of firepower.
With both a grill and griddle attached to one another, the Tailgater Combo (Griddle + Grill) is an absolute must purchase for any RVer looking for a nice summer cookout with the family. The product can be found on the Blackstone website at https://blackstoneproducts.com/products/tailgater-combo-griddle-grill
Keep Your Dog Safe with This New Product!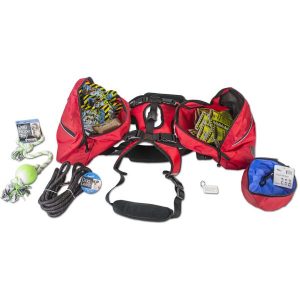 Never be anxious taking your dogs camping with you again! The Large Dog Evacuation & Emergency Saddle Bag from Ready America is ready to make sure your dog is as safe as can be while out on the road or camping. The saddle bag comes equipped with a large amount of survival items for your pet, including a bowl, waste bags, antibiotic ointment, and dog food.
The saddle bag has enough supplies to last 3 days and will drastically improve your dogs safety while away from home. Ease your mind when camping with your pet dog, and never have worry about your pets safety again with the the Large Dog Evacuation & Emergency Saddle Bag, which can be found on the Ready America website at https://www.readyamerica.com/product/large-dog-evacuation-emergency-saddle-bag/
Waste Begone!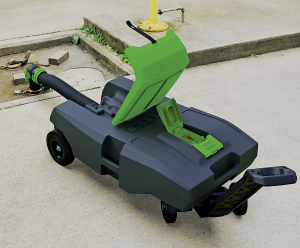 Thetford has announced the release of as new product, the 4 Wheel Titan Totes. Dubbed the "ultimate portable waste water tank", the titan totes are specifically created to make the disposing of waste water a simple and stress free task. The tote dumps horizontally, eliminating any need to tip the tank on its end. The totes also come with a hose, washout port, and a sturdy tow hand that can attach to a trailer hitch for maximum mobility.
For more information regarding the Thetford 4 Wheel Titan Totes, check out the Thetford website at https://www.thetford.com/product/4-wheel-titan-totes/
Keep your Holding Tank as Clean as Can Be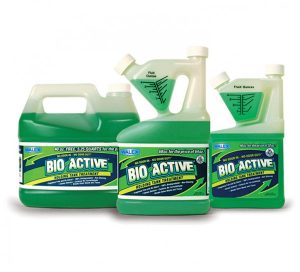 Keep your holding tank clean with the Walex Bio-Active Holding Tank Treatment. The treatment uses powerful 100% environmental ingredients to break down and liquefy waste and tissue, speeding up the natural composting process significantly. The treatment is odour and formaldehyde free, and is 100% biodegradable, making the treatment environmentally friendly.
For more information regarding the Bio-Active Holding Tank Treatment, visit the Walex website at https://www.walex.com/product/bio-active-holding-tank-treatment-2/
Soften Up with the All New Water Softener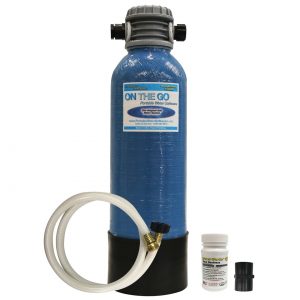 Spiff out the rust on your RV with the Portable Standard Water Softener from On the Go. The water softener can prevent hard water and rust stains, avoids scale build-up, improves taste and odor, and increases lifespan of appliances significantly. The water softener is also built to be used on any RV model, and regenerates with one box of common table salt in only 15 minutes!
The Portable Water Softener utilizes a standard hose connection between park faucet and your RV, requires no tools or electricity, and has a compact design of 22" H X 6.75". For more information on the Portable Water Softener, visit the On the Go Website at https://www.portablewatersoftener.com/shop/water-softeners/portable-standard-water-softener?SKU=OTG4-StdSoft
Lippert Introduces New Furniture Line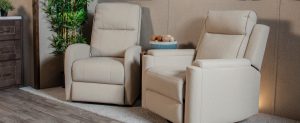 Lippert has recently released the Thomas Payne RV Furniture Line, a new rollout of RV furniture ready to introduce comfort to any RV enthusiasts camping adventures. The collection is built specifically for RVs, with each piece of furniture designed with craftsmanship, comfort, and quality. The line has been upgraded to include new color options and reimagined, intelligently designed Seismic Series theater seating that includes high-tech accessories, desks, and furniture add-ons, among many other quality of life improvements.
For any RVer looking to switch out their old RV furniture, the Thomas Payne RV Furniture Line is a must purchase. The entire collection can be found on the Thomas Payne Collection page at https://store.lci1.com/thomas-payne
Rocking Out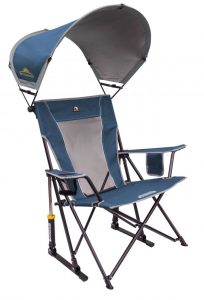 GCI Outdoor has released yet another extremely comfortable rocking chair with the all-new SunShade Rocker. The SunShade rocker comes equipped with a beautiful sunshade, that will block any unwanted rays of sunlight with ease, while still maintaining a very high level of quality and comfort. The rocker comes with spring action technology, allowing for a very smooth rocking motion while seated, as well as a phone pocket and large carrying bag. The rocker is a simple but effective way to enjoy relaxing outdoors while camping, and with the large sunshade attached to the top of the rocker, while eliminate any annoyances one would have.
For more information regarding the lovely SunShade Rocker, visit the GCI outdoor website at https://www.gcioutdoor.com/shade-rockers/sunshade-rocker/
A Shoe That Fits All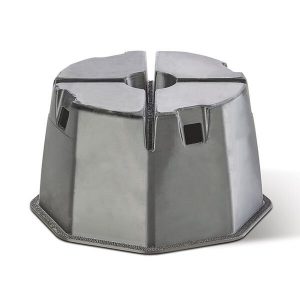 Protect your base pads with the all-new Base Pad Extreme Shoe from Stromberg Carlson. The 9" shoe fits Lippert's 4- and 6-point leveling systems, and is compatible with any footpad made by Lippert, Pac Rim or Venture. The shoe protects the base pad from any kind of rock, dirt, or debris and even protects the Base Pads from rust stains. The shoe can support up to 100,000 lbs. RV's and can stay permanently attached to the base pad.
Stromberg Carlson is saving RV enthusiasts base pads, one shoe at a time. For more information regarding the Base Pad Shoe, check out the Stromberg Carlson website at https://www.strombergcarlson.com/product/base-pad-extreme/