Grand Design Hosts Eighth-Annual Elkhart National Owners' Rally
MIDDLEBURY, Ind., August 30, 2022 – GRAND DESIGN RECREATIONAL VEHICLE COMPANY kicked off its Eighth-Annual National Owners Rally on August 30, 2022, with the event scheduled to run through September 2. This tremendously popular event sold out within minutes of posting available lots at the Elkhart County 4-H Fairgrounds, as the Grand Design brand inspires a passionate group of owners who come together to connect and celebrate the RV lifestyle. With over half of attendees identifying as first-time participants, the crowd will be full of both new and familiar faces whom owners have come to know and love.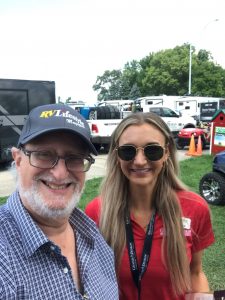 RV Lifestyle Magazine's Norm Rosen dropped by the 4H Fairgrounds in Goshen, Indiana, to visit with Grand Design RV's Natalie Bussard, and experience the excitement of the Grand Design National Rally… "from the moment I drove through the entrance gate, it was an exhilarating experience – with Grand Design staff and service techs on-site, along with service teams from many of the component suppliers, the assembled contingent of more than 550 Grand Design RV customers were in very good hands – and they seemed to be enjoying the event immensely. The weather in Elkhart County was spectacular – an ideal location and a perfect time to partake of the Grand Design RV hospitality!"
Multiple Grand Design RV Ambassadors and Influencers will be in attendance for this year's event. Chad and Tara of Changing Lanes, Momentum Lifestyle Ambassadors, will be mingling and answering some followers' questions on their newly released Inspired-by floorplan, the Momentum 410TH. The couple recently released a walk-through of the unit on their YouTube Channel with over 125K views. The video can be found on YouTube.com/c/ChangingLanes.
Imagine Ambassador, Cory, of Wandering Weekends and Transcend Ambassador, Krista, of Buckle Up Buttercup will also be in attendance to interact with owners, host social media takeovers and hold seminar sessions during the National Rally. Grand Design Goodwill Traveling Ambassadors 4 H.O.P.E. and The United States Honor Flag™ will also be sharing their inspirational and impactful stories with owners.
Grand Design RV Influencers are also coming out in droves. Imagine Brand Influencers, Jen and Eric from Stairs Up Handle In, and Momentum Influencers Mike and Missy of Campoholics, will host meetups, seminars and social media takeovers to help owners connect.
In addition to these Grand Design all-stars are 12 National and Regional Wagonmaster groups. These enthusiasts host owners-lead and organized Rallies throughout the year across the country. Their participation in the Elkhart National Owners' Rally not only signifies their commitment and dedication to the outdoor lifestyle, but more importantly, to the Grand Design community of owners the brand has been known for and recognized.
This year's National Rally boasts over 550 rigs, offers seven excursions, community outreach volunteer opportunities, factory tours and much more! Follow Grand Design RV on Instagram, Facebook and YouTube to join the fun!
About Grand Design RV
Grand Design RV®, headquartered in Middlebury, Indiana, manufactures the market-leading Reflection® Fifth Wheel and Travel Trailer, flagship Solitude® Extended Stay Fifth Wheel, luxury Momentum® Toy Hauler, lightweight Imagine® Travel Trailer, and introductory level Transcend™ Travel Trailer product lines. Since its founding in 2012, Grand Design RV has become one of the fastest-growing RV companies in history and rated among the highest quality RV manufacturers. Grand Design RV is a wholly-owned subsidiary of Winnebago Industries (NYSE: WGO), a 64-year old manufacturer of outdoor lifestyle products.